Archive for the 'Stitchery' Category
Here's my stitching for today.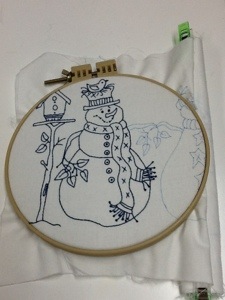 it's a Birdbrain pattern called Snow Happens. I really like the quirky snowmen in this. I guess I'm going for some blue work as I also bought the pattern Cool Guys from Turnberry Lane that features snowmen as a border of blue rail fence type blocks. One thing about snowmen is they can be left out for the winter, not just for Christmas.
Wait and see the finished projects.
  I have to go to a Christmas party tomorrow with all my witchy friends. And I mean that. A group of my friends and I always dress up at Halloween as witches and either go  bar hopping or to one of our homes. One time we all went out to dinner at The Cook Shop and we got a lot of weird looks. But it was fun and that's all that counts. So tomorrow I need to bring an ornament or decoration for a secret Santa exchange. I was going to buy something but I thought that I must have something somewhere that would do. This is what I found.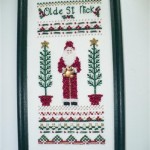 All I had to do was wash, press and frame. A perfect little gift. There is a cool teddy bear bead that Santa is holding on to.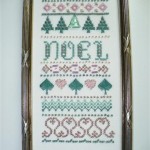 And while I was at it I did the same to this stichery. I love all the beads on these. It makes them look so festive. This one has a real nice Christmas tree bead in it. Both these beaded sticheries are from Mill Hill Beads altrhough they are no longer available. But there sure are some other beautiful kits available. The frames are also form Mill Hill.
  I finished the last quilt binding. So now I can officially start a new project. Like paint the bathroom (that's not done yet!) or a new quilt top.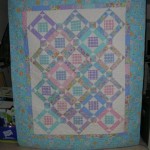 Her it is, Cotton Candy from Anka's Treasures. I had a Spring Meadow jelly roll that needed to be used up. Machine quilted by Deb from Wedgewood Custom Quilting. And It looks so nice that I want to keep it.
That's al for tonight.
Talk to you later.
Mary-Kay
     Well here it is. The completed top. All I have to do is find a backing and quilt it. There won't be too much quilting, just enough to hold it all together.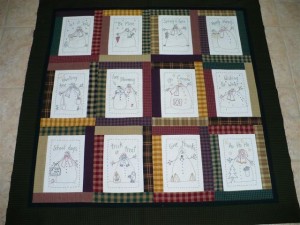 That's all for now.
Talk to you later.
M-K