Here's my stitching for today.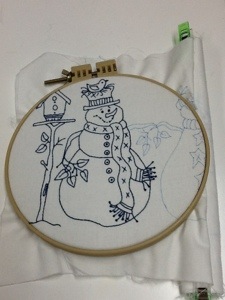 it's a Birdbrain pattern called Snow Happens. I really like the quirky snowmen in this. I guess I'm going for some blue work as I also bought the pattern Cool Guys from Turnberry Lane that features snowmen as a border of blue rail fence type blocks. One thing about snowmen is they can be left out for the winter, not just for Christmas.
Wait and see the finished projects.
One Response to "Today's Stitching Project"
Allie Says:
May 26th, 2013 at 12:16 pm

Oh how cute is that!!!! I love it!
Leave a Reply