Archive for October, 2010
October 31st, 2010 - The Stash
Only 8 more weeks to go and then we can start all over again. Yipee! Maybe I'll do a better job next year. Right?! I've sewn this past week but I'm still waiting to get my table finished. I'd like to sew even more now with the cooler weather. Maybe this week it will be done, I hope.
Fabric used this week: 4.55 yds
Fabric used YTD: 170.655 yds
Fabric added this week: 0 again
Fabric added YTD: 165.86 yds
Net fabric busted: 4.795 yds
 I never got around to cutting out all the bindings and backings I needed. Maybe this week I'll get that done. I started a comfort quilt for my neighbour and I've been working on 3 other quilts. All in various staged of completion. The tops that is. I need that table to do some serious quilting. Come on guys, get a move on. Do you think I could say that to them? I think not! Lucky for me they don't read my blog. Anyway, one of the local quilt shops, Quilting Confections, is having an anniversary sale, starting next week.  I received a special invite for the Friday night, so I could get first dibs on fabric. I don't need any fabric and I don't really have any desire to buy fabric. I just might go to see what's new and hopefully not buy anything. Notions are always a good thing.
Speaking of notions, I bought a new iron and I'm taking it back too. It's the Oliso Pro-series and it doesn't do what it claims to do. There was a lady doing demos at Costco and it looked like a good iron. So I bought 2 of them, one for me and one as a gift. I'm taking both back. It doesn't get hot enough to take the wrinkles out of fabric, even with the steam. My friend and I did a trial with it and my old Rowenta does a better job. The Oliso has 1600 watss and the Rowenta has 1750 watts. I don't know if that's the difference but what a piece of crap. I'm glad I bought them here in Canada and not at the sewing show in Novi Mi.  I would have been really irritated if it didn't perform up to their claims and I couldn't take it back. I don't know what they do to the fabric for the demo but this iron didn't get wrinkles out. We even ironed a crease in the fabric and we couldn't get it out. We had to keep going over and over the fabric. And those feet things pop out all the time especially when you iron really slow, which you have to do to try to get the wrinkles out. Junk, junk junk!!! I guess I'll have to stick with the Rowenta iron I have. Actually I have 2 of them but one leaks so bad, I don't use it anymore. It was my favourite iron. That's too bad that Rowenta can't fix the leak issues with their irons. I think they are the best irons I've ever had. Have a great week.
Mary-Kay
I've actually been doing a litlle quilting.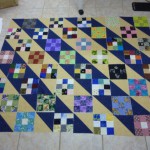 My quilting friends and I had a 9-patch swap.  We made 35 blocks each and I had a few from a previous swap. Combined there were enough to make 4 comfort quilts along this line.  I think it looks pretty with all the different 9-patches. Some of the fabric is very unusual. Now to find a fabric from the stash for the borders. That might be a challenge. Maybe I should just make a few more 9-patches and no borders. Hmm….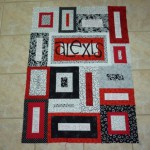 And I've been working on this Nancy Halvorsen design for  one of my niece's friends. It needs borders, backing and binding.  Not what I would pick for a baby quilt but I still think it looks really neat.  All this fabric was from my stash and you can't even tell I used some of it. The black and white drawer is still just as full as it was before. I think I could make 15 or 20 quilts before you'd notice some fabric was gone.
  Well, I'm off to vote. We need a new mayor and hopefully today's the day we get one.
Mary-Kay
October 24th, 2010 - The Stash
 Hey everybody, it's week 42 and do you know what that means? Only 10 more weeks until the new year! How time flies when you're having fun. It also means I better use a whole lot of fabric up if I want to meet my goal of 100 yards busted. At least I'm out of the negatives this week and I have no real plans on buying any fabric either. No fabric, no fabric, no fabric will be my mantra for the next 10 weeks. Okay, so I'm a week behind. Just checking to see if anyone noticed. Apparently it's week 43.
Fabric used this week: 2.405 yds
Fabric used YTD: 166.05 yds
Fabric added this week: 0 yds
Fabric added YTD: 165.86 yds
Net fabric busted: 0.245 yds
 This week I'm planning on cutting some bindings and backings for a few quilts.  I have 8 quilts that need to be quilted, of those 3 need binding and 3 need backing. So if I get these done, that will eat up a lot of fabric. Yeah!
   I'm waiting to get my table finished for my new machine. My neighbour came over to look at the old table and we discussed what I would like for the revamped version. He can't start it until tomorrow and then I have to paint it up so it might not be done until next weekend. Then I'll be ready to quilt some of the smaller tops I have on hand. Right now the new machine is upstairs in the dining room and everything else is down 2 levels in the basement. Once I have everything set up the way I would like it, I'll be ready to sew. I can't wait!
October 17th, 2010 - The Stash
 Hi everyone, I'm back! I thought I'd do a stash report even though there's not much going on at this house. I've been a little busy doing some non-quilting sewing.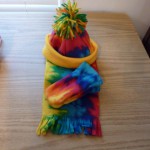 My mother-in-law had some leftover polar fleece and decided to make some hats and scarves for her church bazaar. She asked me to help her out and we made a dozen sets. This colourway has mittens to match. We only made 3 pairs of the  mittens. I thought that the mittens were not all that great so we abandoned them and just made hats and scarves. Much easier too!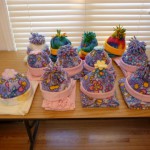 And here's all of them. Some of the fabrics are really cute. It was fun matching up the colours. Easy to sew. Only one set of seams to match up and it didn't matter if it wasn't a perfect match because you plopped a tassle right on top of it. No fraying fabric either, just a lot of fuzz. My kind of sewing.
So it got me thinking of all the polar fleece I had in bags in my sewing room. So I made 10 blankets for the homeless shelter downtown and boy did that use up quite a bit of fabric. Gone in one day! Yeah! And I counted too!
Fabric used this week: 22.04 yds
Fabric used YTD: 163.7 yds
Fabric added this week: 0
Fabric added YTD: 165.86 yds
Net fabric busted: -2.16 yds
 I'm also working on 2 quilt tops. I don't have my machine inserted in to the table yet. Maybe this week it will get done. And then I can do some actual quilting. Until then I'm just going to work on piecing a few tops together. I can't wait to experiment with the BSR on my  machine. Until next week, tata!
Mary-Kay
October 3rd, 2010 - The Stash
So, it's week #40 or something like that. I haven't been doing much of anything these weeks. Why? I don't feel like it I guess. I have big plans but they never seem to happen. I've been cleaning out my sewing room a bit and I can't believe how many patterns I have. I'm giving all the ones I know I'll never make to my sister and she can either keep them or give them to her quilty friends. The same applies to all my cross-stitch patterns. I got rid of the cross-stitch magazines to a friend at work but she didn't want the patterns. Oh well, it's her loss! Now to just start sewing.
 The stash remains the same, nothing in and nothing out. Maybe in the next week I'll feel like sewing. I have a few quilts to bind and quite a few to start. I can't even get the ambition to cut something out. I went to a sewing show in Novi last week and no inspiration there. I even went to a quilt show on Friday and again, nothing. Must be the weather or something.
  Yesterday I went to a Zumba class that I won in a silent auction . What a gas!  I really enjoyed it and I'm going back next week. I'm a little sore but nothing that would stop me from doing anything.
 Fabric used this week: 0 yds
Fabric used YTD: 141.66 yds
Fabric added this week: 0 yds
Fabric added YTD:165.86 yds
Net fabric busted: -24.2 yds
 Okay, I need to get busy and do some sewing. I'll keep repeating this to myself and maybe it will happen. I sound sad but I'm not, I'm just not in to sewing lately. Lots of beautiful things to make but no ambition. Actually as I type this, I remembered that I worked on a Crabapple Hill stitchery this week, That counts as something. Now I don't feel so bad. Have a great week and get some sewing done.
M-K   the quilting junkie….not!
Mary-Kay