October 17th, 2010 - The Stash
 Hi everyone, I'm back! I thought I'd do a stash report even though there's not much going on at this house. I've been a little busy doing some non-quilting sewing.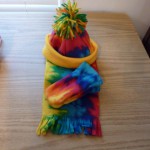 My mother-in-law had some leftover polar fleece and decided to make some hats and scarves for her church bazaar. She asked me to help her out and we made a dozen sets. This colourway has mittens to match. We only made 3 pairs of the  mittens. I thought that the mittens were not all that great so we abandoned them and just made hats and scarves. Much easier too!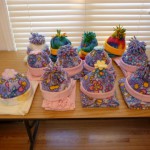 And here's all of them. Some of the fabrics are really cute. It was fun matching up the colours. Easy to sew. Only one set of seams to match up and it didn't matter if it wasn't a perfect match because you plopped a tassle right on top of it. No fraying fabric either, just a lot of fuzz. My kind of sewing.
So it got me thinking of all the polar fleece I had in bags in my sewing room. So I made 10 blankets for the homeless shelter downtown and boy did that use up quite a bit of fabric. Gone in one day! Yeah! And I counted too!
Fabric used this week: 22.04 yds
Fabric used YTD: 163.7 yds
Fabric added this week: 0
Fabric added YTD: 165.86 yds
Net fabric busted: -2.16 yds
 I'm also working on 2 quilt tops. I don't have my machine inserted in to the table yet. Maybe this week it will get done. And then I can do some actual quilting. Until then I'm just going to work on piecing a few tops together. I can't wait to experiment with the BSR on my  machine. Until next week, tata!
Mary-Kay
2 Responses to "The Stash"
Allie Says:
October 17th, 2010 at 8:53 pm

Those are really cute, Mary-Kay! Bet they're warm, too. 10 blankets for the shelter, girl you rock. What a great thing to do.

Penny Says:
October 17th, 2010 at 10:40 pm

Wow! 22 yards out this week. I know the shelter will appreciate the blankets. The hats and scarves are so pretty. You really did do a lot of sewing this week. I am glad you were able to share all you did.
Leave a Reply