Archive for March, 2019
And it does not appear to be getting any smaller. I wanted to finish up some small projects that need a little quilting but my machine needs servicing as it's skipping stitches. So I started cleaning up my scraps from a few projects.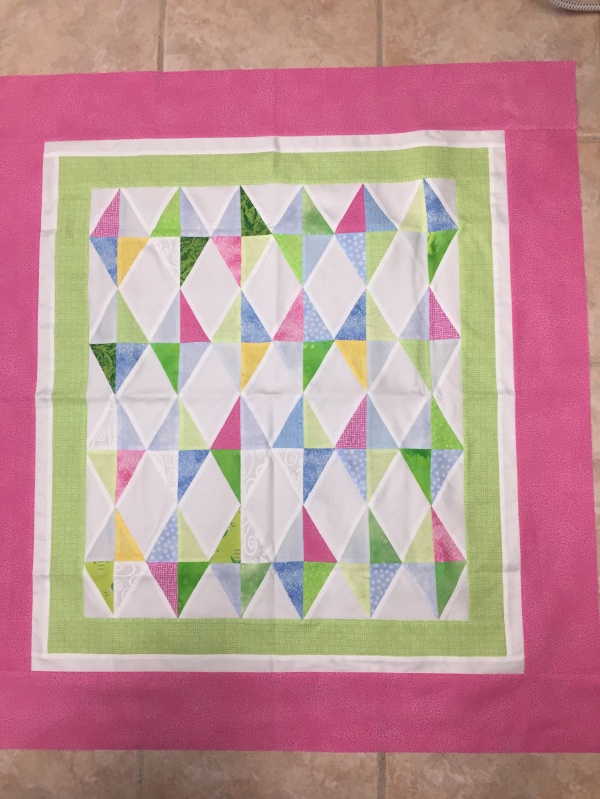 I had all these weird angle pieces from the Sheep Shape quilt and I thought I should sew them together. I made the diamonds and then had to figure out how to make the solid white pieces. I looked a few things on the net and needed a specific ruler. Checked my ruler list on my phone and low and behold, I had the right ruler! That's the second time the ruler list has come through. Anyway, all the white is from the scrap bins. The only fabric from the stash is the pink and green borders.
Then I decided to work on a kit. Oh but this kit needs some crazy quilt stitches. My machine did not skip a stitch during this process. Only when straight sewing or trying to do a little free motion.
I made this wall hanging which ended up being way too big for any walls in my house. It's not quilted yet so I'm thinking of taking it apart and maybe making a 4 patch table topper/wall hanging and a few pillows. Very undecided about it. Here's a close up of one of the blocks.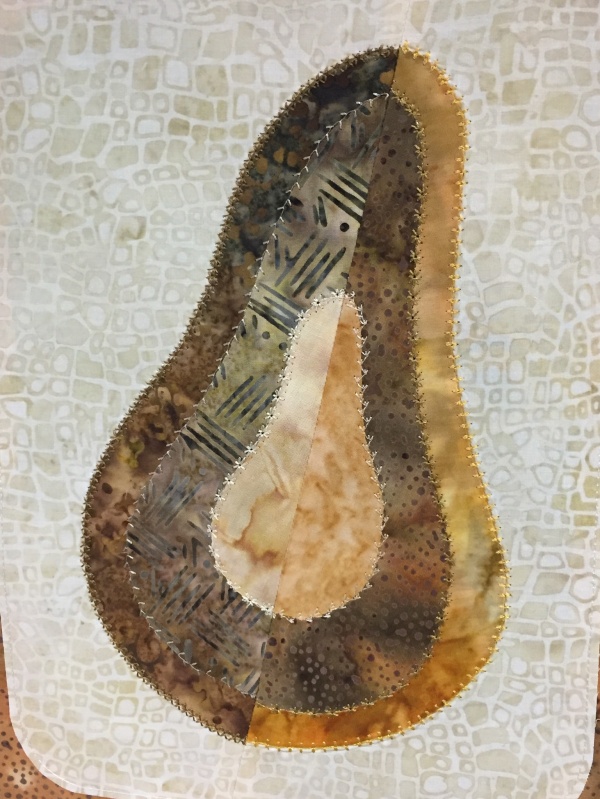 I love all the stitches along the edges. Most came out great but a few really pulled the fabric in. I didn't use stabilizer but lots of starch. Next time, I will use a stabilizer. I also cut out 2 wallets that sit there, half sewn. I got tired of unpicking the top-stitching. I have since taken my machine in for service. I'm hoping in the upcoming weeks, I will be able to cut out a few kits and get them all prepped for sewing. Now for some numbers.
Fabric used this week: 6.17 yds
Fabric used YTD: 48.46 yds
Fabric added this week: 0 yds
Fabric added YTD: 19.2 yds
Net fabric busted: 29.26 yds
Now on to the 15 Minutes to Stitch Challenge. During the first week, I managed to stitch every day for a grand total of 23 hours. Last week, I only managed to sew for 10.5 hours. I missed 3 days but in my defense, I do have some sort of cold thing and am on antibiotics, trying to clear up the congestion in my lungs. I don't feel all that bad but I don't feel like sewing.
I'm linking up with Kate at Life In Pieces for the 15 Minutes to Sew Challenge and with Donna at quiltpaintcreate for the Stash Report.
Have a great week and enjoy this spring like weather. I hope it lasts!
I finally have the time to do a blog post. I have not posted for 4 weeks. My plan was to post at least every 2 weeks when my grandkids are not here but sometimes that doesn't work. Oh well. The only good thing is that my numbers look awesome and then you realize that's for 4 weeks. Still, I managed to get some sewing time in except for one day out of 4 weeks. Overall, I stitched on average 3.5 hours each day. And I have not made any dents in this stash.
I made backings for 2 quilts out of the flannel I purchased in January. I made a binding for a comfort quilt. Then I just had to make this quilt from a picture I saw online.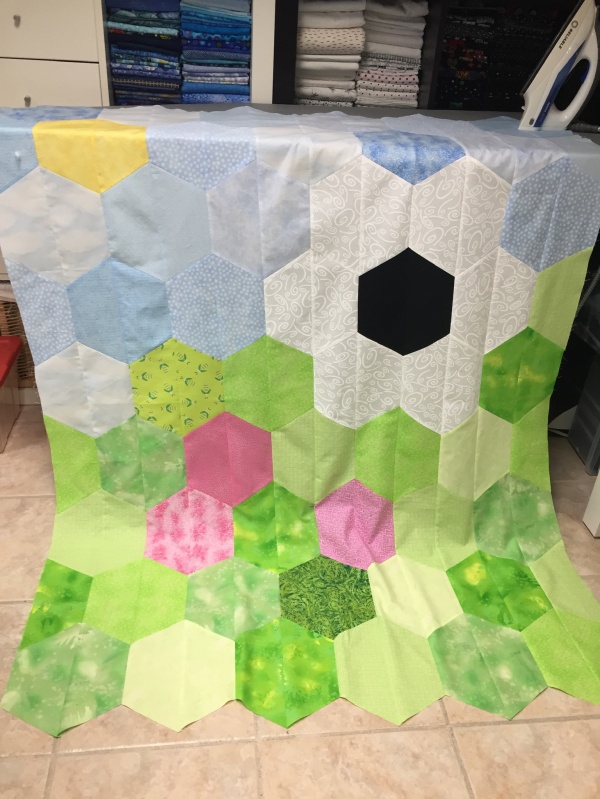 It's huge. This is why patterns are good. Sizes! I think it's called Sheep Shape. Anyway, it will be for a very large baby.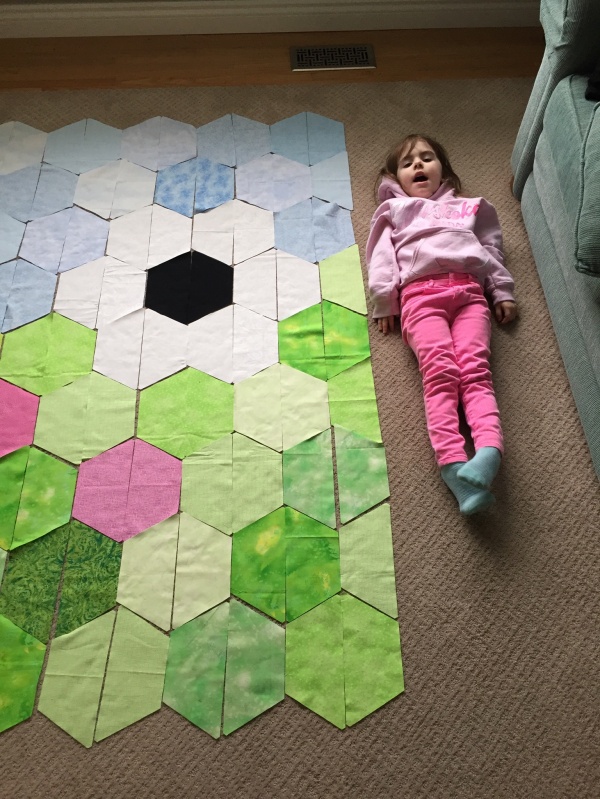 Then I decided that I cannot make any more quilt tops until I get some of them quilted. So I started working on some kits that I have in my stash.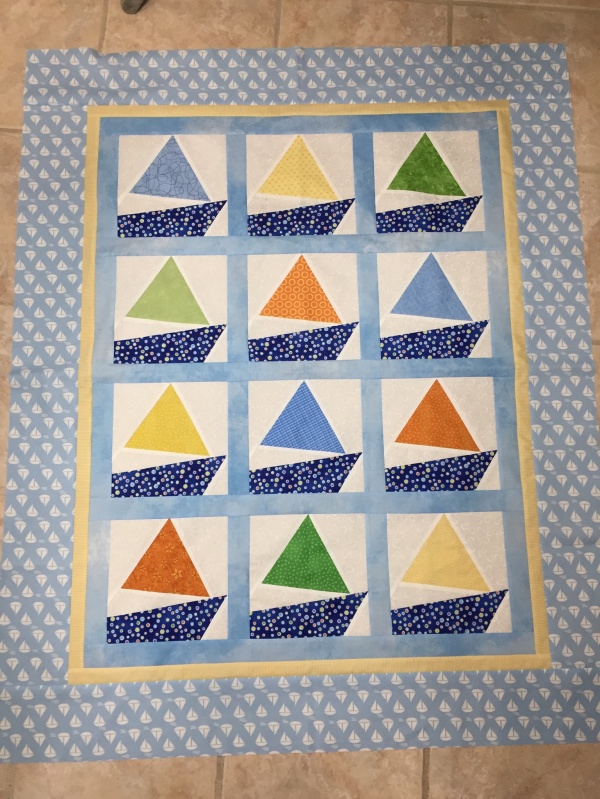 Ship Shape. And it's a quilt. This is a paper pieced project that I thought was hard. Seeing as there are not that many pieces in each block, I was done in no time. On to the next kit.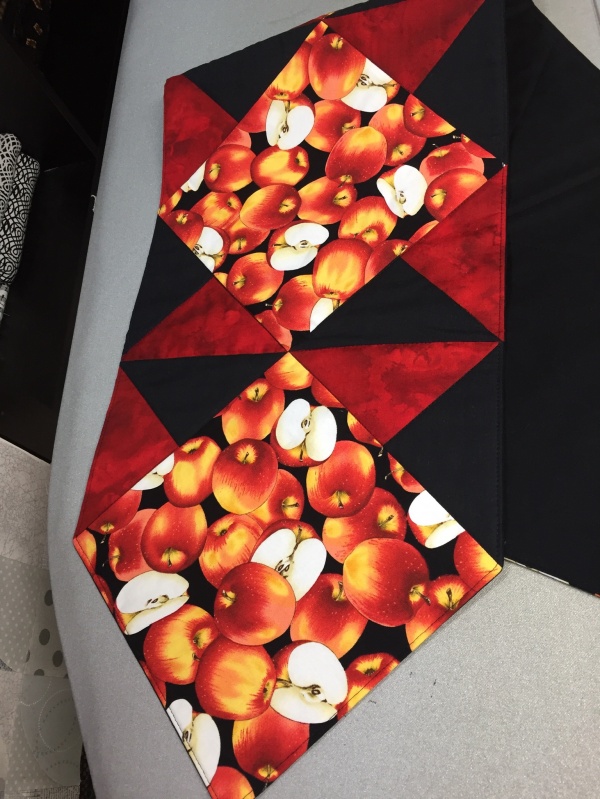 Sew Square table runner (folded in half) Completely finished, just waiting for the fall to use it.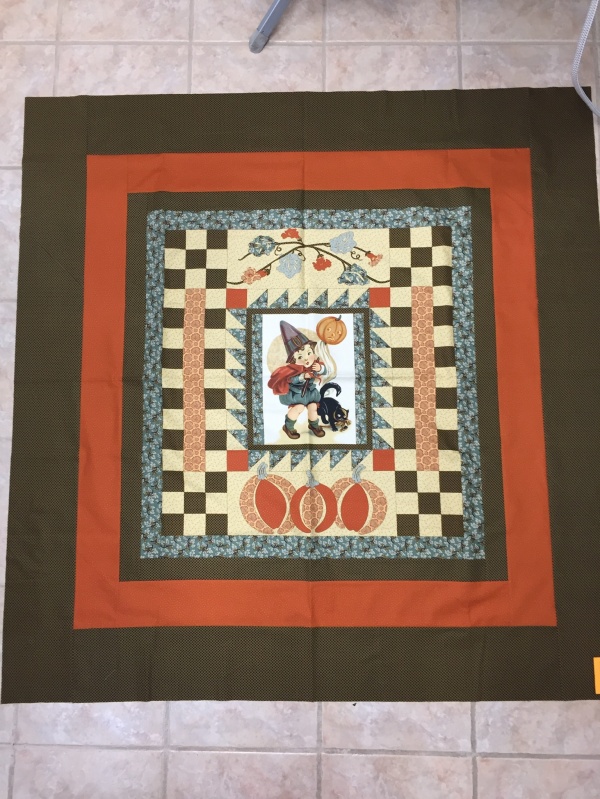 This little kit took me a whole 2 hours to make. And another quilt. There's a date stamp in the selvedge, 2007, so I've had this for a while. Wonder why I never made it.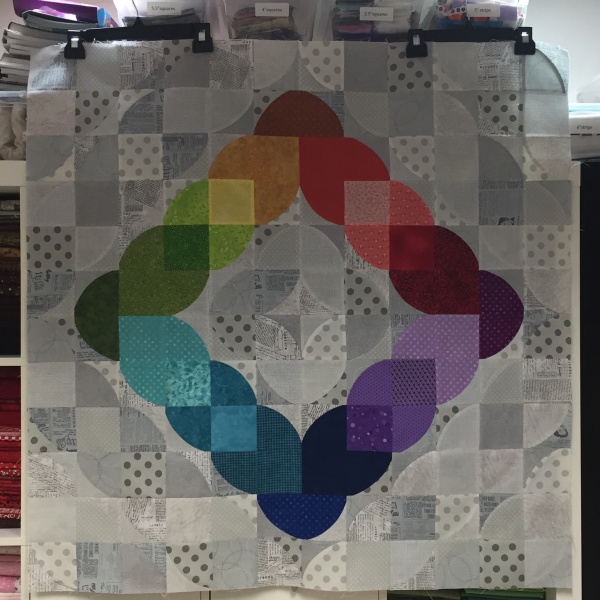 And another quilt! I just finished this one on Saturday. It's only been in the stash since last fall. I can't wait to quilt it and hang it up in my dining room! I love this quilt. Maybe that's why it's called Colour Love. It's from the Mini Wonderful Curves book using the QCR Mini. I added a few fabrics as some of the colours in the kit didn't work for me.
I better work on the kits that are table runners and smaller things that I can quilt myself. The "To Be Quilted" list has 30 items on it. Some I can do myself but my machine needs to be serviced as it is skipping stitches. I check all my seams to make sure there are no skipped stitches. Funny how I was just thinking that it must be about time to get it serviced and then it starts skipping. Then the service icon comes up. And the place I take it to is about 2.5 hours away. I was hoping to take it in when the weather gets nice. If that ever happens!
Now for those numbers.
Fabric used since the last time: 24.72 yds
Fabric used YTD: 42.27 yds
Fabric added since the last time: 2.2 yds
Fabric added YTD: 19.2 yds
Net fabric busted: 23.09 yds
I'm linking up with Donna for the Stash Report at quiltpaintcreate and with Kate at Life in Pieces for the !5 Minutes to Stitch Challenge.
See you next time you visit. Have a great week!