Archive for March, 2017
It has been a very long time since I posted anything here. Here is one of the quilts I am working on. It's Urban Abacus by Sew Kind of Wonderful using the Quick Curve ruler. I saw it made in Jane Sassaman fabrics and just loved it. So after much searching, I found 9 different prints that worked well together. Mind you, I only needed 1/4 yard of each print even though I bought a full yard or 2 of the ones I liked best. Now I might be making a few more of the same thing. We will see how this one finishes up, I have 4 more rows to add. I worked on this at the Hearts to Holly retreat last weekend and ran out of white pieces. Must have counted them out incorrectly.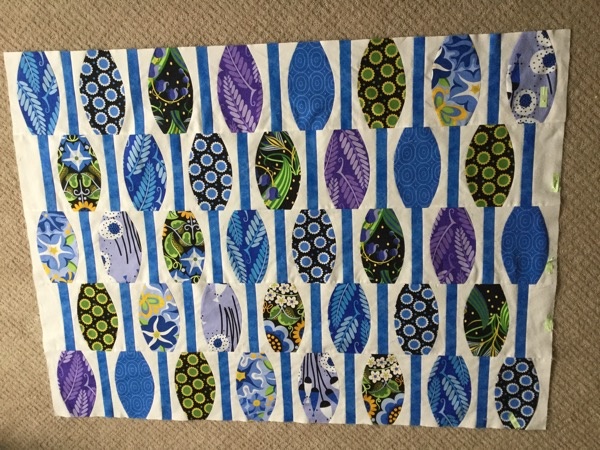 March 12th, 2017 - The Stash
Just a quick little post. I went to a retreat last weekend and felt like I didn't accomplish much. Mostly gabbing and playing catch-up with everyone. I had a good time and the weather was great for driving the 4 plus hours to get there. I didn't buy any fabric while I was there either. That is a first for me!
Fabric used since the last time: 35.58 yds
Fabric used YTD: 87.1 yds
Fabric added since the last time: 16.25 yds
Fabric added YTD: 20.25 yds
Net fabric busted: 66.85 yds
I feel good about my purchases. No stash enhancements, mostly backings. My mom gave me a gift card for the local quilt shop and I went in there and could not find something to buy that wasn't fabric. Thankfully there's no expiry date on it!
Have a great week!