Archive for March, 2012
March 25th, 2012 - The Stash
Well, for someone who said they would post at least 3 times a week has failed . But I have an excuse. I went back to work after being off for 7 weeks. It was grueling. Not the work but having to get up at 4;20 every day. This again makes me really want to retire.  And due to being so tired, I can't seem to get much sewing done either. Now that sucks!
 In the sewing department, I have managed to sew 2,000,000 stitches on my Bernina and the skull and crossbones came up. Time for service! I didn't think I should sew until after it was serviced and it will be back on Tuesday. Figures when your machine is out, that's when all your creative juices start to flow. I could have sewed 10 quilts yesterday but instead I worked on some hand-quilting.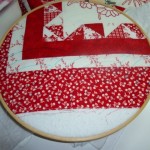 I started this quilt aboout 7 years ago. Not the quilting part but all the redwork. I didn't want to machine quilt over the stitching so I thought I should do some hand-quilting on it. Needless to say, I haven't got very far. I started in the middle of the quilt and didn't like it, so I ripped it out and started at the bottom right. I'm liking it now and am looking forward to completing the first row of quilting. Maybe tonight I'll get it done. Now for some stash progress.
Fabric used this week: 0.31 yds binding for a baby quilt
Fabric used YTD: 56.97 yds
Fabric added this week: 0 yds
Fabric added YTD: 28.03 yds
Net fabric busted: 28.94 yds
 I even went to the quilt shop yesterday browsing for ideas. Nothing tickled my fancy, not even the Winnie the Pooh fabric which I have been looking for. I wanted to make a baby quilt from it, but it's not the classic Pooh print, so it wasn't coming home with me.
See you later and have a great day.
I was bad but then again I was good. Seeing as I haven't shown any fabric usage for a few weeks, my purchases won't seem so bad. I don't even know how long ago I posted a stash report but here goes.
Fabric used this report: 31.22 yds
Fabric used YTD: 56.66 yds
Fabric added this report: 28.03 yds
Fabric added YTD: 28.03 yds
Net Fabric busted: 28.63 yds
I guess if I keep going like this, I'll be ahead for the whole year. Most of the fabric I added was black, brown and beige with some gray thrown in for good measure. Nothing so exciting that says you must buy me to make a quilt. Boring background fabric. You know the tone-on-tone kind. I actually had to look at them to remember what I had bought. The fabric I busted was a lot of backing fabric and I cut up some striped fabric for 3 quilts. I think I posted a photo in a previous post. Really easy! And I have it in a red and white version too. I'll have that ready for next weeks report. Talk to you all later.
March 10th, 2012 - Work
 After being off work for 7 weeks, I have to go back on Monday. The clocks spring ahead tomorrow night and I have to get up at 4:30 Monday morning. I think that's what time I go to bed now. Ughhhh…….
My quilty friends and I  are" The Quilters Three". We've made many comfort quilts over the years. Some patterns are so easy to whip up and quilt, that we tend to over use them. Other patterns with 20 or more triangles in each block, get put by the wayside. Too much work and it takes way too long. We're behind on our quilts and it seems that every time I talk to somebody, there's another quilt that needs to be handed out. So I'll stick with the easy, tried and true patterns for our quilts.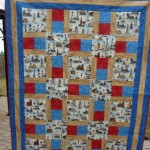 Okay, let's try this again. I had this post all ready to go and none of the photos showed up. What gives? Anyway, this is one of the 3 nautical comfort quilts that I made in the last couple of weeks. The pattern is from a Sulky book and we call it the Cottage Quilt. The book sample had cottages in it, so the name stuck.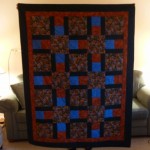 Here's the "Where's Waldo" version of the same quilt. Betty's husband thought that's what it looked like but I don't see Waldo anywhere. The fabric is actually houses that look like they are from a hilly region of Italy or Europe somewhere. No Waldo!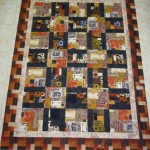 And another version. I just love this fabric. It reminds me of a paper collage from Tim Holtz. There's typewriter keys, manila tags and file folder tabs all strewn about. And the small border fabric is called Fingerpaint. I wish I had it in every colour.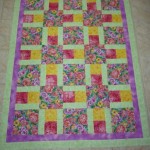 And finally, a floral version of the Cottage Quilt. The colurs used here make the pattern really visible.  I really like the versatility of this pattern. Every time I make one, it's a treat to see how it's going to turn out.
 That's the show for today. I hope you enjoyed it.
I went on a quilt retreat this weekend sponsored by Hearts to Holly Quilt Shop in Charlevoix MI.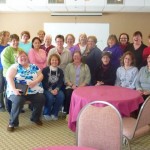 This is almost everyone who attended. I think everyone had a great time. There was a lot of sewing going on and the food was delicious. All part of the package. There are plans to do it again next year.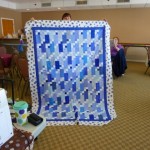 I managed to get a couple of tops completed. I started this one on Friday night and finished it Saturday night around midnight. I had the 4-patches already made before the retreat so it was mostly assembling the blocks and sewing it all together. I had to buy the dark blue border and it will be the binding also. This is a pattern from Bonnie Hunter of Quiltville.com fame called Bricks and Stepping Stones. She's a scrappy quilter and has free patterns on her site. You should check it out.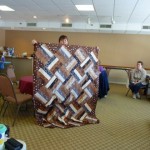 I also put this top together. It's a jelly roll pattern from Pieces from my Heart called Field of Flowers but I didn't use a jelly roll. This is striped fabric that I cut up into 10.5″ blocks. Looks just like a jelly roll but about 1/3 the effort. Quick and easy. I started this at midnight Saturday and finished it around 3 am.  Time for bed.
 Since I stayed up so late on Saturday, I really didn't do much on Sunday. I made a quilt label and started packing up my stuff. It was a beautiful sunny day and I wanted to get home before dark. We had a 4.5 hour drive to get back downstate and I think we got home around 7:30. Perfect timing for unloading the car and starting some laundry before hitting the sack. It was a great weekend and I can't wait to do it again next year.