I went on a quilt retreat this weekend sponsored by Hearts to Holly Quilt Shop in Charlevoix MI.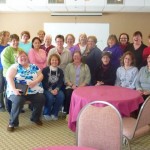 This is almost everyone who attended. I think everyone had a great time. There was a lot of sewing going on and the food was delicious. All part of the package. There are plans to do it again next year.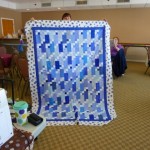 I managed to get a couple of tops completed. I started this one on Friday night and finished it Saturday night around midnight. I had the 4-patches already made before the retreat so it was mostly assembling the blocks and sewing it all together. I had to buy the dark blue border and it will be the binding also. This is a pattern from Bonnie Hunter of Quiltville.com fame called Bricks and Stepping Stones. She's a scrappy quilter and has free patterns on her site. You should check it out.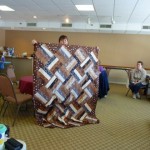 I also put this top together. It's a jelly roll pattern from Pieces from my Heart called Field of Flowers but I didn't use a jelly roll. This is striped fabric that I cut up into 10.5″ blocks. Looks just like a jelly roll but about 1/3 the effort. Quick and easy. I started this at midnight Saturday and finished it around 3 am.  Time for bed.
 Since I stayed up so late on Saturday, I really didn't do much on Sunday. I made a quilt label and started packing up my stuff. It was a beautiful sunny day and I wanted to get home before dark. We had a 4.5 hour drive to get back downstate and I think we got home around 7:30. Perfect timing for unloading the car and starting some laundry before hitting the sack. It was a great weekend and I can't wait to do it again next year.
One Response to "Hearts to Holly Retreat"
Allie Says:
March 7th, 2012 at 10:57 am

GREAT quilts, girl – that looks so fun! I've never been on a retreat. I really love the blue quilt, I'll have to go check out Bonnie's site!
Leave a Reply