Archive for July, 2020
Remember last week when I posted this picture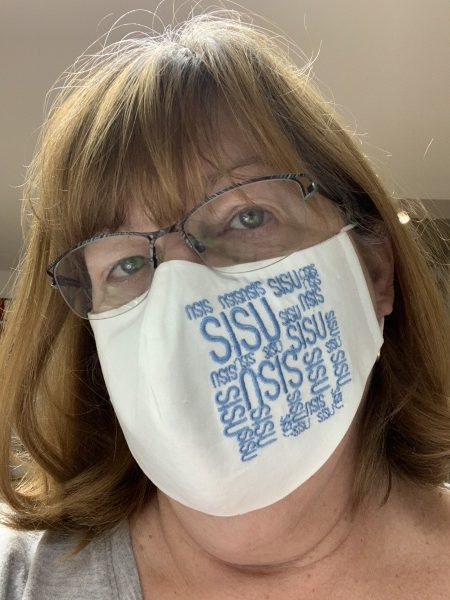 I also posted on FaceBook in the SISU group I belong to. Well, I can't believe how many people liked the mask and wanted one. So I have been very busy these last couple of days making these masks.
I had both my embroidery machines running. It was actually pretty neat how it all worked out. Lots of jump stitches to cut. And then all that trimming and turning right side out. But I have them all done, ready to be shipped out tomorrow.
So here is my stash report.
Fabric used this week: 5.87 yds
Fabric used YTD: 177.29 yds
Fabric added this week: 3.25 yds
Fabric added YTD: 140.5 yds
Net fabric busted: 36.79 yds
The only reason I bought fabric was for the lining of the masks. I wanted it to match the stitching. If I was just making one or two masks, I would have used bits from the stash. I do have another possible order for custom embroidered masks and I will have to purchase fabric for them as it's a specific colour and a solid. But that's next week.
In the 15 Minutes To Stitch challenge, I did pretty good this week. I longarm quilted a quilt for a friend on Tuesday but can't show it yet as she hasn't seen it. Worked on a little bit of cross stitch on Wednesday. Then I have been making masks non-stop since Thursday, 8 to 12 hours per day. I already have more orders today so that will keep me busy for a few hours.
I'm linking up to Kate at Life inPieces for the 15 Minutes to Stitch challenge and with Donna at quiltpaintcreate for the stash report.
Have a great week and enjoy the beautiful weather!
Really! Busy being cooped up! This COVID-19 business is getting to me. It seemed to be pretty well contained here. But lately there has been an increase in the number of community transmissions as more places are opened back up. I couldn't imagine going out other than for necessities and risk getting the virus. My brother, who had a heart transplant in Dec 2018, was in hospital for shingles, which led to siezures, encephalitis and a stroke, and then contracted COVID-19. What a nightmare that was! He is finally in the clear after being hospitalized for 4.5 months, with 2 negatives and is doing rehab in London ON at Parkwood Hospital. He still has a long way to go. And it's not just like the normal flu regardless of what people say.
On the quilting front, I have quilted 18 quilts since my last post. I can't believe that I haven't posted since January. I love my Gammill Statler stitch, it's perfect curves and circles. No jerky stitching at all. It plows over the thick seam allowances with no problems.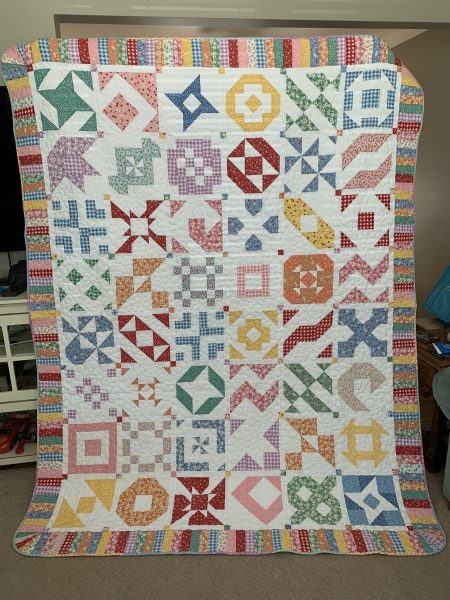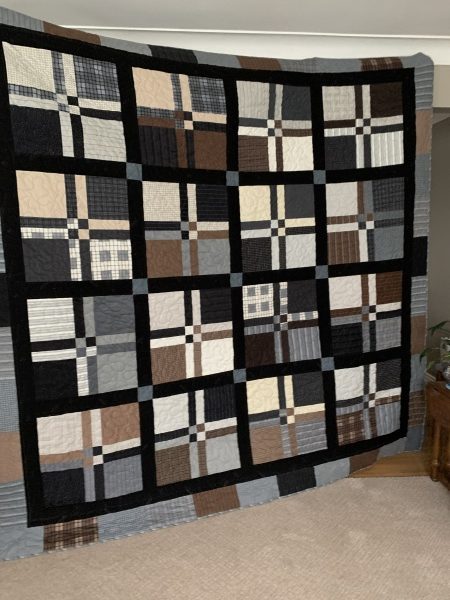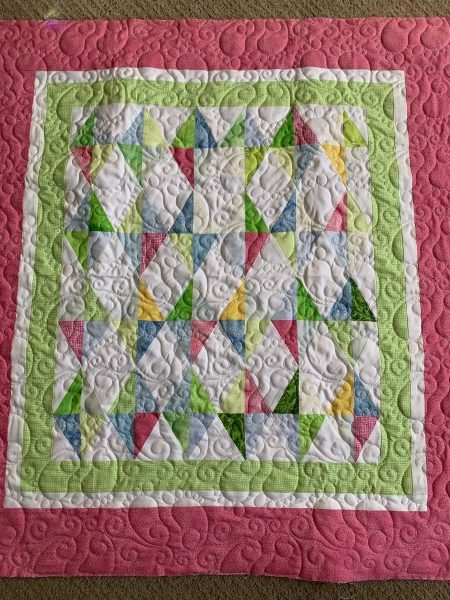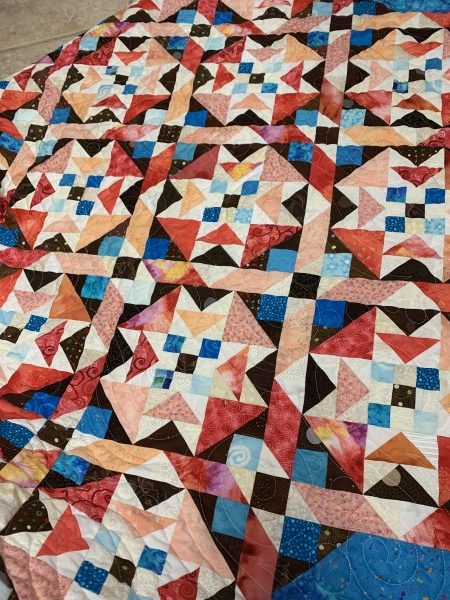 I have too many quilts done and it takes me forever to load the pictures. I really should post more often. Maybe I will get better at this too.
Now for a Stash Report which will be my year to date totals
Fabric used year to date:171.42 yds( 50 yards was donated for masks)
Fabric added year to date: 137.25 yds
Net fabric busted: 34.17 yds
Finally in the good. That was a lot of quilt backings and a lot of mask making.
In the 15 Minutes to Stitch challenge, I have not being doing all that great. Some days I just can't seem to get motivated to sew at all. But I still manage to get a lot done. I was up sewing at 8:00 this morning for a few hours. I made some embroidered masks. I have wanted to make a few more since I made this one.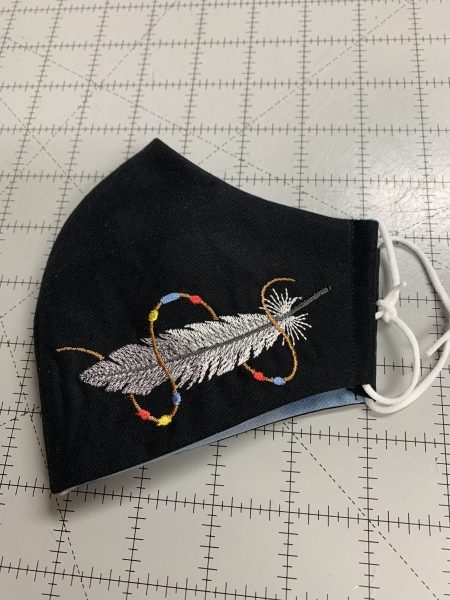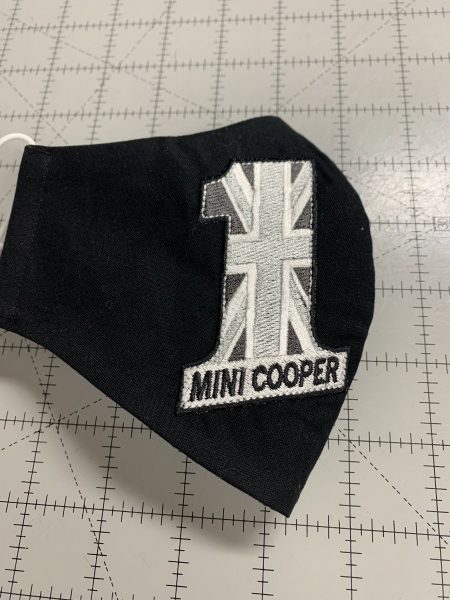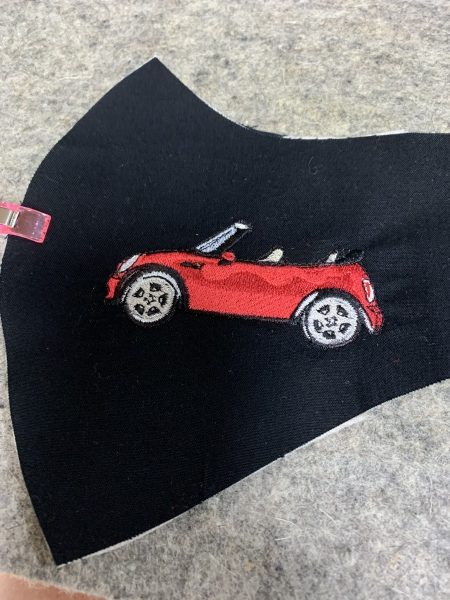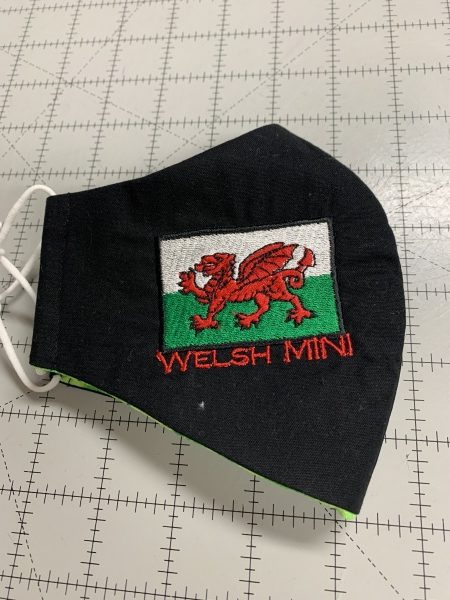 I have the Floriani embroidery software so I was able to add the words. Then I remembered I saw a video from Floriani on word play and I had to give it a try and came up with this.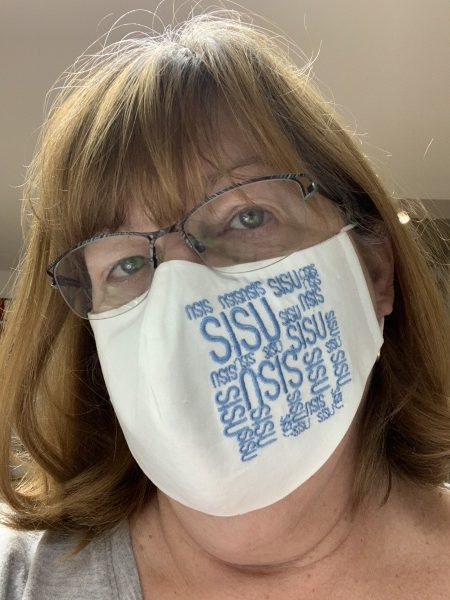 Anyway, this puts me up to date. Keep safe and stitch on! There's another word for word play embroidery.