Archive for the 'Bathroom Renovation' Category
What to do, what to do. I can't decide what project to start. I took some stuff from my little basket of goodies.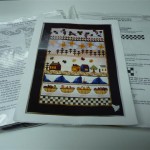 I saw this quilt at a shop in the Hamilton area. It's an Ontario quilt and I just had to have it. It has been aging in my basket of goodies for at least 6 years now. I hope all the pieces are there and I don't mess up while cutting it out.
Or I could start this little quilt, Snapshots from Atkinson Designs. I have made a few projects from this company and I really like how they turn out.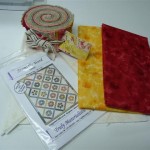 Or I could start/finish this one. Mum's The Word from Truly Materialistic. I started it but put it aside for other things like Christmas and bathroom renovations.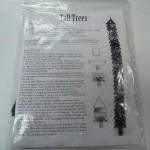 Or I could make these Tall Trees and just get something done, nice and simple. More of my Christmas stuff that will be hanging up for next year. I hope.
 Speaking of bathroom renovations, it's not done yet. Last night I found some water on the basement floor and we discovered we have sprung a leak. Hubby thinks that when he installed the vanity a nail or screw or something nicked a pipe. That's his story and he's sticking to it. And the mirrors are not completely in yet. One down and 2 to go. That should be on Thursday. Hopefully by this weekend or the next it should be completely done. Who knew that it would take sooooo long. At least the shower works and I don't have to go to my Mom's for that.
 Well, I'm off to do some quilting. On what, I don't know. Maybe I'll just iron some fabric. Or maybe I'll just go to bed.
Mary-Kay
Okay I have some pictures of the new bathroom but it's not completely finished. The window trim needs painting, the door casing needs to be installed and the filler pieces at the side of the vanity need to be fitted in. Woodworking is not our forte. Our neighbour was helping to do this part but he became ill and can't do anything for 2 weeks. I hope he recovers and that there is nothing seriously wrong with him. Lucky  we are patient people and the bathroom is fully functional. We took a lot of pictures of the work in progress and my husband wanted to get one of those digital picture frames and put it in the bathroom. Needless to say he changed his mind when he realized that it needed an electrical outlet and he didn't want to put another one in. It would have been cool for about 2 days and then when everyone was in there so long looking at all the pictures, we would have been hollering to hurry up because we have only one bathroom.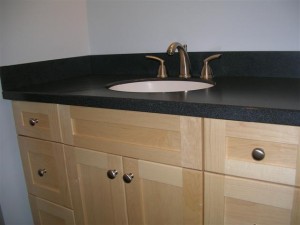 I had the vanity custom made. I didn't like any of the  premade ones. I thought that for all the money that it cost I might as well get a really good vanity to fit the spot. I am only going to remodel this bathroom once.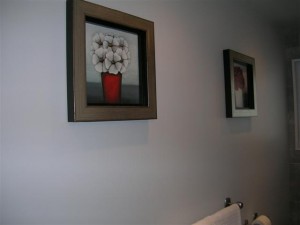 A couple of pictures I picked up at the local decorating center. The background colour is the exact shade of the walls. Once I saw these pictures I decided that the accent colour was going to be red. I thought maybe we could use a purple but once these pictures were up that all changed.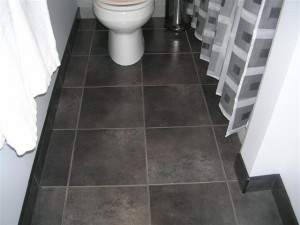 The floor tiles are not black but a  smokey grey black. The  baseboard tiles look blacker than the floor tiles but they are the same colour. I love the shower curtain. Doesn't it look like a quilt?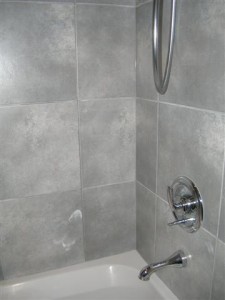 The wall tiles are a beautiful shade of silver grey. The grout is silver also. I really like the contrast between the floor and wall tiles. All the faucets are Grohe and boy are they heavy. The shower ones have a chrome finish and the sink ones are brushed nickel. The guy at the bathroom store said that the chrome finish is more durable than the brushed nickel and he thought that they were better choice for the shower. You can't see both faucets at the same time so it's not an issue and beside I like the different finishes.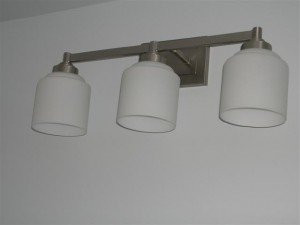 Light fixture over the vanity.  The mirrors are ordered and come up to the middle of the shade. They should be here in  2 weeks. By then all the other stuff should be done and then it will be complete. My husband thinks we should charge a viewing fee for all the neighbours and family. Yeah right!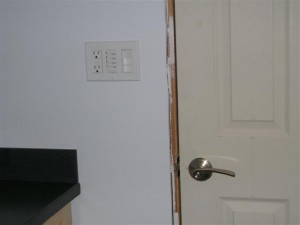 This electrical setup looks really neat. We have a GFI plug, a timer on the fan switch and three different light switches. It looks like a lot of lights but the way this bathroom is laid out you need a light over the vanity, in the shower and above the toilet area. You don't have to have them all on at the same time. As you can see the door casing is not in and the door itself is not painted. Soon I hope to have it done. We also replaced the door handle and I think that I am going to replace all the door handles in my house because I really like this one. It's really solid and I like the brushed nickel finish. The hinges on the door are also brushed nickel.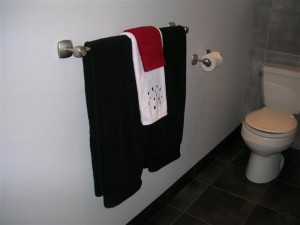 We decided to go with these black towels. I don't know if I like them but the price was right.  Originally we thought that the floor tiles were black and we'd go with black towels. But once the tiles were laid out  they didn't seem as black ,so now I think I'd like to get some dark grey towels. I saw some at Sears but I couldn't believe how much they were. I'll have to wait for some great sales. All the towel bars and tissue holder are from Umbra and they seem to be nice and solid. I looked at a lot of these  and many appeared to be too flimsy. I saw some really nice ones at Restoration Hardware but I thought that they were too expensive.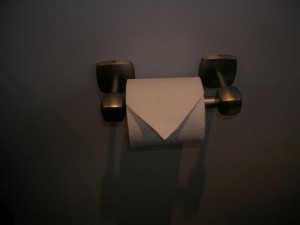 And for the final picture today, here we have the toilet tissue holder. I don't usually fold my tissue,  just for this picture. Iwas laughing when I did it. I taught a quilting class a few years back and one of the ladies used to work for a maid service. Her father-in-law was sick and before he came home from the hospital she cleaned the house and folded the tissue like this. She said that this was done after they cleaned a house. Isn't that nice? Almost like a chocolate on your pillow! I'd rather have the chocolate.
 Is this enough pictures for you, Lori? Haha, I'm just kidding – I've been meaning to do this but I was trying to wait until it was totally finished. My hubby was trying to show some guys at his work some pics and thought that I had posted more of the finished ones.
That's all for now. On to more stashbusting.
Mary-Kay
Well, it seems the bathroom will not be done in time for the holidays. The tile guy finally showed up on Thursday night and told us to call him when we are ready. He didn't seem to think it was necessary to put the Kurdi (waterproof membrane) on the walls or the Ditra (another waterproof membrane) on the floor. He said he was the wrong guy for putting floor tiles on the 45 and then later said that it was passe.  I couldn't picture the tiles on the 45 anyway so I think I'll go with a brick pattern instead. It seems to me that maybe he doesn't want the job. Needless to say, we are putting the membrane on the walls in the shower and on the floor. We are not taking any chances and we have had water damage and lots of mold so any overkill will certainly help. I bought primer and paint and have put on a coat of each. I will save the final coat of paint until everything is done so I can touch up everything while I'm at it.
 Now on to the quilting front. I have hardly sewn anything during this renovation. Last night I made a fabric basket and wrapped it up and forgot to take a picture of it. Darn. It is bigger than the previous one that I made. I think I'll make another one today and show you that.
That's all for now.
Talk to you later.
Mary-Kay
Yep, that's right, I'm sick again this time with a head cold. I got a flu shot on Monday and by Tuesday night I had a cold. Maybe I already had a little bit of a cold wwhen I got the shot but who knows. All I know is that I'm sick of being sick!
 On the bathroom renovation side, boy is it a slow process. We'll be lucky to be done by Christmas. I'm not putting up the decorations until all the sanding and tile cutting is done. It's bad enough that the house is so dusty that I don't want to be dusting decorations too.
And then on to the quilting side of this blog. I machine sewed the binding on to the last 2 quilts. Now all I have to do is the handsewing part of it. I really like these 2 quilts.I'll post pictures tomorrow.
Well I'm off to shower…………at my Mom's, of course.
Talk to you later.
Mary-Kay
I don't know what day # of the renovation is but I'm ready to just loose it. I can't stand the mess anymore. But progress is being done and there seems to be a light at the end of the tunnel. I had hoped we would be done in a two week time frame but it looks more like three weeks. Most of the drywall has been hung on the walls with care and the plumbing doesn't drip all the way down the stairs. Now to just this job done so I can put up the Christmas decorations. That's hard to do when there is a bathtub in the living room. Okay I'll quit sounding like a nag. It will be well worth the wait.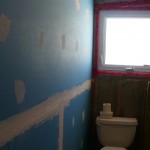 All that is left to drywall is the outside wall and the tud area. We are going to use cement board for the tub area.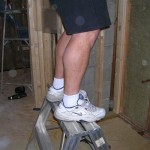 A mystery visitor on Thursday evening. He is not supposed to be here but occasionaly he drops in.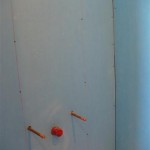 The vanity area. We did a water test last night and there was a leak but it was on the end cap not in the wall.
That's all for this post.
Talk to you later.
Mary-Kay
Well I haven't posted for a few days because this project is moving too slow for me. I thought that we would have walls by now but that's the way construction works. Actually I'm glad that it's taking this long because yesterday it rained and the roof is leaking by the chimney and that needs to be fixed right away.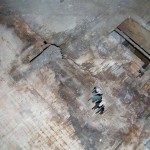 Here is the hole in the floor. This is right beside the tub and every time you would step on it, you could feel the floor sag. There was some water damage, obviously!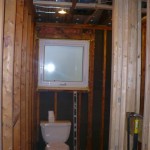 This is the new window. I guess it's a little too big for the opening on the outside because there is nothing to attach the aluminum trim to. Glad that's not my job.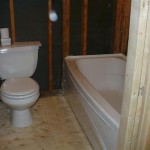 A dry fit of the new tub. The toilet and the tub do not match colour even though they are both American Standard.  We ended up buying a Kohler toilet because they make a brilliant white toilet that matches the tub better.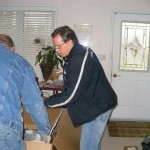 This is my brother-in-law and my brother hard at work. They both have been a tremendous help with this project.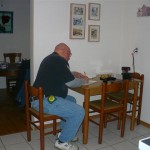 And here's the home owner hard at work. Actually he is calculating what he needs for the plumbing. There sure are lots of tiny little pieces that all go together to connect all the lines. Almost like a Lego set.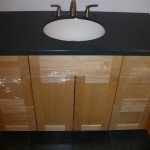 Finally here is a sneak peak of the vanity, taps and floor tile. I picked up the vanity today and as soon as I got it home both Brett and I wanted to see how it looked. So we got some tiles out and put the counter top on with the taps. I really like it so far. I can't wait to see it all done.
Tomorrow the chimney is supposed to be fixed and then it's on to insulation and drywall.  We better hurry this up because it's supposed to start getting real cold out. Right now the bathroom is like an ice box.
That's all for now.
Talk to you later.
Mary-Kay
November 25th, 2008 - Day #4
I didn't post anything for Day #3 because it was a bust. We went to Home Depot and no one would wait on us so we left. Then we went to another Home Depot where we spent the rest of the day trying to figure out what to buy. The store had inventory done and it was a mess. Boxes were opened and parts were missing. There was also no one to wait on us and it was very frustrating.
 Today Brett started to tear out the ceiling and my brother and I went to the local Home Depot to buy more supplies. He is great at getting people to wait on us.  To the first person we see in the store, "Hey buddy, we need a tub down" and they do just that. He knows exactly where everything is in the store and just loaded up the cart. I think we were there and back in under an hour. No browsing around for him, which is what I needed.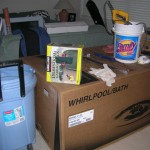 This is the new tub, parked in the living room. No, it is not a whirlpool, all of the boxes say that. There was this really nice tub, Minimalist by American Standard, but it wouldn't fit in the space so I got the Marina model. We aren't fussy on the tub because we prefer to take showers and the only reason we are putting a tub in is for resale value. In the background there is the new window. My house is a giant mess. There is stuff all over – dust included.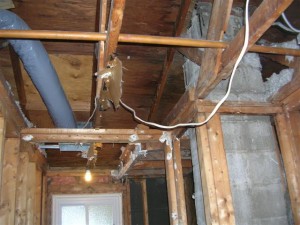 See the 2×4's that go across the ceiling. Well, those are gone. Now the bathroom will be one continuous ceiling. I think it will look a lot bigger and less chopped up. Originally, I think there was supposed to be a door separating the toilet and tub from the rest of the room.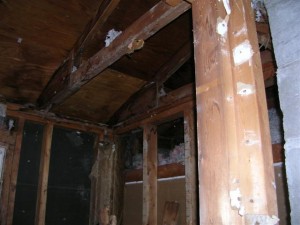 This is the area over the tub. It used to have a bulkhead but now it's gone.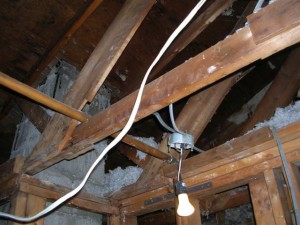 The area over the vanity. We were thinking about taking out the chimney, but we couldn't afford a new furnace, which is vented into the chimney. It's a lot of work to take it out for 2 square feet of space and I didn't think we needed the space that much.
In the quilting department I am working on the binding of quilt #3. I'll post pictures later.
That's all for now.
Talk to you later.
Mary-Kay
November 23rd, 2008 - Day 2
Day 2 is almost over. What a mess!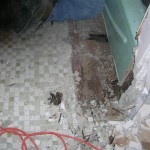 A hole appeared in the floor once some tiles were removed. This was a spongy spot on the floor were the tub had leaked.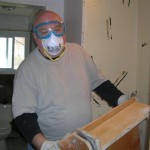 Here's the man of the hour all dressed for combat. I made him wear the mask and goggles. Who knows what he could be breathing in with all that dust, insulation and crud.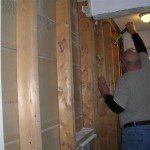 Here he is again pulling out some nails. We used to have a laundry chute but we have heard that they are unsafe. We have natural gas and one time it was leaking and you could smell in the bathroom.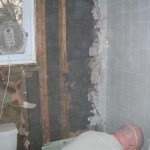 Here he is scooping out debris out of the soon to be gone bathtub. He managed to get the tub out by himself without taking out the toilet. I helped him carry it to the door.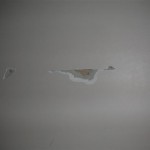 This is the only damage so far . Brett hit the tiled wall in the shower so hard that the plaster came off the wall on the other side. When my brothers did my Mom's bathroom they knocked a hole in 2 of the adjoining rooms.
That's all for now. I will post more tomorrow. Now I am off to do some hand sewing on binding. Hopefully I can get another quilt done tonight.
Mary-Kay
I  got to take the first swing at demolishing the bathroom. That was fun.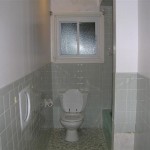 A long and narrow bathroom. Too bad the room wasn't a little wider. Think of the possibilities.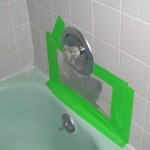 The bathtub faucet was leaking and when my hubby went to fix it the tap broke off. He had to bust a hole in the wall to cap the pipe. Lucky we are shower people.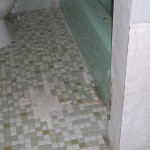 Missing floor tiles and wall tiles.We used to stick the floor tiles back down but I gave up and started throwing them away.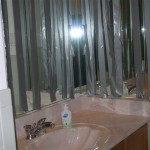 The mirrors all taped up, ready to be smashed.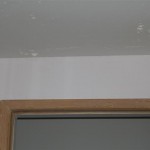 Mold and peeling paint. The whole room is like this. I can't get rid of the mold so we'll have to take out all the plaster walls to be rid of it. And we are installing a better fan with a 4″ exhaust pipe. I heard that works at removing the steam from a shower.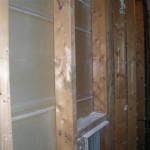 Wall #1 gone and in the dumpster. Today we will completely gut the room and begin putting up all the new wallboard and floor boards. Wish us luck!
That's all for now. I'll post more later>
Mary-Kay not a quilt junkie today more like a renovation one.