I  got to take the first swing at demolishing the bathroom. That was fun.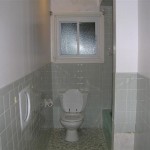 A long and narrow bathroom. Too bad the room wasn't a little wider. Think of the possibilities.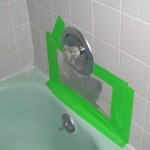 The bathtub faucet was leaking and when my hubby went to fix it the tap broke off. He had to bust a hole in the wall to cap the pipe. Lucky we are shower people.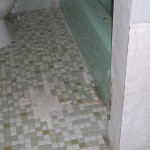 Missing floor tiles and wall tiles.We used to stick the floor tiles back down but I gave up and started throwing them away.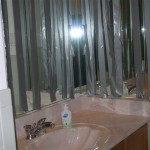 The mirrors all taped up, ready to be smashed.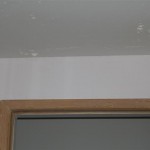 Mold and peeling paint. The whole room is like this. I can't get rid of the mold so we'll have to take out all the plaster walls to be rid of it. And we are installing a better fan with a 4″ exhaust pipe. I heard that works at removing the steam from a shower.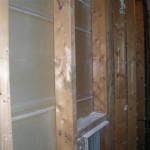 Wall #1 gone and in the dumpster. Today we will completely gut the room and begin putting up all the new wallboard and floor boards. Wish us luck!
That's all for now. I'll post more later>
Mary-Kay not a quilt junkie today more like a renovation one.
Leave a Reply