Archive for January, 2014
nap time means stitching time for Grandma!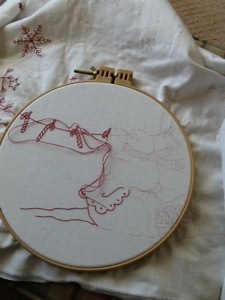 Hopefully, Lucas will be down long enough to get at least 1 candy cane done. You never know with this kid. Sweet dreams Lucas!
January 26th, 2014 - Snow Day
Yup, more snow on the ground again.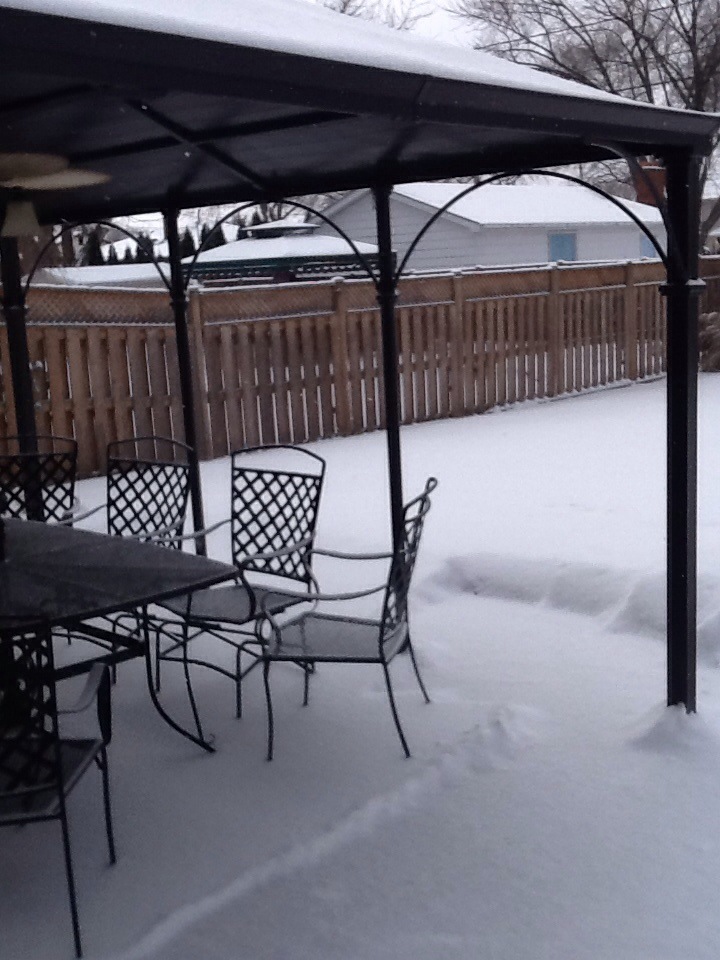 My patio set looks so lonely. Anyway, I was supposed to watch my grandson but his other grandma decided to do the job. That's okay with me because now I can sew.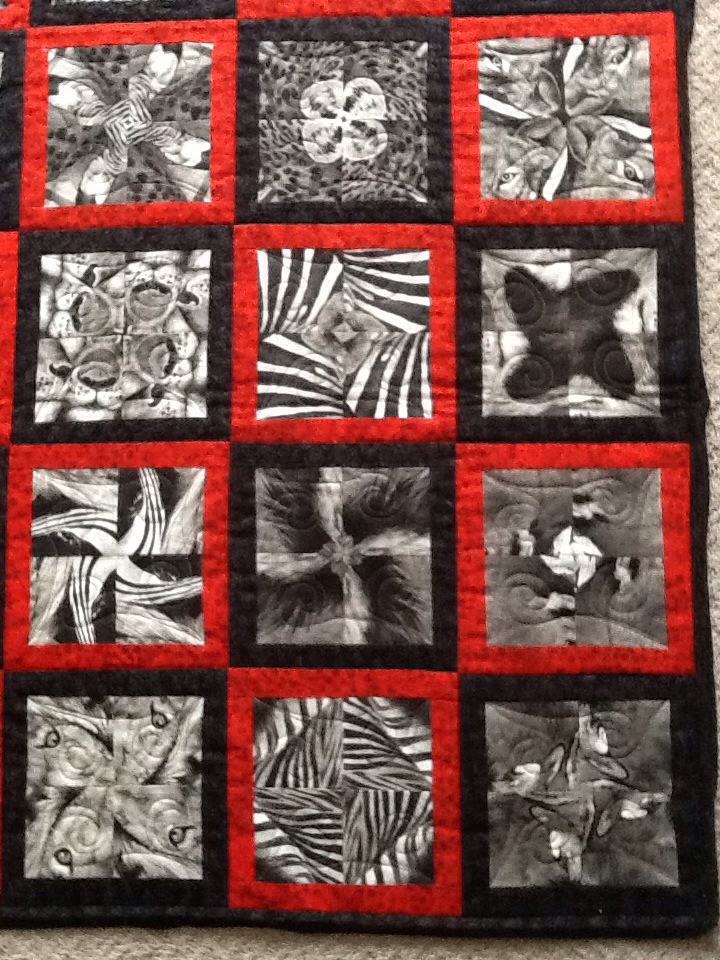 I just need to hand sew the binding down and it's done. Another finish! Yeah!!! Then I'm going to start a quilt for my sister-in-law as a combination thank-you and pay it forward gift. She really wanted to know why I was asking her what her favourite colour is. I just said for future reference. I'm glad she doesn't read this blog! Ciao!
Here it is , week 4 and I think I'm finally on the right track. Use up that stash! I started pulling reds to make the blocks for the Winter Wonderland stitchery from Crabapple Hill. I can't wait to get these last 2 redwork blocks done and then start on the pieced blocks. I'm going to work on them with my sister at the retreat at the end of February. Can't wait!
Fabric used this week: 4.4 yds
Fabric used YTD: 10.64 yds
Fabric added YTD: 0 yds (got to love that)
Net fabric busted: 10.24 yds
I hope I can keep this up. I'm really liking the way my quilting has been turning out. No more just stitching in the ditch and straight-line quilting for me. All I can think of is ' what could I do with a long-arm machine?'. One day I'll be able to get one. But for now it's practice, practice, practice and I'm liking it!
It's Week #3 and I finally have something to report. Not much, but something. I finished a scrappy quilt that I posted about the other day and all I used from my stash was 2 strips for the binding. The only other fabric from my stash was some of the sashing and that was counted last year. Everything else was scraps.
I've also started cutting out a couple of quilt tops that I want to take with me when I go on a retreat at the end of Feb.  Nothing too intricate because it's hard to socialize and sew without trying to follow a pattern. I usually bring mindless sewing and with all the company it goes so much faster and it's a lot of fun.
Fabric used this week: 6.24 yds
Fabric used YTD: 6.24 yds
Fabric added this week and YTD: 0 yds
Net fabric busted: 6.24 yds
Maybe next week, I'll have busted a lot more of this stash. I have way too much fabric and I'm running out of room.
Here's another finish, all from the scrap pile except the black sashing. Most of the binding is from the binding scraps.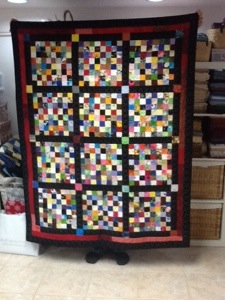 I used the Quilt Smart gridded interfacing for the 2″ scraps. What I didn't know was that you have to snip each joint and alternate the way the seam allowance falls. Then when you stitch the next seam, it sits much flatter. Who knew? I had no instructions when I bought the stuff. I found this out when I made a Mondo Bag using the Quilt Smart gridded interfacing. Anyway, it's done and ready to go!
January 12th, 2014 - The Stash
Nothing used, nothing added. Everything remains the same. But I finally finished Lucas' quilt http://mk.luckydot.org/  and I gave away a baby quilt yesterday. Both quilts already accounted for. Maybe this week, I can do a little stash busting. You know when you've been working on the quilting part of a quilt and all you can think of is "I need to sew something" and your mind wanders all over the place, itching to create something new. So what did I do today? I started quilting another quilt. I think it's going to be put aside because no quilting designs are calling to me. I hate when that happens. I think I'll go sew.
January 11th, 2014 - Finally!
I finally finished Lucas' quilt. All week I've been quilting around the trucks and tractors and when Lucas was here, he would pull it down and lay on it. I guess he likes it. Mom and dad like it too!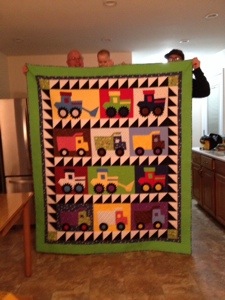 Now to finish a few more quilts in the pile.
January 5th, 2014 - The Stash
It's a brand new year and that means a new year of stash reporting. I'm not making any resolutions or setting any goals. This way, I can keep all my options open. Now that I'm newly retired, I will have to quilt the stash. When it's gone or severely depleted, then I can get some new fabric. Unless I win the lottery. Right!
So my report for this week is, nothing in and nothing out.
It's great weather for quilting. Our expected snowfall is 6″ to 10″ of wintery mix, whatever that is! I have no desire to go out, just getting over the flu and yesterday was my first time out in a week. I spent New Year's Eve in bed and missed all the festivities. I was so worried that my grandson would get this as he was with me just hours before I started getting sick. Thankfully, he isn't sick and neither are his parents. My mom is still sick with this bug. My youngest son who still lives here had it but not my husband. Let's hope no one else gets it and everyone stays safe and healthy. See you next week!