Archive for March, 2013
March 11th, 2013 - The Stash
Okay, let's try this again. Yesterday I was trying to make some pictures smalller and ended up deleting the whole post after I linked it to Judy"s Stash Busting Sunday. So now I'm just posting the facts here, no pictures.
Fabric used this week: 17.37 yds
Fabric used YTD: 56.29 yds
Fabric added this week: 44 yds
Fabric added YTD: 81.17 yds
Net fabric busted: -24.88 yds
Not really all that bad of a report. I only have 25 yards to get out of the hole and a couple of backings will do that. Have a great week!
Well, it's almost finished. I just need to put the border on and it's ready to be quilted. I like it way looks all sewn together. Now to get to bed, 4:30 comes really early!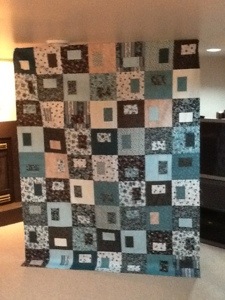 Good night all!