Archive for the 'Family' Category
Great news today! My brother may be getting a new heart! He's been in the  hospital awaiting a heart transplant for the last 3 months. It's kind of a weird situation. You pray for him to get a new heart but then when you think about how he has to get one, it's really sad. Mixed emotions all the time. We have to thank all those people who sign a donor card and their families for following their wishes. Have you signed your donor card?
Anyway on to the quilting side of things. I went to see my brother twice last week. Two hour trip and as long as I'm not driving and it's daylight, I can stitch in the car. I  managed to stitch a few hours each time I went. But the first time I went, my 2 sisters went with me. The 2 hour trip there took us 4 hours. We had to make a stop at Pastime Pieces in Blenheim ON. What a cute shop! It's in a little red barn on their property. I love that place so much, I wish I lived a little closer and I would shop there all the time. I ended up buying a couple pieces of really nice flannel for backings and some Kona Snow to go with a Christmas layer cake I purchased in the States. I have it cut out but I'm not including it in my totals until the top is done.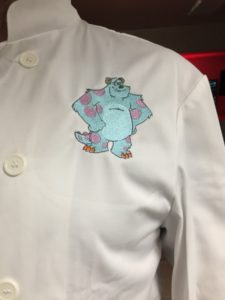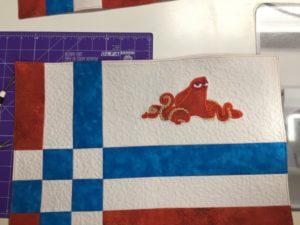 I've made a few things in the past weeks. My son asked me to do some embroidery work for a Secret Santa gift. I bought the designs on Etsy and they are pretty cute. And I embroidered on a chef's cook and that came out awesome. And I made a few placemats to go with the jacket. These are  the recipient's  favourite Pixar characters.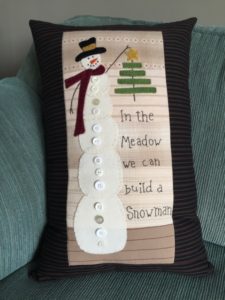 I also finished this pillow up. I just bought the kit in November at Pastime Pieces, my favourite shop,  and worked on the stitching on my trip to London on Saturday. I had to hurry up and do all the finishing stitches before my sister left as I don't have any 12 weight threads and I used some of hers.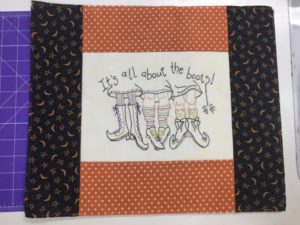 I  finished up this little stitchery, just needs a pillow form and little silver star buttons on the right boots. It will be all ready for next Halloween.
I have made over 100 items in the past year. I've been keeping track. I always feel like I am not very productive in the sewing room but since I've kept track, I can actually see how many items went through here. It's amazing the number of things that I have made.
Now for those numbers.
Fabric used this week: 11.61 yds
Fabric used YTD: 193.64 yds
Fabric added this week: 28.9 yds
Fabric added YTD: 257.23 yds  (I need to stay out of fabric stores for a while)
Net fabric busted: -63.59 yds
Once I get the flannel washed, I will be making backings for a couple of quilts. I already cut into the Kona snow yardage and will be putting that top together this week.
On the 15 Minutes to Stitch Challenge, I think I've been doing pretty good. There were only 2 days in the last 4 weeks were I didn't stitch at all. Week 1, I stitched every day for a total of 31 hours. Week 2 had me stitching every day for a total of 39 hours. Week 3 saw me at 35 hours. Last week was the only time I didn't stitch every day. But I managed to get in 18.5 hours.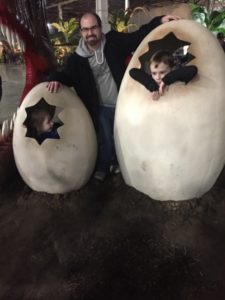 No stitching yesterday because I drove my son and his kids over to the States to go to Jurassic Quest in Novi MI. I think they enjoyed themselves. Lots to see and do but I kind of think it's for kids that are a little older than these two. I would have liked to look at every exhibit and read all the info on each but these 2 were too antsy. Maybe from the car ride over. Anyway, they were all excited to show their mom the dino balloons we bought.
I'm linking up with Kate at Life in Pieces for the 15 Minutes to Stitch challenge and with Donna at quiltpaintcreate for the stash report.
I hope everyone has a great week. And please think about signing an organ donor card.
No, not the movie. Just life. Lots of stuff has happened and I finally feel like talking about it.
I don't post that often and shortly after my last post in March, my oldest brother died suddenly. He had a lot of health issues and while I wasn't shocked that he died, it still was a very sad time for my family. I took him to all his doctor's appointments, doled out his medication and tried not to argue with him about stuff (he was a schizophrenic with some really weird theories). The rest of my family was shocked because they didn't realize the extent of his other health issues besides the mental illness. He had 4 children and 4 grandchildren with another one on the way. His daughter was stuck out west pregnant, unable to fly home to attend her dad's funeral. So sad! My husband was his power of attorney and executor of his will. We have been working on that and boy is it a long process!
Just before all this went down, another brother (I had 7 of them) was diagnosed with lung cancer. The worst kind that a person could get. Small cell lung cancer that ended up metastasizing to the liver and the brain. It was sad as he was just 55 years old, seemed to have everything going for him and he even won a lottery 11 years ago. Anyway he had a round of radiation and a couple of chemo treatments and the doctors did some tests and discovered that the brain cancer wasn't responding and there was nothing more they could do. He passed away in September.  So sad to see how cancer affects a person and how it just eats away at the body and soul. My brother went peacefully surrounded by his wife, brothers and sisters. He had no children but numerous nieces and nephews that loved him dearly. It's been a very tough time for my family and my mother.
And then my oldest son has been diagnosed with epilepsy. He had his first seizure in August and has had 2 more since then. The doctors can't find anything wrong with him. The mysteries of the brain. His biggest concern is the medication makes him tired. And he can't drive so that leaves all the driving to his wife and they have 2 small kids. This sudden seizure thing seems to happen to quite a few people and I never knew this until my son had a seizure. I hope and pray he doesn't have anymore of them.
In light of all this, I kept on quilting. Some days it was hard to find enjoyment in something you love doing. I managed to quilt quite a bit. I started making things on the "Kits to Make" list. There are 43 things on that list. Kits, BOMs and projects that I have the pattern and fabric set aside. Of those 43 things, I have made 13 things this year. One of the BOMs was from 2002/2003 and there's a lesson in there. Make all those kits and BOMS up just in case there are missing fabric pieces or poor instructions. If you wait too long, #1 the fabric is out of print, #2 the shop is no longer in business and #3 the pattern is so old that there isn't a picture of it on the internet anywhere. I think the internet wasn't even invented then. Not all these items are quilts but quilt related stuff like thread catcher kits and pin cushions and not on the list is my tuffet and the mini tuffet. Better update that list. Is anyone interested in the Civil War Tribute BOM? I will sell it no problem. I don't know why I bought it, not my kind of quilt at all! And I just looked in the drawer where this BOM is and there is another kit to make that's not on the list. OH NO!!!!!
Most of the 13 quilts are quilted but that's another list. The "To Be Quilted" list has 52 items on it. No I didn't make them all this year. There are 25 items quilted, so that leaves me with 27 items to be quilted plus whatever is on the other list. Plus I keep adding to the "To Be Quilted" list as I make things spur of the moment. It's like a never ending cycle. I won't get bored that's for sure.
And then there's the sewing room reorganization project. In mid August, we got some bedroom furniture for the spare room. there was a Ikea Expedit bookcase in the room and a double bed. My husband decided one night while I was out visiting my brother, that he should rearrange the furniture and take that bookcase downstairs and put it in my sewing room. Can anyone say CHAOS! OMG! And then to top it off, my oldest son had a seizure that night for the first time. By the time I got home and looked in my sewing room, there was stuff everywhere. Lucky for me, I kept all my fabric in Rubbermaid bins and tubs, 27 of them, so that part was somewhat okay. You couldn't sew if you tried. It took me a couple of months to get it organized. And it's way better than it was before. I can see 90% of my fabric whereas before I had to pull out the pile of tubs and search through them to find fabric. Plus when you move things in your basement, even though it's finished, there are always those creepy crawly centipedes to deal with. Now the bins are gone and there are no hiding spots for my buddies. They come right out to see me. And then they end up………… No gory details here.
Okay, this post is way too long. I will try to post some pictures tomorrow. I have to get a refresher course on this. Have a great night!
Today I became a grandma! I'm so excited. Lucas is the cutest little thing and I just want to bring him home with me.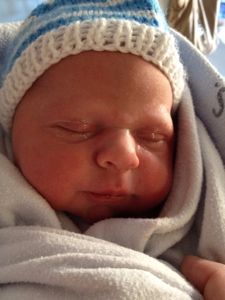 My son, not the dad, thought I was being an overbearing grandma. I don't know what he meant by that!
Okay so this is not a quilting related post. It's about my mom. She had  cancer and was being treated with radiation and chemo in June to shrink the tumor before surgery. Before her surgery, she had a CT scan and then met with the surgeon the next day. He said the tumor hadn't gotten any bigger and I thought to myself  "All that radiation and chemo and the thing hasn't shrunk. Well, at least it didn't get any bigger." My mom had the surgery to remove the tumor and all was well. 
We went to see the chemo doctor and he suggested she take another round of chemo more as a preventitive more than anything else. She is cancer free at this moment but you never know when it might return. Anyway she was taking chemo in the pill form and she didn't have much of a reaction the first time around other than tiredness. So she agreed to do another round. The doctor said she would have to take more pills than first time and we thought okay. 
 She had the prescription filled at her local pharmacy and she noticed that this prescription looked different than her last one in June. I called the pharmacy and asked why these pills looked different and they said the first round were 150mg of Xeloda and these ones were 500 mg of Xeloda. We knew she had to take more pills but the doctor didn't say anything about the dosage size. I thought about this all weekend and called the cancer clinic on Monday for some answers. The doctor's nurse said that these were right but I kept on saying but they are different from the first time. She was going on about the number of pills but not the dosage size. Finally it clicked in what I was saying and she said she would call me right back. I called my mom and said that somebody had made a mistake somewhere. Apparently my mom was supposed to be taking the 500mg not the 150's, hence no side effects and no shrinkage of the tumor. The pharmacy had made the mistake and called to apologize to my mom. So what do we do now?
 We met with the doctor and he offered to write a letter to the Ontario College of Pharmacists and we thought that was a good way to go. The pharmacist has called my mom to apologize and my mom accepted her apology and  would like to speak to other family members about this. What for? She made a mistake and it should be noted that this happened and what if it has happened to others? And what if they billed for the larger dose and not the smaller one? Are there checks and balances that are not in place? This was a drug that had to be ordered in and didn't someone notice it then? What if it was the other way around and they had given her a larger dose and it killed her? What then? So many what ifs and I don't know what to do. My mom is not in to doing anything even changing the pharmacy. She has accepted the apology and doesn't want anything to happen to the pharmacist. My mom is way too nice, even going through all this cancer treatment.
 When you get a prescription filled, you place all your trust in the pharmacist and I bet you don't even think about the dosage or anything. You just trust that you got the right thing and all is well. I think we should be checking all our presciptions and even before getting them filled, we should be asking the doctor what he is prescribing and the dosage and then checking our prescription to be sure it's the right thing.
 Okay I feel better now. It's raining here so I think I will sew. Have a great day.
Mary-Kay
Well really it was dessert. I made 2 Easter pies from a recipe  Judy posted over at Patchwork Times. They turned out great!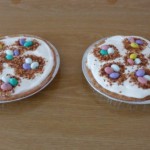 Don't they look yummy? I took one to my mom's house and one to my in-laws for their dinner. I think they were soo cute. And now I should walk after eating all that food especially the desserts.
 I hope you have a good evening.
Mary-Kay
Well, I think so! My younger sister ran with the Olympic Torch last Wednesday. It was a really exciting day for her. She wrote a 300 word essay about the environment and "No-trace camping" and was picked from thousands of applicants.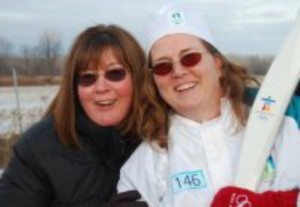 Way to go Connie! Woohoo!!!!!!
She brought the torch to our family Christmas dinner and everyone got to see it. She's been wearing the hat and the jacket all weekend. I think she likes this stuff better than her Christmas gifts.
Have a great evening. And if I don't post tomorrow, have a happy and healthy New Year.
Mary-Kay
 Well, better late than never. We had an eventful weekend. Our car had tranny problems and we had to have it towed back to Windsor from Grayling MI. And now it's at the dealership and they can't find anything wrong with it yet. Do they think we imagined it and wanted to go through all this hassle? Anyway it's not really my car but a lease and I'm not  going to buy this car out at the lease end.
 Anyway on a brighter note, while I was visiting in Charlevoix it was their Christmas walk through town. I stopped in at the quilt shop Hearts to Holly and entered a drawing for a gift card. My great-niece wanted her aunt to win and the owner, Sue, let her draw the ticket. Guess what? She picked my name! Isn't that great!!!! I won a $25- gift card. So I did what any quilter would do-I spent it and then some. I got some great fabric and a quilt kit. I didn't have time to add up all the yardage so I'll count that in next week's report. 
Fabric added this week: 0 yds
Fabric added YTD: 256.11 yds
Fabric used this week: .25 yds
Fabric used YTD: 242.76 yds
Net fabric busted: -13.35 yds
 I had better do a lot of sewing this week to even out my purchases. I also have a few projects to do for my niece that I'd like to get done before they come down at Christmas.
Have a great week.
 Let us sew, let us sew, let us sew!
Mary-Kay
Well the saga continues. Remember the dryer that took 2 months to get here. So I called Home Depot to complain and the store manager said that they didn't know when these things were delivered. I told her that I was in the store several times looking for it and the sales people called Maytag (which is really Home Depot-Maytag not Maytag Canada) to see if they could get a delivery date for me. Basically she said that I had the dryer now so what could they do about it. I told her to think of something and that I wouldn't be ordering any appliances from them again. And I also asked her if she could afford to loose a customer who spent approximately $10,000 there last year. She had no response. Oh well I guess they lost me as a customer.
 Okay, so I never seem to post except for Sundays. Well, I just don't seem to have the time. The only things I know for sure that I do during the week is work, sleep and read  blogs. After I read all the new posts I am usually too tired to post my own  progress on quilting or other stuff. I must go to bed earlier or quit my job or get rid of my kids. Right, like that's ever going to happen! Anyway, enough of that here's my stash report.
Fabric added this week: 6.08 yds
Fabric added ytd: 87.86 yds
Fabric used this week: 7.31 yds
Fabric used ytd: 107.45 yds
Net fabric busted: 19.59 yds
Now all I have to do is stay out of the fabric stores and work on all the projects that I have planned. I'm very excited about some of them but I should finish a few that are already started so I don't lose interest. That's a really hard thing to do. It's a vicious cycle. Then you go to the lqs and get all excited about another new project. The one you are working on now gets put on the back burner and you start the new one. And so on and so on…… When I used to do cross-stich I tried to always finish a project before I started a new one. That didn't last long and I still have 3 or 4 that aren't finished and probably never will be.
This is what I've been working on all week. I know it doesn't seem like much but I have to add more borders that are……..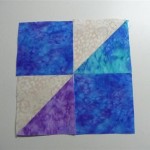 like this and………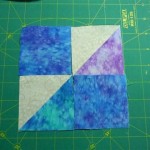 ……..like this. Twenty nine of each. Thank you very much. Plus some other for the corners.  And then there is a giant 10″ border that would be a great spot for a feather quilting pattern.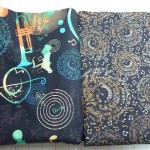 Seeing as this year I made a quilt for the music program that had a music motif I thought for next year I would use just a music themed fabric. I bought this stuff a while ago and yes I included it in my stash report.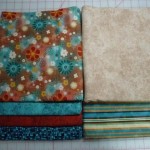 Well, last week when I was at  Hearts to Holly I found the cordinating fabric. This is a really different line of fabric. From a jazzy themed print to flowers to retro loking prints plus the plainer fabrics. There certainly is a lot of possibilies there to make something really neat.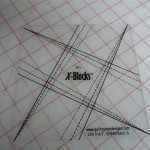 So I thought I would use this handy little tool that I got last year to make something with that fabric. I am really excited to see how it looks but as I said earlier, I have to finish a few things first.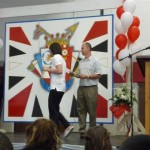 I know I went to something this week. Awards night. My son received a math award. His math teacher entered him in a provincial math contest and he got the highest mark in his school and was in the top 25 percentile in the province. Way to go Mack! My husband was in charge of the camera and almost forgot to get a picture. He was too busy watching the awards.
Well that's it for last week. Maybe I'll post during the week. Exams start on Thursday and hopefully I won't have to be  driving around to any events this week. Once school is out my driving duties are over. Hurray, more time to quilt!
Happy quilting
Mary-Kay
And I had to look up endeavours up in the dictionary too! Here are a couple of pictures of my garden.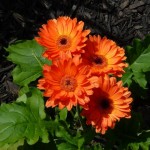 Ever since I planted these gerber daisies I  thought that it should be a photo. I just love the colour. All the plants behind are green and this colour just stands right out. I even used black mulch so it makes it even more vibrant.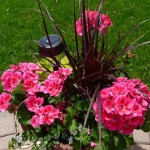 This is one of the planters that I did up. We even bought new solar lights. This one is a LED light and when it's on there is a star-like effect from the cut of the globe.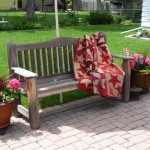 I was trying to make a magazine photo. I couldn't get the quilt right and I don't think it's the right colour for those pink geraniums. We still need to power wash the bench, sand it then reseal it. Maybe next weekend.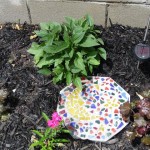 I had 2 really big black-eyed susan plants that I divided into 4 each. They really suck up the water right now. I didn't water yesterday and they were looking pretty wilted. The stepping stone was made by my youngest son and myself when he was  little.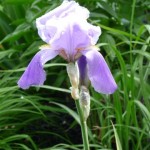 I really like irises. This one is in the back garden along the fence. There is a couple of grass plants behind it which , once again, we divided up. Boy do they do nicely back there. I think last year they were at least 8 feet tall. They make a nice living fence.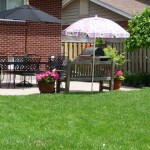 Lastly on the gardening part of this post, this is my new patio set. It's wrought iron and I love the rocker chairs. Very soothing when you are just sitting there relaxing. My husband now wants a full length glider bench thing with some kind of canopy so he can sleep on it. The neighbour behind us hasa glider swing and it faces our house and he's always sleeping on it and I don't like it. One of the reasons that I would like some kind of privacy fence or privacy shrubs. I'm working on that for next year I hope.
Now for some quilty things,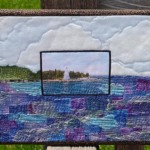 This is what I worked on yesterday. The center is a photo of the lighthouse in Tobermory, ON and it's printed on to fabric. It's a really cool technique and I am impressed with the results. The top fabric is just a single piece of cloud fabric whereas the bottom is a background piece with  a lot of little pieces glued on to it. I also used dyed paper towels and dyed cheesecloth to give it depth. I am now saving my dryer sheets to dye and want to do cheesecloth and paper towels too. This technique was taught by Michele Dobrin and I really want to take another class by her.
And now for the family part of this post.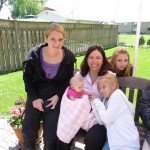 Calgary is missing 2 residents for a few weeks. Here's the surprise baby with her Mom, Grandma and 2 cousins. It's not the greatest photo but it has great people in it. I think the baby is adorable and everyone had a great time visiting with her and her mom. We got to hear the birth story straight from the mom and it's pretty incredible. They are so lucky to have a child with no problems when there was no prenatal care. They must be pretty healthy out there in the wild west.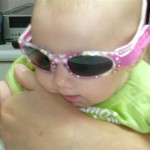 Lastly, aren't those sunglasses the cutest thing you've ever seen? I think so. The things for babies now are really neat.
Well, I think that's enough for now. Happy stitching.
Mary-Kay
P.S.  I've been trying to take better photos. The one of the family isn't one of them. I been following tips from Sue H. at  http://www.suehecker.com/blog/ on her Photo Fridays. I hope to improve and I also hope to  get  a new camera. M-K