Great news today! My brother may be getting a new heart! He's been in the  hospital awaiting a heart transplant for the last 3 months. It's kind of a weird situation. You pray for him to get a new heart but then when you think about how he has to get one, it's really sad. Mixed emotions all the time. We have to thank all those people who sign a donor card and their families for following their wishes. Have you signed your donor card?
Anyway on to the quilting side of things. I went to see my brother twice last week. Two hour trip and as long as I'm not driving and it's daylight, I can stitch in the car. I  managed to stitch a few hours each time I went. But the first time I went, my 2 sisters went with me. The 2 hour trip there took us 4 hours. We had to make a stop at Pastime Pieces in Blenheim ON. What a cute shop! It's in a little red barn on their property. I love that place so much, I wish I lived a little closer and I would shop there all the time. I ended up buying a couple pieces of really nice flannel for backings and some Kona Snow to go with a Christmas layer cake I purchased in the States. I have it cut out but I'm not including it in my totals until the top is done.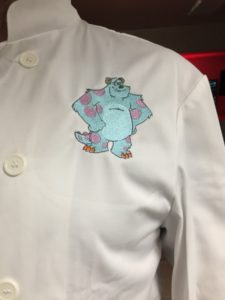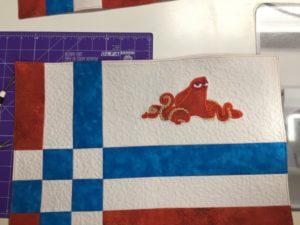 I've made a few things in the past weeks. My son asked me to do some embroidery work for a Secret Santa gift. I bought the designs on Etsy and they are pretty cute. And I embroidered on a chef's cook and that came out awesome. And I made a few placemats to go with the jacket. These are  the recipient's  favourite Pixar characters.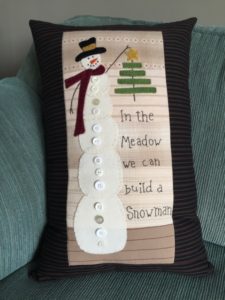 I also finished this pillow up. I just bought the kit in November at Pastime Pieces, my favourite shop,  and worked on the stitching on my trip to London on Saturday. I had to hurry up and do all the finishing stitches before my sister left as I don't have any 12 weight threads and I used some of hers.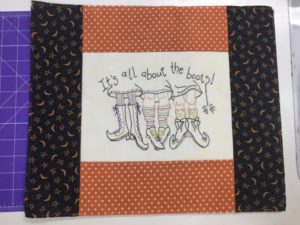 I  finished up this little stitchery, just needs a pillow form and little silver star buttons on the right boots. It will be all ready for next Halloween.
I have made over 100 items in the past year. I've been keeping track. I always feel like I am not very productive in the sewing room but since I've kept track, I can actually see how many items went through here. It's amazing the number of things that I have made.
Now for those numbers.
Fabric used this week: 11.61 yds
Fabric used YTD: 193.64 yds
Fabric added this week: 28.9 yds
Fabric added YTD: 257.23 yds  (I need to stay out of fabric stores for a while)
Net fabric busted: -63.59 yds
Once I get the flannel washed, I will be making backings for a couple of quilts. I already cut into the Kona snow yardage and will be putting that top together this week.
On the 15 Minutes to Stitch Challenge, I think I've been doing pretty good. There were only 2 days in the last 4 weeks were I didn't stitch at all. Week 1, I stitched every day for a total of 31 hours. Week 2 had me stitching every day for a total of 39 hours. Week 3 saw me at 35 hours. Last week was the only time I didn't stitch every day. But I managed to get in 18.5 hours.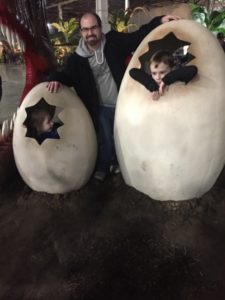 No stitching yesterday because I drove my son and his kids over to the States to go to Jurassic Quest in Novi MI. I think they enjoyed themselves. Lots to see and do but I kind of think it's for kids that are a little older than these two. I would have liked to look at every exhibit and read all the info on each but these 2 were too antsy. Maybe from the car ride over. Anyway, they were all excited to show their mom the dino balloons we bought.
I'm linking up with Kate at Life in Pieces for the 15 Minutes to Stitch challenge and with Donna at quiltpaintcreate for the stash report.
I hope everyone has a great week. And please think about signing an organ donor card.
4 Responses to "You Got To Have Heart"
Leave a Reply