Archive for October, 2009
Remember when I took that class to make little wallhanging style quilts?  And remember when I dyed some fabric, dryer sheets and dye catchers? Well I've finally used some of that knowledge and stuff.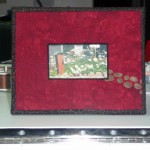 Birdhouse and daisies  from a garden in Charlevoix. It's okay.
 But I really like how this one turned out. I love the tree, it's made with dryer sheets and dye catchers that have been dyed green and some fabric.
That's all for now. Have a good evening.
Mary-Kay
 Already it's week 43. The heat is on in more than one way. It's pretty chilly here this morning and I'm thinking that I better turn the heat back on. But it's nice and warm in my sewing room. Once that iron gets all fired up, it warms the room right up. Low ceilings do that too. And computers and tvs and……..
Anyway here's the latest news flash. Don't go to quilt shops to sign up for a class when the owner says they have some new stuff. Oh okay I'll be right there! Am I crazy? The damage was only 5.5 yds and I've already cut some of it up.
Fabric added this week: 5.5 yds
Fabric added YTD: 230.44 yds
Fabric used this week: .25 yds
fabric used YTD: 215.61 yds
Net fabric busted: -14.83 yds
 A little backslide there but I'm planning on doing a few projects this week. I finished 9 rag quilts so that's out of the stash. I only have 3 more to clip. Man are they messy! That stuff gets in your hair and all over the house. I've had to vacuum a few times and that's not something I enjoy doing.
Now I'm off to the quilt store to take a class on using their quilting machine. I figure it's something I should know for when I get my own machine. Whenever that is!
Have a great week.
Mary-Kay
…to the sewn line. Or else after you wash your rag quilt you will have to re-sew a whole lot of seams. I didn't think that I was that close but apparently I was. After washing the 3rd rag quilt I noticed a giant hole in the seam. Then I started checking out every seam and I must have snipped 20 or so threads. So for the next quilt I marked the scissor with the maximum snip allowance possible. Now it took me a while but I don't think that I'll be messing up any more rag quilts.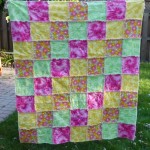 This is the 1st rag quilt. I just love the colours. The fabric wasn't  purchased to go together but it works and it's all from the stash.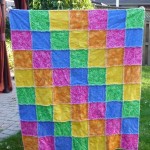 This is the 2nd quilt. I like it but am not crazy about it. I like all the fabric together but it doesn't do anything for me. Today I snipped a purple one (#4) and it's now in the wash.
Have a great evening.
Mary-Kay
I just said to my mom" Did you know that the year ends in 10 weeks?" and she goes"Does it?". Well it does and that means I'm one year closer to retirement. And you thought I was going to say something about stash busting. Ha, ha, ha! Well,  I never used any fabric this week and I am glad to say that I never bought any fabric either.
Fabric added this week: 0 yds
Fabric added YTD: 224.94 yds
Fabric used this week: 0 yds
Fabric used YTD: 215.36 yds
Net fabric busted: -9.58 yds
 Have a great week and get lots of sewing done! Or should I say stash busting.
Mary-Kay
October 17th, 2009 - I Got One
……A new laptop that is. But my hubby couldn't copy over all the blog links so I have to go through and find the all the blogs. This is so time consuming but I can whittle down some of them. I spend way too much time reading blogs and not quilting. And speaking of quilting, I haven't done much of it this past week. I completed 3 rag quilts but only snipped 2 of them. Boy does that make your wrists sore! I won't be snipping an entire quilt in one evening again. But I am very anxious to see the quilt all washed and dried and fluffy. They look so warm and cozy. I'll post some pics tomorrow once I figure this computer out. I'm sure it's the same as the old one but it's much faster to log on and go from application to application. Oh and the most important thing I wanted off the old PC is my Stash Report!  Very, very important. And I'll be posting my lack of stash using too.
 We are off to a wedding tonight so have a great evening.
Mary-Kay
That I haven't gone on vacation somewhere exotic. Right!  Like that will ever happen. Actually my computer is on the fritz and it's really annoying. My keyboard and mouse don't want to work so I went out and bought a new set. Guess what? They don't work either so it must be a computer issue. My hubby and I decided that we should just buy me a laptop instead of trying to fix my computer issues. A friend lent me a laptop until next Monday so I can at least  read my e-mails. Oh well I'll have to make do and wait until I get a new one.
Have a great evening.
Mary-Kay
 Finally I have some progress to report.  A couple of years ago, I was supposed to teach a quilting class to kids but the deal fell through-not enough kids signed up and the city cancelled the class. I love when they do that especially if you have bought all the supplies that you need for the class. In this case I bought all the fabric to make flannel rag quilts and cut it all up so all the kids would have to do it sew the squares together. No playing with rotary cutters equals no injuries. Anyway I had 46 yards of this stuff taking up space in my sewing room. So I started sewing the squares together. Now I have to sew the rows together and then start snipping the seam allowances. Sounds like fun, uh? That will be my job for next week even though my mind is overflowing with ideas for some more journal covers. I can't stop thinking of all the possibilities. but that's for next week.
Fabric added this week: 0 yds Oops I did it again Ha,ha!
Fabric added YTD: 224.94 yds
Fabric used this week: 47.67 yds How great is that?
Fabric used YTD: 215.36 yds
Net fabric busted: -9.58 yds I might reach my goal by year end!
I think I'm doing a great job, this week anyway, on busting fabric. Actually, I was talking to my sister on Friday while she was working at the quilt shop and she said that they were having a 40% off sale and did I need anything? I thought about it and asked if they had a couple a specific fabrics and they didn't, so I said I didn't need a thing. How great is that? 40% off! Am I nuts? I can't believe I did that! I should get a medal or something but no fabric please.
 Happy Thanksgiving to all my fellow Canadians! And have a great weekend.
Mary-Kay
Amy over at Park City Girl is hosting a fall quilt show to coincide with Quilt Market. You should check it out. Last night I think I looked at over 200 quilts. Very inspiring and humbling at the same time. Enter your quilt and browse around.
 After much thought this is the quilt I decided to enter.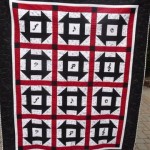 I made this for my son's school's music program to raffle off. I wanted to encompass the school's colours and some kind of music theme.I chose the churn dash block with musical symbols in the center.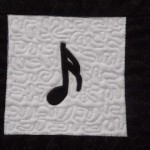 This is the center of one of the blocks. I was thinking of using all musical notes but I thought there must be other symbols besides notes. There are many others but if you are not musically inclined you wouldn't know what they were.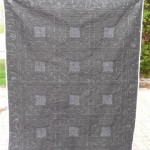 This is the back of the quilt. I think I love it as much as the front. I quilted it all myself on my home machine and I really like how everything turned out. I even bought numerous tickets to win it back. I could always make another. My son's friend's dad won it and he has  it displayed in his living room. I guess he loves it as much as I do!
Enjoy the show and have a great weekend.
Mary-Kay
I made 4 more journal covers and I must confess I don't like them. T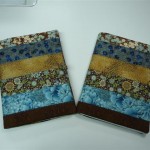 hey are too boring.
 I find these 2 don't do anything for me. And that's because brown is the main colour and I don't really like brown.  I even did some fancy stitching on the seams. Oh well.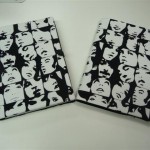 Now these 2 appeal to me mostly because I love black and white. And I really love the fabric. I just grid quilted them with a 12 weight thread and I like the way it turned out.
I have 2 more journals and I want to try some stencilled fabric using paint sticks or fabric dye sprayed on or acrylic paints. I'll see what moves me.Have a great evening.
Mary-kay
I finished the other 2 journal covers that I had all ready to put together.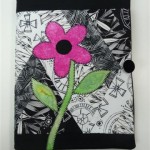 Everything I used to makes these covers came from my stash. Except the elastic closures. They are pony tail elastics and I actually had to go buy some. The black and white fabric is leftover cuttings from my hubby's quilt and the green is some bias that I had cut for a project  that didn't work.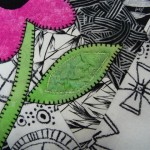 And then I added a little something to the leaves. I had some leftover texture magic stuff from the class I took. So I cut out these tiny little pieces and centered them on the leaves. I did a small zigzag stitch around to anchor it down and it adds a little bit of texture. Nothing goes to waste in this house.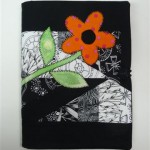 On this one, I decided to have the stem come around from the back. I don't know if I like it. I added texture magic to the leaves as in the other one. The next one that I make I'm going to make the flowers look like chrysanthemums or carnations by using the texture magic stuff. Maybe I'll use a different background. Are you getting tired of black and white? I know I am!
Desperate Housewives is on soon so I have to go. Have a great evening!
Mary-Kay