…to the sewn line. Or else after you wash your rag quilt you will have to re-sew a whole lot of seams. I didn't think that I was that close but apparently I was. After washing the 3rd rag quilt I noticed a giant hole in the seam. Then I started checking out every seam and I must have snipped 20 or so threads. So for the next quilt I marked the scissor with the maximum snip allowance possible. Now it took me a while but I don't think that I'll be messing up any more rag quilts.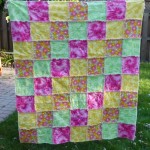 This is the 1st rag quilt. I just love the colours. The fabric wasn't  purchased to go together but it works and it's all from the stash.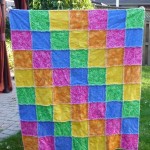 This is the 2nd quilt. I like it but am not crazy about it. I like all the fabric together but it doesn't do anything for me. Today I snipped a purple one (#4) and it's now in the wash.
Have a great evening.
Mary-Kay
2 Responses to "And Remember Don't Snip Too Close……"
the quilt rat Says:
October 21st, 2009 at 6:37 pm

oh it really won't matter all that much if you like the colour or not when winter hits………..those rag quilts are so lovely to hide under on a cold winter evening

Allie Says:
October 21st, 2009 at 10:28 pm

Lovely!!!!! I did one that I totally FORGOT to snip. And then washed it. You simply can't snip after they're washed.
Good job girl, very happy quilts!
Leave a Reply