Archive for October, 2012
October 28th, 2012 - The Stash
Guess what? I didn't add any fabric to my stash and I even went to the quilt shop twice. I was really tempted though but I was rushed for time and I didn't want to make any impulse buys. There's just so much new fabric that I feel the need to buy some. No wait, I don't need any but I'm really, really tempted to get some. But I won't!
Fabric used this week: 6.96 yds
Fabric used YTD: 138.06 yds
Fabric added this week: 0 yds
Fabric added YTD: 212.63 yds
Net fabric busted: -74.57 yds
I need to use up 75 yards to break even, so that means no more fabric for the rest of the year. Can I do it? Maybe but I must stay out of the quilt shops and next week is their anniversary sale. Hold me back! No, I won't even go because I have lots to do and new software to play with. That's my story, what's yours? Have a great week!
October 21st, 2012 - The Stash
Another week or two goes by and I added to my stash again. Flannel that is! Backing for comfort quilts. I never seem to have the right flannel to go with the quilt top and I'm very particular about my backs. I like them to be somewhat matching. All the ones I had on hand just didn't do it for me. At least I bought them at 50% off, so that's a good thing in my books! Now for the numbers.
Fabric used this week: 11.24 yds
Fabric used YTD: 131.1 yds
Fabric added this week: 21.7 yds
Fabric added YTD: 212.63 yds
Net fabric busted: -81.53 yds
I have a few more quilts to quilt and just a few to make. Ha, ha! Have a great week!
Okay, so I finally tried out the embroidery module on my Bernina. I've only had it since last Christmas. It works pretty good when the thread doesn't break. Four times in the same area and I have no idea why. Now I'll just have to experiment to find what thread, stabilizer and tension works. The dreaded learning curve! So here's what I made.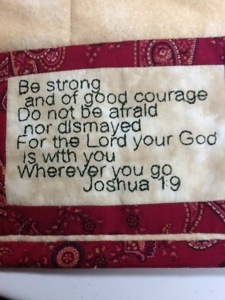 I think it came out great. I also bought some software from Floriani that allowed me to be more creative. The fonts that are available are awesome. And it was pretty easy to figure out. I've never even done any embroidery on any machine ever before and I managed to do this without that much help. I facetimed my sister who has the same machine and she walked me through most of it. Now to figure out how to start where the thread broke and I'll be a little less frustrated. It's still pretty cool and I'm excited to try again. Have a great Saturday!