Archive for April, 2009
Yep, that's right, I finally finished the Music Quilt.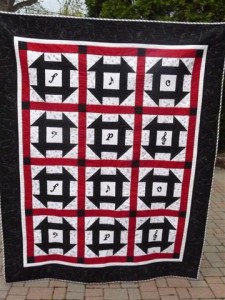 Here's a nice crooked picture of the finished product. That quilt hanger is doing a crappy job and this quilt is for his school. The border is biased cut and it's the first time that I used this method. I followed Darlene Zimmerman's instructions in her book "The Quilter's Edge". It's a great book for setting triangles, Bias and continuous binding plus a whole lot of other things. It's worth the price.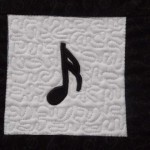 Here's my take on stipple quilting. I have never done it before with any success but I think I did a pretty good job.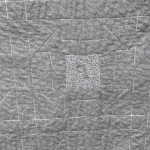 I really like the way the back of the quilt looks. The center part of the block almost looks like a tile.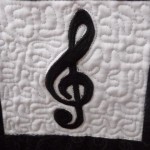 Another block center. These blocks are not the best of the quilt. I just tried to show the ones with a musical symbol that you would recognize if you are not musically inclined.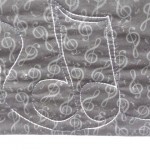 This is one of the symbols in the border. At first I thought that I took a picture of the back of the quilt and then I realized that the back and the border are the same fabric. I used a Mary Covey quilting pattern for the border design. I had to reduce the size to fit with my handy "Quilters Assistant". That thing is a great little tool.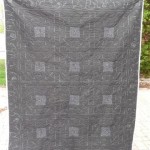 This is the back of the quilt. The quilting really shows up. I used a Sulky 30 weight thread called Piano Keys in the top and the bobbin. I thought it was the most apprpriate choice. In the center blocks with the stippling I used Superior Threads invisible on top and Superior Threads Bottom Line in the bobbin. You don't want to reverse sew that stuff. It's very fine.
I hope you enjoy the pictures.
Happy quilting and have a great week.
Mary-Kay
 I almost made it through the week without adding to my stash totals. My quilting buddy gifted me with 2 meters of fabric. I was surprised but it was for our Quilters Three anniversary and she always gets us something. I should try to remember for next year seeing as I have the book with the date that we gave away our first quilt.
 This week was a slow one for me. I quilted the Music Quilt and just cut up the binding today. That's the only fabric used this week. I will post a picture when I get the binding all done, which hopefully will be tonight.
Here's the facts
Fabric added this week: 2.17 yds
Fabric added year-to-date: 58.28 yds
Fabric used this week: .5 yds
Fabric used year-to-date: 80.96 yds
Net fabric busted: 22.68 yds
Happy quilting.
Mary-Kay
 Okay, so another week goes by and yes, I did NOT buy any fabric. I even went to a long arm machine quilters yesterday and there is a quilt shop right across the street and I totally forgot about going in there to have a peek at the fabric. Wow, this stashbusting must be affecting me. Ha,ha,ha. Well here's this week's news.
Fabric added this week: 0 yds
Fabric added year to date: 56.11 yds
Fabric used this week: 5.41 yds
Fabric used year to date: 80.46 yds
Net fabric busted: 24.35 yds
If I keep up this pace I might hit the 100 yards(net) busted by year end. I actually thought that was too high of a number but once you start keeping track, it's almost doable.
Happy Quilting
Mary-Kay
 This  is a great idea. A bloggers quilt festival.
Here's  the first block-of-the-month quilt that I made. No binding yet but that's okay, I still don't know where I'm going to put it. I want to use it on a bed in a guest bedroom but I have to wait until one of my boys move out. And that's not going to be happening for a while .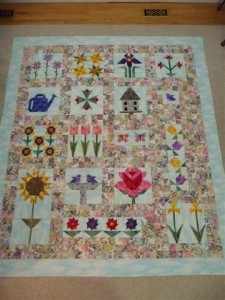 And a couple of pictures of the individual blocks. When I made this I wasn't a very experienced quilter. I didn't notice that the background fabric had a directional pattern in it. Clouds usually run left and right, not up and down. I figured it out towards the end of the program and I wasn't going to change the "oops" blocks. I don't think it really matters.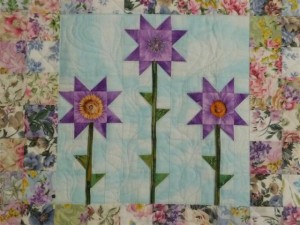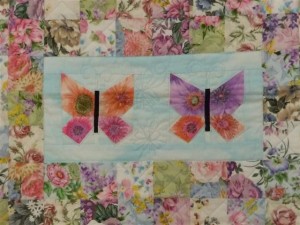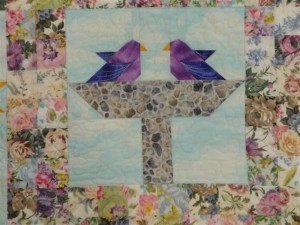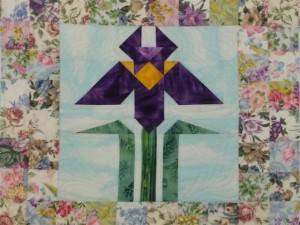 That's it for me. Enjoy the show. And thanks to the hostess, Park City Girl.
Mary-Kay
 but I hardly ever post anything lately. Only on stash-busting Sundays. I can never seem to find the time or the camera  etc…. You know how it is. Anyway I have been very busy, sewing up a storm. I made 8 baby quilts from my stash of flannels.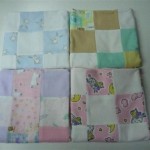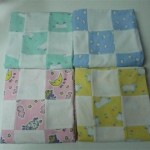 I still have some flannel in my stash but am planning on making a few more baby quilts.  All I have left to do to is quilt and bind them. I have the backing cut out but not the binding. And today I picked up the batting on sale at Fabricland.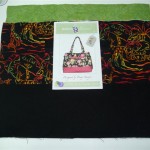 I worked on the "Bow Tucks Tote" from my stash . I don't really want to make fabric handles so I'm going to look for a different handle like leather or vinyl. I know there is nowhere here in Windsor and I have looked at Joanns with no luck either. It will have to be a internet search instead. So this project gets to sit a bit longer.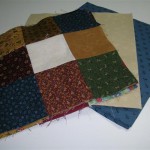 Now I'm working on some comfort quilts. The Quilters Three met yesterday and swapped our 9-patch blocks we made. These will be combined with half square triangle blocks, some borders and will make a nice size quilt. We were only supposed to make 17 9-patch blocks but I thought that we were supposed to make 35 blocks. So I have enough to make 2 quilts which is good because it's nice to have an extra comfort quilt on hand, just in case.
 I still have to quilt the "Music Quilt". I'd like to get that done before my vacation ends. And I'd like to quilt a few of the baby quilts and I am going to make the half-square traiangle blocks tonight. I would also like to get the shade hardware for my bathroom shade and for my Mom's kitchen windows. And when I make her shades that will be more stash fabric used up. I've had it for a year now. It's aging quite nicely and should be ready to be used any day now.
Well I have to get a move on it if I want to finish a few things before this week is over.
Happy Quilting!
Mary-Kay
Happy Easter to all.
 Once again I purchased some fabric. But I did use a lot of it so it wasn't going in to my stash. I have only been buying what I need not what I want. I should be doing this in all aspects of my life, like that awesome pair of shoes or that really pretty blouse. Hmmmmm, not! Actually I hardly ever impulse buy clothes because I find that later on I don't even like the them. Any way on to the stash report. I wanted something quick that I could use some of the flannel that I have, so I thought that I could whip up some baby quilts. I count my fabric used as I cut it up and I cut up enough flannel for 8 baby quilts so that has made a nice dent in that part of my stash.
Here goes for the lovely stash report.
Fabric added this week: 16.25 yds
Fabric added year-to-date: 56.11 yds
Fabric used this week: 26.57 yds
Fabric used year-to-date: 75.05 yds
Net fabric busted: 18.94 yds
This week I am on vacation and I was planning on sewing up a storm but I have so many appointments with my boys that I don't think I'll be getting much done. But as I type this I'm thinking that these appointments are during the day so I'll have all night to sew. I don't have to get up early, 5:00 when I work, maybe I'll get up at 6:30 or 7.
Well, here is the one project that I have been working on for the last two weeks. It's not a difficult quilt by any means but I think I'm just slow these days.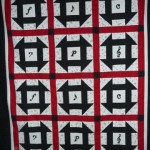 This is not a great picture. It should be centered but I didn't take it. My son thinks it's a great pic so who am I to argue. I would have taken 3 or 4 pics and then choose the best one. Anyway, it's all set to be quilted. I have to put the layers together. And I already know how I'm going to quilt it, but I need time with no interuptions. That will be this weekend. Hopefully!
Happy Easter to all.
Mary-Kay
You'll laugh at my totals. Once again I am going backwards. I joined a BOM at the lqs and got the first block and the finishing kit this week. There are around 60 quilters on the list for the finishing kit and when I signed up for the BOM I had a choice if I wanted it or not. I chose to get it and boy am I glad.
Well here are my totals.
Fabric in this week: 4.19 yds
Fabric in year-to-date: 39.86 yds
Fabric used this week: .25 yds
Fabric used year-to-date: 48.48 yds
Net fabric busted: 8.62 yds
I have hardly sewn this week. I was debating all week about the applique on the music quilt. I just let it sit there until I could decide. I supposed I could have sewn something else but I don't like to do that because I'll never get it done. This week, problem solved and I can proceed with the quilt. Hopefully I'll have it done mid-week. Yeah right!
Happy quilting.
Mary-Kay