but I hardly ever post anything lately. Only on stash-busting Sundays. I can never seem to find the time or the camera  etc…. You know how it is. Anyway I have been very busy, sewing up a storm. I made 8 baby quilts from my stash of flannels.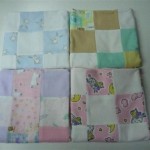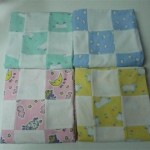 I still have some flannel in my stash but am planning on making a few more baby quilts.  All I have left to do to is quilt and bind them. I have the backing cut out but not the binding. And today I picked up the batting on sale at Fabricland.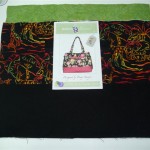 I worked on the "Bow Tucks Tote" from my stash . I don't really want to make fabric handles so I'm going to look for a different handle like leather or vinyl. I know there is nowhere here in Windsor and I have looked at Joanns with no luck either. It will have to be a internet search instead. So this project gets to sit a bit longer.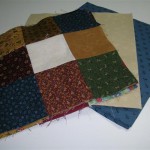 Now I'm working on some comfort quilts. The Quilters Three met yesterday and swapped our 9-patch blocks we made. These will be combined with half square triangle blocks, some borders and will make a nice size quilt. We were only supposed to make 17 9-patch blocks but I thought that we were supposed to make 35 blocks. So I have enough to make 2 quilts which is good because it's nice to have an extra comfort quilt on hand, just in case.
 I still have to quilt the "Music Quilt". I'd like to get that done before my vacation ends. And I'd like to quilt a few of the baby quilts and I am going to make the half-square traiangle blocks tonight. I would also like to get the shade hardware for my bathroom shade and for my Mom's kitchen windows. And when I make her shades that will be more stash fabric used up. I've had it for a year now. It's aging quite nicely and should be ready to be used any day now.
Well I have to get a move on it if I want to finish a few things before this week is over.
Happy Quilting!
Mary-Kay
One Response to "I'm Still Alive"
Cami Says:
April 18th, 2009 at 9:10 pm

Wow, love this! I love sampler quilts because I don't get tired of doing the same block over and over! Seriously, this is really lovely! Great job.
Thanks for your comments. My quilt is actually really simple. It is just four different fabrics – two solid fabrics (one brown and one orange) and two print fabrics (it is a print from the moda line and is just a cream flower print, I used it in brown and orange). Then you just make the blocks and it makes an illusion, most people think it is lace or applique but really it is just two different fabrics. Super simple.
Leave a Reply