Archive for the 'The Stash 2012' Category
October 21st, 2012 - The Stash
Another week or two goes by and I added to my stash again. Flannel that is! Backing for comfort quilts. I never seem to have the right flannel to go with the quilt top and I'm very particular about my backs. I like them to be somewhat matching. All the ones I had on hand just didn't do it for me. At least I bought them at 50% off, so that's a good thing in my books! Now for the numbers.
Fabric used this week: 11.24 yds
Fabric used YTD: 131.1 yds
Fabric added this week: 21.7 yds
Fabric added YTD: 212.63 yds
Net fabric busted: -81.53 yds
I have a few more quilts to quilt and just a few to make. Ha, ha! Have a great week!
September 23rd, 2012 - The Stash
Well, it's been awhile since I've blogged about anything. I'm just too busy to do this all the time, so it's going to be sporadic posts. I love my new grandson to pieces and I need to see him more often. I need to quilt more too! I don't know what I've done for the last month or so but I do know that it doesn't involve much quilting.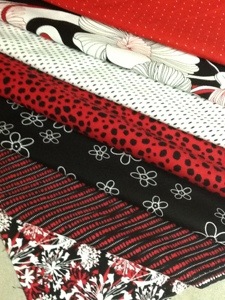 I've started this quilt from a kit I bought at the AQS Show in Grand Rapids. I'm not adding then subtracting it because I don't feel like it.
I did purchase a bit of fabric for a few red work stitcheries that are in the works. I like doing red work because I can do it at work and I don't have to bring lots of supplies, just a needle, some thread and a pair of snips. No pattern to wreck by getting all scrunched up either.
Now for some numbers
Fabric used this week: 1.19 yds
Fabric used YTD: 119.42 yds
Fabric added this week: 8.66 yds
Fabric added YTD: 188.93 yds
Net fabric busted: -69.51 yds
Once I've cut this weeks purchase up, it might look a little better. Maybe some backings too. Anyway there's always next year. I need to take a vow of poverty or something so I don't buy any more fabric. I need to sew, sew, sew and then quilt, quilt, quilt!!!!
Until then, have a great week.
I went to a little quilt show, well not so little and all I bought in the fabric department was 2 kits which I will count in next week's totals. It was the AQS Show in Grand Rapids MI. There were some beautiful quilts, not what I expected though. A lot of heavily machine-quilted quilts and not too many traditional quilts. Very modern in that aspect. But on the vendor side, there were a lot of booths with civil war fabric and wool like Primitive Gatherings kind of stuff. Thank God it's not something I do. That wool stuff is really expensive for those tiny pieces and threads. I'd rather be making a big bright quilt than that stuff. That's my story and I'm sticking to it. Anyway on to my stash.
Fabric used this week: .38 yds
Fabric used YTD. 118.23 yds
Fabric added YTD: 180.27 yds
Net fabric busted: -62.04 yds
All I cut was some binding for a comfort quilt. I have a few more quilts to get done to clear the table. I really need to make a quilt for my new grandson. Time to get busy. Have a great week.
April 22nd, 2012 - The Stash
Not much going on here as my machine is in for service again. I just had it cleaned and I accidently sewed over a pin. The needle broke and I replaced it and now my machine doesn't work. It sews 4 or 5 stitches and then the top thread gets pulled down and it's a mess. Another needle, rethread the bobbin and even different thread and the same thing happens again and again.The repair guy said he fixed it. Lucky for me I tried it out at the shop and it wasn't fixed. So off it goes to Bernina in Toronto  to be repaired.
This is the same problem I have when I quilt with the walking foot on. I'd stop and with the needle down, I'd lift the presser foot and turn the quilt. When I started to sew again, the top thread would get pulled down into a tangled mess on the underside. The lady at the shop where I bought it at tried telling me that it was because the machine has a wide stitch width, 9 mm as opposed to 5 mm on most machines and the thread moves around and could get caught in all that space. I bought the single stitch plate and this didn't help. I even emailed Bernina Canada and I didn't even rate the curtesy of a reply.
My sister and a friend have the same model machine and neither of them has this problem. Makes me wonder why I spent so much cash on a machine that doesn't work correctly all the time. I should have kept my old machine and invested the money in a long arm machine. Just think of all the tops that I could have quilted.  Anyway that's my story. Now on to the stash.
Fabric used this week: 2.22 yds
Fabric used YTD: 67.55 yds
Fabric added this week: 6.4 yds
Fabric added YTD: 59.79 yds
Net fabric busted: 7.79 yds
My machine will be gone for a couple of weeks and I have my mom's to use for now.  Not my favourite machine but it will have to do. I don't think I'll be quilting anything on it but at least I can piece a few tops. I need to make some door prizes for a baby shower that I'm hosting with a couple of women . Oh did I tell you, I'm going to be a grandma! Late August and we already know it's a boy. I can't wait to see him!!
Happy Easter everyone. I hope you all enjoy the day, hopefully with your families. We are going to dinner at my in-laws so I don't have to cook. More time to sew.
 Things are looking good here at the Quilting Junkie. I did purchase more fabric but I also cut it up too!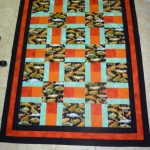 I went looking for some fabric to make a summer table topper and came home with a stack of fish fabric. My husband was with me and he spotted the fish stuff and thought it would make a great guy comfort quilt. He has a few friends that he'd like me to make a quilt for, so I bought some. And…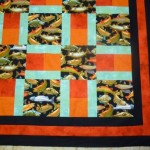 …he liked it so much that he wanted me to make another quilt. So back to the quilt shop I went and bought some more fish fabric and the green fabric too (because I like it). The lady at the shop was very helpful in fabric selection so when we went the second time, I brought the quilt top and she was happy to see how it turned out.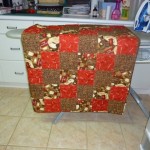 And this quilt needs the binding sewn down and it will be off to a good home. I love the coffee fabric with the beans on it. Must get more someday….. Now on to the fabric enhancing report.
Fabric used this week: 8.36 yds
Fabric used YTD: 65.33 yds
Fabric added this week: 5.38 yds
Fabric added YTD: 53.26 yds
Net fabric busted: 12.07 yds
At least I'm still in the good. I have lots of quilt tops cut out that have already been counted. Now to get them finished and the backings cut out, my numbers will look good once again. Have a great day.
Quickie Report
Nothing used
 Added 19.85 yds
Net busted 9.09 yds
I  hope to be good this week.
March 25th, 2012 - The Stash
Well, for someone who said they would post at least 3 times a week has failed . But I have an excuse. I went back to work after being off for 7 weeks. It was grueling. Not the work but having to get up at 4;20 every day. This again makes me really want to retire.  And due to being so tired, I can't seem to get much sewing done either. Now that sucks!
 In the sewing department, I have managed to sew 2,000,000 stitches on my Bernina and the skull and crossbones came up. Time for service! I didn't think I should sew until after it was serviced and it will be back on Tuesday. Figures when your machine is out, that's when all your creative juices start to flow. I could have sewed 10 quilts yesterday but instead I worked on some hand-quilting.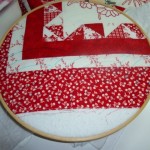 I started this quilt aboout 7 years ago. Not the quilting part but all the redwork. I didn't want to machine quilt over the stitching so I thought I should do some hand-quilting on it. Needless to say, I haven't got very far. I started in the middle of the quilt and didn't like it, so I ripped it out and started at the bottom right. I'm liking it now and am looking forward to completing the first row of quilting. Maybe tonight I'll get it done. Now for some stash progress.
Fabric used this week: 0.31 yds binding for a baby quilt
Fabric used YTD: 56.97 yds
Fabric added this week: 0 yds
Fabric added YTD: 28.03 yds
Net fabric busted: 28.94 yds
 I even went to the quilt shop yesterday browsing for ideas. Nothing tickled my fancy, not even the Winnie the Pooh fabric which I have been looking for. I wanted to make a baby quilt from it, but it's not the classic Pooh print, so it wasn't coming home with me.
See you later and have a great day.
I was bad but then again I was good. Seeing as I haven't shown any fabric usage for a few weeks, my purchases won't seem so bad. I don't even know how long ago I posted a stash report but here goes.
Fabric used this report: 31.22 yds
Fabric used YTD: 56.66 yds
Fabric added this report: 28.03 yds
Fabric added YTD: 28.03 yds
Net Fabric busted: 28.63 yds
I guess if I keep going like this, I'll be ahead for the whole year. Most of the fabric I added was black, brown and beige with some gray thrown in for good measure. Nothing so exciting that says you must buy me to make a quilt. Boring background fabric. You know the tone-on-tone kind. I actually had to look at them to remember what I had bought. The fabric I busted was a lot of backing fabric and I cut up some striped fabric for 3 quilts. I think I posted a photo in a previous post. Really easy! And I have it in a red and white version too. I'll have that ready for next weeks report. Talk to you all later.
February 12th, 2012 - The Stash
All's well here at the ranch. Only if I could type without a million errors. Three weeks post surgery and I'm finally feeling like a normal person, whatever that is. Anyway, I've managed to use a bit of my stash and not add anything to it. Not for lack of trying.  I couldn't talk anyone in to driving me to the quilt shop as I needed some batting and backing.  I really didn't feel like piecing them or even looking for some in my stash. But I did and boy, does it make my numbers look great.
Fabric used this week: 15.99 yds
Fabric used YTD: 25.44 yds
Fabric added YTD: 0 yds
Net fabric busted: 25.44 yds
 I know this won't last. My sister is bringing me some fabric next week. But if I cut it up for a couple of comfort quilts, the numbers won't look bad at all.
Have a great week sewing and keep warm.
January 15th, 2012 - The Stash
Well, it finally snowed. Whoopi! And as far as I'm concerned, it can now melt. It looks pretty and since the city uses salt on the roads ,my car needs washing and the entryways at my house are all messy. Who wants to wash their car in below zero weather! Your locks and doors freeze shut. I'll have to wait until a nice sunny day and do it first thing in the morning.  Anyway on to the stash.
 I quilted 2 quilts this weekend and I'm hoping to get a 3rd done this week. On the 2 I have done, all that is left is the hand-sewing of the binding and I plan on doing that next week.  I need a stash of hand projects in the next couple of weeks because I'm going for surgery and won't be doing much of anything after. Maybe I'll leave my computer downstairs  so I won't be tempted by any on-line sales. You know when you get bored you start browsing quilt shops on-line and next thing you know, you have a cart full of fabric. I better find some more hand projects. Back to the stash.  I managed to use a bit more of it and not add anything so I'm good. Here's some numbers.
Fabric used this week: 3.49 yds
Fabric used YTD: 9.45 yds
abric added this week and YTD: 0 yds
Net fabric busted:9.45 yds
 Have a great week and I'll be back in 2 weeks. See you then!