March 25th, 2012 - The Stash
Well, for someone who said they would post at least 3 times a week has failed . But I have an excuse. I went back to work after being off for 7 weeks. It was grueling. Not the work but having to get up at 4;20 every day. This again makes me really want to retire.  And due to being so tired, I can't seem to get much sewing done either. Now that sucks!
 In the sewing department, I have managed to sew 2,000,000 stitches on my Bernina and the skull and crossbones came up. Time for service! I didn't think I should sew until after it was serviced and it will be back on Tuesday. Figures when your machine is out, that's when all your creative juices start to flow. I could have sewed 10 quilts yesterday but instead I worked on some hand-quilting.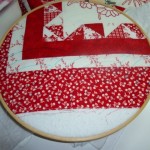 I started this quilt aboout 7 years ago. Not the quilting part but all the redwork. I didn't want to machine quilt over the stitching so I thought I should do some hand-quilting on it. Needless to say, I haven't got very far. I started in the middle of the quilt and didn't like it, so I ripped it out and started at the bottom right. I'm liking it now and am looking forward to completing the first row of quilting. Maybe tonight I'll get it done. Now for some stash progress.
Fabric used this week: 0.31 yds binding for a baby quilt
Fabric used YTD: 56.97 yds
Fabric added this week: 0 yds
Fabric added YTD: 28.03 yds
Net fabric busted: 28.94 yds
 I even went to the quilt shop yesterday browsing for ideas. Nothing tickled my fancy, not even the Winnie the Pooh fabric which I have been looking for. I wanted to make a baby quilt from it, but it's not the classic Pooh print, so it wasn't coming home with me.
See you later and have a great day.
3 Responses to "The Stash"
Allie Says:
March 25th, 2012 at 2:08 pm

Now that is early, girl….ugh. I can see why you haven't felt like sewing. Really a skull and crossbones come up? My machines need service too, I hope I can get them in. The last time mine was at the spa, I cut enough blocks for about 10 quilts, lol.

Dar in Mo Says:
March 26th, 2012 at 3:18 am

I hate when you are without your Bernina. That's why I have a backup machine! Your numbers look good for the year. Nice going.

Lori in South Dakota Says:
March 26th, 2012 at 5:13 am

I would be going hog wild cutting all the pieces for tops!
Leave a Reply