Archive for September, 2012
September 30th, 2012 - The Stash
I bought some fabric again. Oh well, at least it's for a quilt in the making, not for the stash. I will pull some fabric out of the stash to co-ordinate with it. I went to the Novi Sewing Expo yesterday and there really wasn't all that much to buy for quilters. Just as well, like I need more fabric. Here are my numbers.
Fabric used this week: .44 yds
Fabric used YTD: 119.86 yds
Fabric added thsi week: 2 yds
Fabric added YTD: 190.93 yds
Net fabric busted: -71.07 yds
I'm still quilting those 9 quilts I put together in late August. There are 2 more left to quilt and then I can start on something new. I have a lot of projects to choose from and a lot of fabric too. You'd think with all this fabric, I'd never have to go to the quilt store again. Seventy one yards of fabric added but not used this year alone. What's a girl to do? I say retire and spend the rest of her life quilting. That's my goal! Thirty-five years of service at the post office and 65 weeks to go. I can't wait!
I went to the sewing show today but I didn't think there was much sewing there. This show gets smaller every year. I did manage to purchase a few things.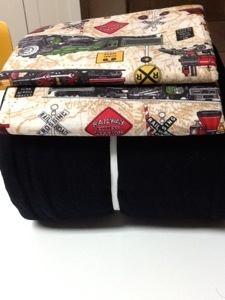 I picked up some black flannel for a quilt backing and a couple of pieces of train fabric for a comfort quilt for a friend who used to work for the railway.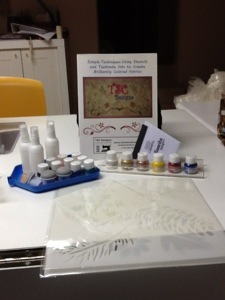 And these are my other purchases. I saw this stuff at the AQS Show in Grand Rapids but I didn't want to really get in to it. After seeing it again today, I thought 'what the heck, might as well start now'. There was a starter kit available, so I bought that and I bought a few more colours of the inks. I can't wait to start but I have a few more quilts to get out of the way first.
I also met Allie from allie-oopssweethappylife.blogspot.com/ fame. Another busy quilter, looking for some new ideas. Its really neat seeing people you met from blogging. We had lunch together and chatted. She took a couple of photos of us and I didn't even think about it until later on. Oh we'll, I'll see her again, maybe in Grand Rapids next year.
Have a great evening!
September 23rd, 2012 - The Stash
Well, it's been awhile since I've blogged about anything. I'm just too busy to do this all the time, so it's going to be sporadic posts. I love my new grandson to pieces and I need to see him more often. I need to quilt more too! I don't know what I've done for the last month or so but I do know that it doesn't involve much quilting.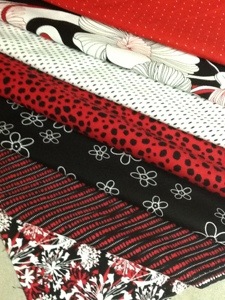 I've started this quilt from a kit I bought at the AQS Show in Grand Rapids. I'm not adding then subtracting it because I don't feel like it.
I did purchase a bit of fabric for a few red work stitcheries that are in the works. I like doing red work because I can do it at work and I don't have to bring lots of supplies, just a needle, some thread and a pair of snips. No pattern to wreck by getting all scrunched up either.
Now for some numbers
Fabric used this week: 1.19 yds
Fabric used YTD: 119.42 yds
Fabric added this week: 8.66 yds
Fabric added YTD: 188.93 yds
Net fabric busted: -69.51 yds
Once I've cut this weeks purchase up, it might look a little better. Maybe some backings too. Anyway there's always next year. I need to take a vow of poverty or something so I don't buy any more fabric. I need to sew, sew, sew and then quilt, quilt, quilt!!!!
Until then, have a great week.