I went to the sewing show today but I didn't think there was much sewing there. This show gets smaller every year. I did manage to purchase a few things.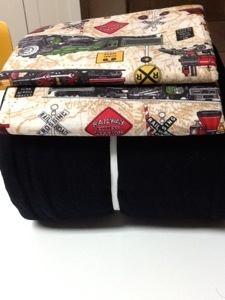 I picked up some black flannel for a quilt backing and a couple of pieces of train fabric for a comfort quilt for a friend who used to work for the railway.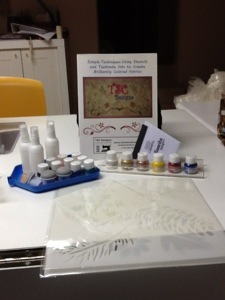 And these are my other purchases. I saw this stuff at the AQS Show in Grand Rapids but I didn't want to really get in to it. After seeing it again today, I thought 'what the heck, might as well start now'. There was a starter kit available, so I bought that and I bought a few more colours of the inks. I can't wait to start but I have a few more quilts to get out of the way first.
I also met Allie from allie-oopssweethappylife.blogspot.com/ fame. Another busy quilter, looking for some new ideas. Its really neat seeing people you met from blogging. We had lunch together and chatted. She took a couple of photos of us and I didn't even think about it until later on. Oh we'll, I'll see her again, maybe in Grand Rapids next year.
Have a great evening!
One Response to "Novi Sewing Show"
Allie Says:
September 30th, 2012 at 7:32 pm

You bet Grand Rapids, lol – cuz I'm not going back to Novi! So disappointing. But at least you found some lovely things!

I hate to say it, but I forgot your lovely friend's name. My brain lets me down with increasing frequency these days. It was really enjoyable seeing you again, and meeting her, she's a doll – love the twinkle in her eyes, I bet you two have a lot of fun!
Leave a Reply