Archive for the 'Design Wall Monday' Category
I don't usually have something to share but this week I do. I've been working on a couple of 4-patch posey quilts. The same main fabric but in different colour ways.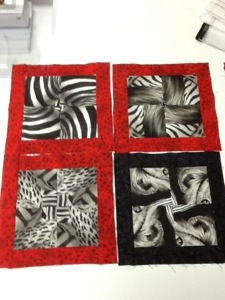 This is a really hard fabric to coordinate other fabrics with. Not black, not really grey but it kind of looks like pencil. Sue of Quilting Confections suggested brights and that's how I thought of the red.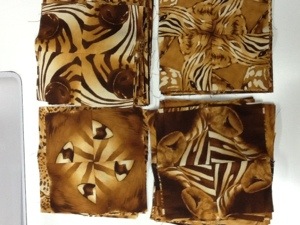 I also have it in the browns. It shouldn't be too hard to find fabric for sashing. When all else fails, there's always black.
I'm home and I have something to share. I hardly ever get to post but today was a very slow day.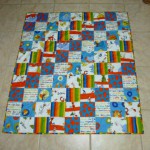 I finished this little baby quilt on Saturday night. Now all I need is a Dr Suess book and I have a baby gift. If only I could remember to get the book before I have to use this. Actually, the next quilt recipient has asked for books instead of cards at the baby shower so while I'm at the bookstore, I'll have to pick up a couple extra.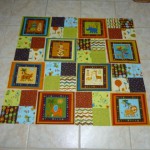 I'm working on this today. I had to cut out a panel in to some real wonky squares.  Somebody made a quilt out of this panel and told me what I needed to do. They were unsure of the size of the 'squares' so I'm just playing around with it and I think it will work. Now I need to sew it together and add some borders. Voila! Another finish.
 Too bad all quilts weren't this easy. Have a great day!
I actually have time to do a post today and I have something to show too! I need a quick gift for my husband's aunt who's taking us to see Celtic Thunder and  to dinner on Thursday. So I gave it a quick thought and remembered that I have all these pieces cut out for some table toppers.
 I had them all together in a box with the pattern . It's a free pattern from Patchalot Patterns and really easy to make. And it looks great when it's done.  Marci shows a few different ways to finish it off and has samples that others have made on her site. Lots of different ideas. She has a few other free patterns too. Check her site out.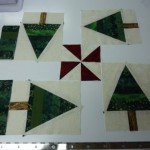 Here's the trees part all set up. All I have to do is make some red strips for along side of the trees and a green piano key border. Then layer, quilt and bind. Think I can get it done before Thursday. "I think I can, I think I can"  famous last words, I hope not.
Well I better get busy because I'm  making 3 tops at the same time.
I've actually been doing a litlle quilting.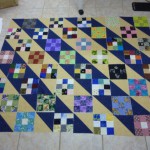 My quilting friends and I had a 9-patch swap.  We made 35 blocks each and I had a few from a previous swap. Combined there were enough to make 4 comfort quilts along this line.  I think it looks pretty with all the different 9-patches. Some of the fabric is very unusual. Now to find a fabric from the stash for the borders. That might be a challenge. Maybe I should just make a few more 9-patches and no borders. Hmm….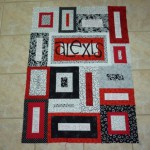 And I've been working on this Nancy Halvorsen design for  one of my niece's friends. It needs borders, backing and binding.  Not what I would pick for a baby quilt but I still think it looks really neat.  All this fabric was from my stash and you can't even tell I used some of it. The black and white drawer is still just as full as it was before. I think I could make 15 or 20 quilts before you'd notice some fabric was gone.
  Well, I'm off to vote. We need a new mayor and hopefully today's the day we get one.
Mary-Kay
….or should I say couch. I don't have a wall or the space for one. Maybe the dining room wall one day but I don't think that would go over well.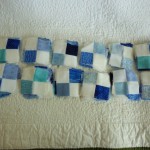 I made a few (180) 4 patches from my scraps. What I'm going to do with them has yet to be decide. Originally this started as Judy's Scraps Ahoy and stopped as 4-patches. I have many options but every time I think I have a plan I find something else that would work or is much eaisier. I don't really like doing scrappy things because it takes so much time sewing all those little pieces together.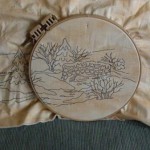 I'm also working on this little stitchery, Over The River and Through The Woods. There are 3 panels and this is the one with the most stitching. I have all the fabric to complete it, so once the stitching is done I'll be ready to sew. I even know how I would like it quilted. I really like Crabapple Hill's patterns especially the winter ones. I think I have them all.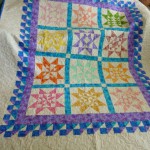 And I need to get this quilt's binding sewn down by Saturday. It's a wedding gift for my niece. I hope they like it. It looks great in this photo. I'm not crazy about the colours with the background and border fabric. Actually I like all the fabrics just not together. Another BOM with a fabric combination I'm not crazy about. I have 3 more BOM's and when they are done, no more. Famous last words.
Have a great sewing day. More later!
Mary-Kay
That I have off. Yeah, holidays are great. Stay up and sew all night long. Or at least until 4am. And then I got up at 10am for breakfast with some of my family and then I sewed some more.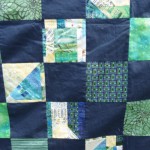 I made this Crumb quilt from the leftovers from a Strips and Curves quilt. Actually I made 2 quilts from the fabric required for one quilt. And then I made this from the scraps.  I sewed the scraps from the stratas  together and cut 5.5″ squares from it. In this photo, it looks pretty wrinkly but  it isn't. Don't know how that happened.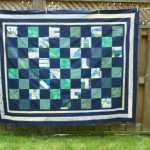 All the other strips were used in the borders. I added 5 borders to make it big enough to be useful. I still love this colour combination. And I still have fabric for the binding and more leftovers too. When I was adding the 3rd or 4th border, I thought that I should have made a piano key border but I wasn't reverse sewing what I had alreadysewn on.
  I was just outside spraying the weeds on the patio. I had some weed killer and when that was done, I used straight up vinegar. Time to experiment. I'll have to see what works the fastest and I hope it's the vinegar. It's so much cheaper than weed killer and less toxic to the environment and me.
 Have a great day. Don't let the heat and humidity get you down. Stay hydrated too! Especially Liz. Hi!
Mary-Kay
PS  Remember the "Selvage Edge" draw on Wed. Check here http://mk.luckydot.org/2010/08/02/1061/  and leave a comment to be entered in the draw. My friend added to the selvage pile  so now there's even more.
Unlike most people in Ontario, I had to work today. No rest for us postal workers. No wonder we're nuts. Anyway I don't have the wall space for a design wall so I'll have to use my floor.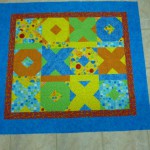 Here's a little quilt that I finished last week. It's called X's and O's by Valerie Krueger of Hearts to Holly quilt shop. I like the bright colours and I like the fact that there are no points to match. Nice and easy to put together. And nice and bright too! I hope the  recipient of this quilt loves it. I know I would. It just needs to be quilted and bound.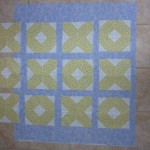 I showed the above quilt to my SIL and she wasn't thrilled with the colours, a bit too busy for her tastes. Then I said I would make one in 2 colours and she thought that she would like that much better. I need to finish this one by the end of the month. Binding and all.
Have a great day.
Mary-Kay