Unlike most people in Ontario, I had to work today. No rest for us postal workers. No wonder we're nuts. Anyway I don't have the wall space for a design wall so I'll have to use my floor.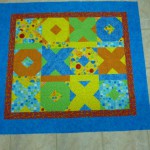 Here's a little quilt that I finished last week. It's called X's and O's by Valerie Krueger of Hearts to Holly quilt shop. I like the bright colours and I like the fact that there are no points to match. Nice and easy to put together. And nice and bright too! I hope the  recipient of this quilt loves it. I know I would. It just needs to be quilted and bound.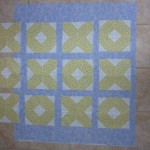 I showed the above quilt to my SIL and she wasn't thrilled with the colours, a bit too busy for her tastes. Then I said I would make one in 2 colours and she thought that she would like that much better. I need to finish this one by the end of the month. Binding and all.
Have a great day.
Mary-Kay
3 Responses to "Design Wall Monday"
Kathy Wagner Says:
February 15th, 2010 at 8:28 pm

What a drag that you had to work today 🙁
I love these blocks and I especially like the bright colours!

Lori in SD Says:
February 15th, 2010 at 11:36 pm

I laughed at your husband jinxing the baby blankets. Just DON'T DRINK THE WATER–or whatever those people drank! ROFL

Allie Says:
February 16th, 2010 at 1:10 am

Why was everyone else off work? We didn't have postal delivery today – it was President's day. Love your little quilts – I really like the two-color!
Leave a Reply