Archive for the 'My Etsy SHop' Category
There is never the right fabric in my stash. I want to make a quilt for a friend who is into biking and I can't believe that I don't have any bicycle fabric in my stash. So I went shopping and found the perfect guy bike fabric. Plus I needed to get a fat quarter pack for my contribution to the 2018 Canadian Quilt Along. I didn't even count that in my stash because it's already mailed out.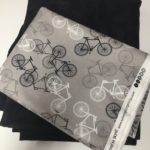 Now isn't that the perfect fabric? And a nice flannel backing too. Plus I bought a lot of grey fabric at the shop hop that will go great with this one.Once I finish my quilt top in greys, this will be the next one up. Of course, neither of these quilts are on my list of quilts to make but will be added on the Tops to Quilt list.
Here are this weeks numbers.
Fabric used this week: 8.17 yds
Fabric used YTD: 104.55 yds
Fabric added this week: 5.42 yds
Fabric added YTD: 139.31 yds
Net fabric busted: -34.76 yds
I also made 2 Necessary Clutch Wallets (NCW) this week. I have so many fabric combinations that I could possibly make that it's slightly overwhelming. Too bad one wallet uses only about 1 yard of fabric.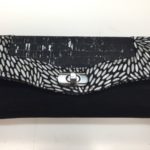 The black and silver NCW is listed on my etsy store, TheQuiltingJunkie.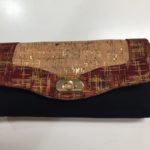 This one I made for a friend. She helped make it too which is a good thing seeing as I sewed the main piece and thought something was wrong with it. I even topstitched it too. Then I realized I forgot to sew the flap on. What a dough head! Too much talking going on! Anyway my friend unpicked that mistake and then I sewed it back together the right way.
On the 15 Minutes to Stitch front, I sewed for a total of 22 hours this week. Some days, I don't get to sew at all but I certainly make up for it on the days I do sew.
I'm linking up with Donna at QuiltPaintCreate for the stash report and Kate at Life in Pieces for the 15 Minutes to Sew.