There is never the right fabric in my stash. I want to make a quilt for a friend who is into biking and I can't believe that I don't have any bicycle fabric in my stash. So I went shopping and found the perfect guy bike fabric. Plus I needed to get a fat quarter pack for my contribution to the 2018 Canadian Quilt Along. I didn't even count that in my stash because it's already mailed out.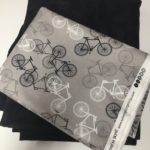 Now isn't that the perfect fabric? And a nice flannel backing too. Plus I bought a lot of grey fabric at the shop hop that will go great with this one.Once I finish my quilt top in greys, this will be the next one up. Of course, neither of these quilts are on my list of quilts to make but will be added on the Tops to Quilt list.
Here are this weeks numbers.
Fabric used this week: 8.17 yds
Fabric used YTD: 104.55 yds
Fabric added this week: 5.42 yds
Fabric added YTD: 139.31 yds
Net fabric busted: -34.76 yds
I also made 2 Necessary Clutch Wallets (NCW) this week. I have so many fabric combinations that I could possibly make that it's slightly overwhelming. Too bad one wallet uses only about 1 yard of fabric.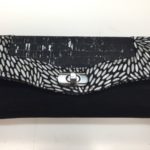 The black and silver NCW is listed on my etsy store, TheQuiltingJunkie.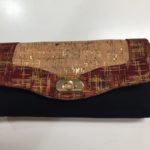 This one I made for a friend. She helped make it too which is a good thing seeing as I sewed the main piece and thought something was wrong with it. I even topstitched it too. Then I realized I forgot to sew the flap on. What a dough head! Too much talking going on! Anyway my friend unpicked that mistake and then I sewed it back together the right way.
On the 15 Minutes to Stitch front, I sewed for a total of 22 hours this week. Some days, I don't get to sew at all but I certainly make up for it on the days I do sew.
I'm linking up with Donna at QuiltPaintCreate for the stash report and Kate at Life in Pieces for the 15 Minutes to Sew.
3 Responses to "More Fabric"
Donna Says:
June 10th, 2018 at 12:22 pm

That is great guy bike fabric.
If I could sew that much every week, I'd like to think I'd use up all my stash but I'd probably just start more new projects (without finishing the old ones).

Sunday Stash June 10, 2018 | quiltpaintcreate Says:
June 10th, 2018 at 12:24 pm

[…] No fabric in or out and no money spent this week. The full scope of the work changes became more clear this week. It will be months before things even out again. My small group also decided to stop meeting. I really liked that group, and I'm sad to see it end. Now I'm looking at the June The Short List and realizing my projects don't work that well for me, and I need to add Safehouse quilts back to the list. I'm also looking at less time in the sewing room. It will all work it out eventually. So much change at once just created unexpected challenges. My new focus is to cut all the pieces for the floral runner and fuse them. I need to be able to move the quilt and reclaim my piecing table. I'm also considering my next Safehouse quilt. I started one at a guild sewing day but don't know if I want to work on that one or a different one. I sewed some of the blocks but haven't cut anything yet. I may even get two quilts out of it because a lot of the fabric is red and blue, and the spattering of other colors look out of place. The unsewn pieces are on the right, the sewn on the left. You are seeing the back of the sewn fabrics. They are much brighter. That will be a decision for another day. Fabric In: 5.25 yards Fabric Out: 9.25 yards Net Fabric Used: 4 yards Quilt & embroidery spending: $110 How did you do this week? 1 Meloney 2 Chrisknits 3 Kate 4 Julie in GA 5 Mary-Kay […]

Kate Says:
June 12th, 2018 at 6:06 am

You definitely found a great bike fabric. Congrats on finding time to stitch this week. Hope this week goes as smoothly.
Leave a Reply