Archive for February, 2014
February 23rd, 2014 - The Stash
Week 8 already and my stash usage remains the same. I've been busy caring for my brother who has heart issues and can't be on his own. He will be staying with us until he has surgery, hopefully in 2 to 3 months. It will be a challenge to see how much quilting I get done as I can't hear him when I'm in the sewing room. I guess it will be mostly hand sewing and whatever I get done at night when there's someone else here. But usually by then, I'm ready to crash. Lately I've been going to bed pretty early. You never know when you might have to get up in the middle of the night.
Have a great week!
Oh yeah, Canada won the gold again!! Woo hoo!!!!!!!!!!
February 15th, 2014 - The Stash
My stash is getting smaller every week and I'm starting to like the challenge of using it up. Especially the part about spending no money to make all these lovely quilts. Anyway here are my numbers for the last couple of weeks.
Fabric used this week: 18.42 yds
Fabric used YTD: 29.06 yds
Fabric added this week and YTD: 0 yds
Net fabric busted: 29.06 yds
If I could use this much fabric every month, I'd be in the good! I do know that it might come to a screeching halt when I go to my sisters at the end of the month. I need some wide backings for 3 quilts and there's some flannel there from Black Friday. Oops! That will be counted when I actually receive it. But I do know that I'm planning on using it for some comfort quilts that are sitting here waiting for it. I guess as long as it's being used and not just stashed, all will be good.
Have a great day and maybe it's sunny in your neck of the woods.
I finished 2 more quilts this week. Woohoo!!!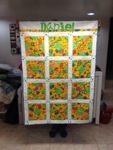 This is for the latest edition to the large Heino family. Daniel was born last year, not sure of the date, maybe in October, but at least he will get this quilt before he's a year old.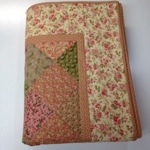 And I finished this Simply Squares last week also. This fabric is from my sister's vacation on Manitoulin Island last summer. She went to a quilt shop and saw these fabrics on sale, took a photo and messaged me. I ended up buying a whole whack of fabric, not sight unseen but untouched by my hands. Never let a non-quilter buy you fabric or let them in a quilt shop. It usually ends in disaster, usually only to my wallet!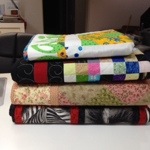 Just a few of my finishes for this year. All from the stash too!
Yup, that's right, we got dumped on again. I actually shovelled a bit but the snow on the driveway was so deep, I got the snow blower out. That sure made quick work of that snow! Too bad it keeps coming back.
Anyway, I wanted to do a little bit of sewing, just one block, to see how it looked. I ended up finishing the main body of the quilt.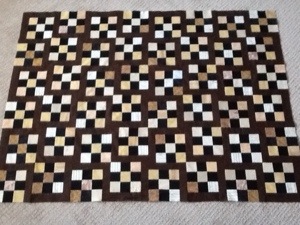 The pattern is Dancing 9-patches from Bonnie Hunter's free patterns off her website, quiltville.com. All this top needs is a few borders and it's done. All 9-patches are from the stash of 2.5″ squares. Now I can close that box.
Have a great day and stay warm!