Yup, that's right, we got dumped on again. I actually shovelled a bit but the snow on the driveway was so deep, I got the snow blower out. That sure made quick work of that snow! Too bad it keeps coming back.
Anyway, I wanted to do a little bit of sewing, just one block, to see how it looked. I ended up finishing the main body of the quilt.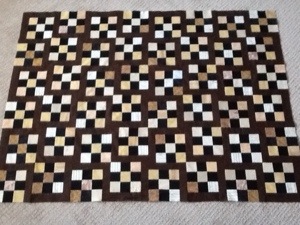 The pattern is Dancing 9-patches from Bonnie Hunter's free patterns off her website, quiltville.com. All this top needs is a few borders and it's done. All 9-patches are from the stash of 2.5″ squares. Now I can close that box.
Have a great day and stay warm!
Leave a Reply