August 19th, 2019 - I tried
To not buy any more fabric. But I couldn't do it. A lady on FB Marketplace was getting rid of fabric and I went to look and guess what? I bought about 28 yards of it at a great price.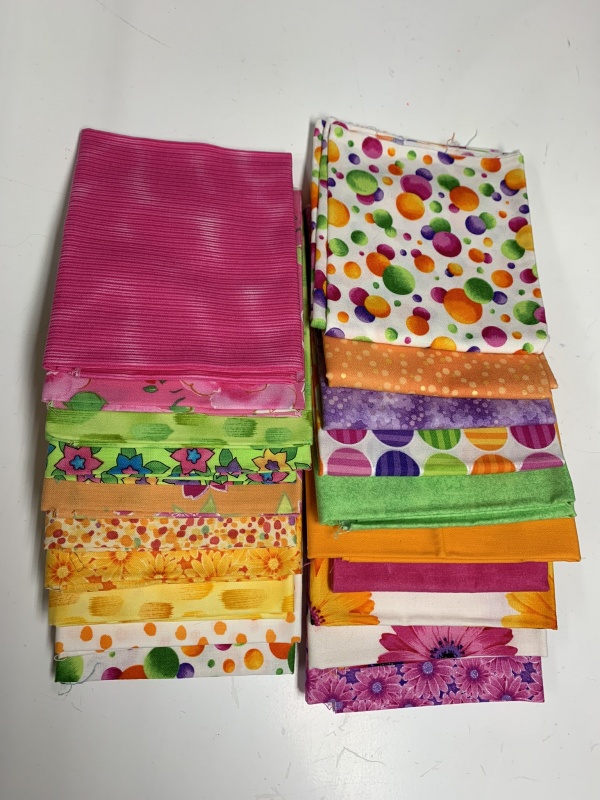 There are dots and chevrons and more dots. I know there is a quilt I want to make using dots and now I have them. Eleven FQs of the same size dots and the same colours of chevrons in FQs. Now to just find that pattern.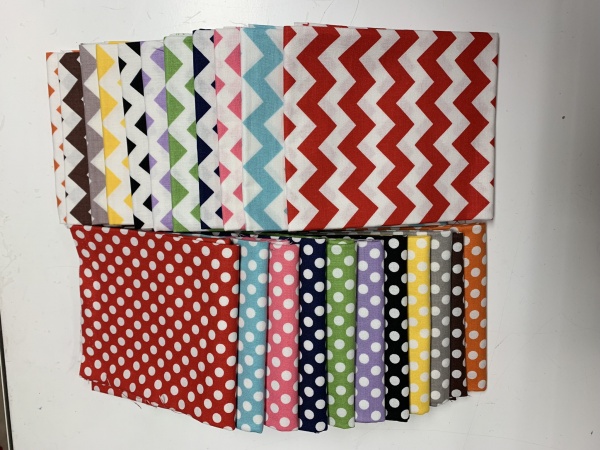 On the 15 Minutes to Stitch front, well let's say that it hasn't been happening here. Barely stitching in some weeks since I last posted.In the last 6 weeks, I've only averaged 13.6 hours per week and if you know me, I usually stitch around 25 hours per week. I think I didn't stitch for one week at all. Shame! Anyway, now I'm back in the groove of things.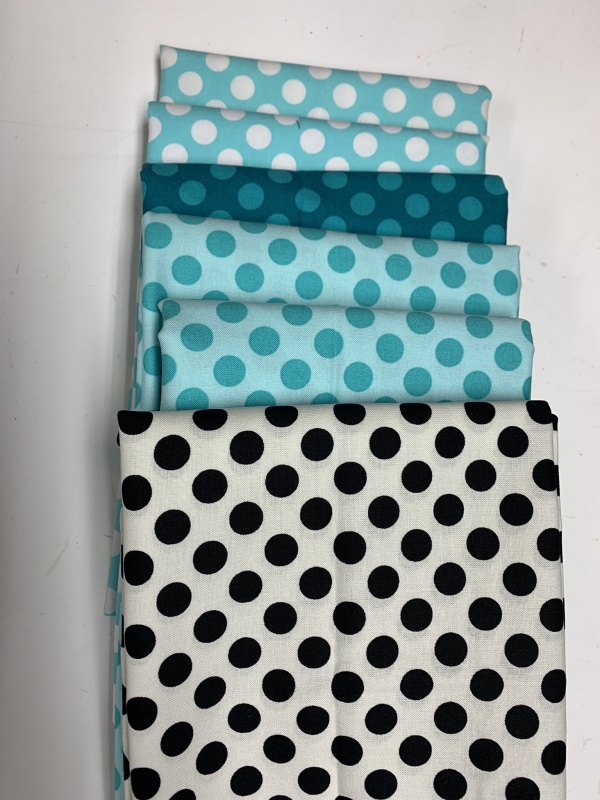 I bought a new machine in March and finally figured out a table for it. My hubby talked me into one of those 'sit/stand' tables that computer people use. Both him and my son use one at their workplaces. So we checked around the office furniture stores and boy they are expensive. When we got home, I started looking around on the internet and found just the frame for $299- CAD and ordered it. Once it came, it was a cinch to assemble, no arguments during this process at all. Then it sat in my sewing room with no top while we tried to decide on which top would work. The machine I have, Bernina 770, is quite heavy and from all I have read, you have to make sure your table doesn't bow or the embroidery module won't work. Hubby found a 30″ by 60″ by 3/4″, finished on all sides, table top at Home Depot for $36-. Now it's all set up and I can sew at any height. I have gotten used to sewing at table top height and this is not good for your body. Now with the table lower and at the correct height, I feel like it's too low. But it works and that's all good!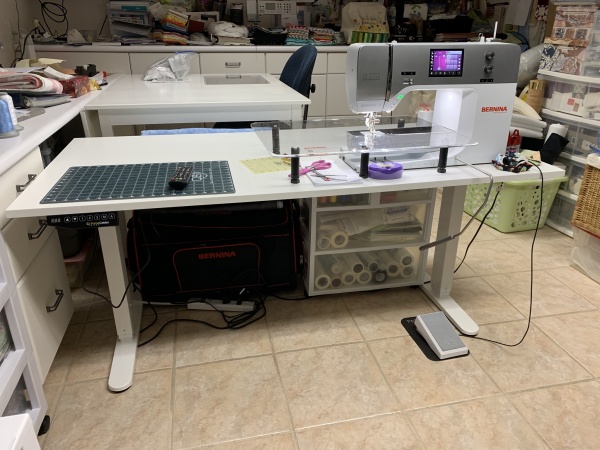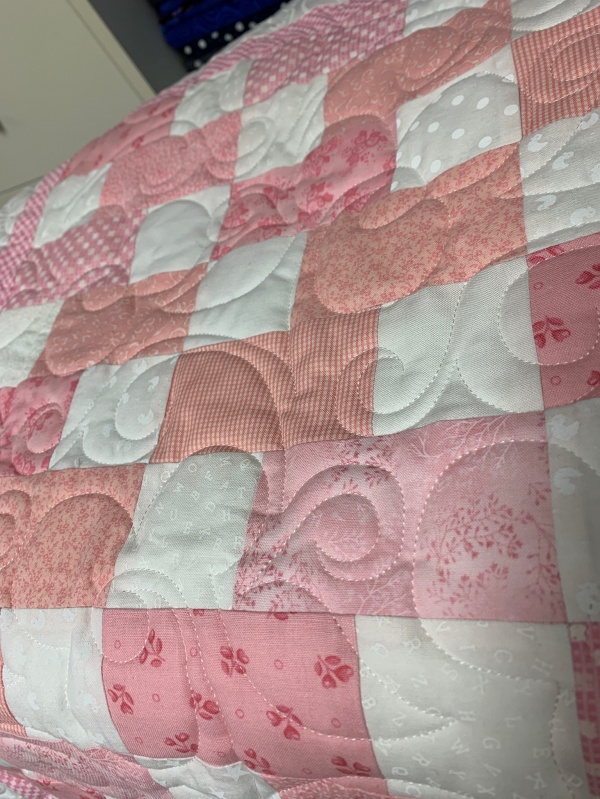 Now for some numbers
Fabric used since the last time(7 weeks ago): 14.04 yds
Fabric used YTD: 106.95
Fabric added since the last time: 32 yds
Fabric added YTD: 127.5 yds
Net fabric busted: -20.55 yds
If only I didn't buy any fabric! Oh well, that is life and I just love the fabric!
In the 15 Minutes to Stitch challenge, most weeks I stitched around 10 hours except last week. I managed to get 23 hours of stitching done. That included a few hours at The Mercantile in Chatham ON using their longarm machine. This week I go back on Thursday to quilt another quilt. I need one of these machines but sadly have no space for one.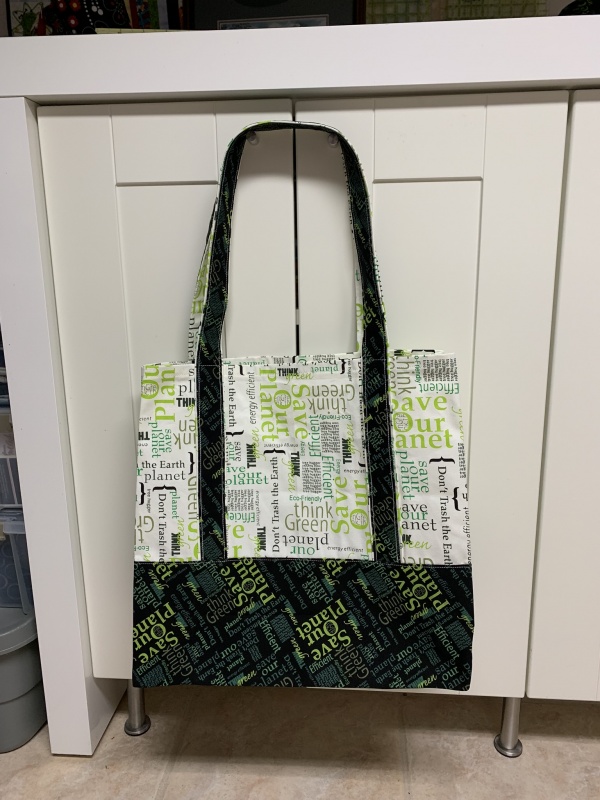 I hope everyone enjoys these last few weeks of summer. It has gone by all to quickly to actually enjoy. But I love the fall with cooler temperatures and it's just around the corner.
Have a great week!
3 Responses to "I tried"
Sunday Stash August 18, 2019 | quiltpaintcreate Says:
August 19th, 2019 at 7:06 pm

[…] 1 Julie in GA 2 Chrisknits 3 Meloney 4 Patricia 5 Angie in SoCal 6 Becca // Pretty Piney Quilts 7 Mary-Kay 8 Melva Loves […]

Donna Says:
August 19th, 2019 at 7:10 pm

Great fabrics! I love dots and stripes. You have such a large sewing space – I am jealous.

Kate Says:
August 20th, 2019 at 7:09 am

You found some gorgeous fabrics to play with. Refreshing the stash is important too. Looking forward to seeing what comes to be out of that yardage. Enjoy your stitching time this week.
Leave a Reply