Archive for January, 2009
 Finally, I decided what project I'm going to work on. Mum's the Word from TrulyMaterialistic in East Jordan,MI. I picked up the fabric and the pattern at Hearts to Holly in Charlevoix, MI last summer. It's a Dresden Plater quilt that is jelly roll or fat quarter friendly.  I have the backgound cut out and am now working on cutting out 180 pieces that are to be the plates. It seems to be fairly easy so far. Right!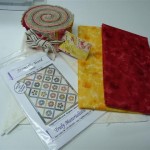 I showed you this the other day as a possible project to work on. It's also part of my stash, so that's a good thing.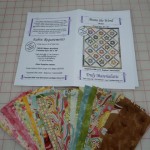 The jelly roll is Posh by Chez Moi for Moda. I saw this at the store and I held on to it until I could decide what to make with it.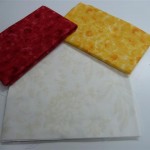 The background fabric is Simplicity from Moda. I couldn't find a fabric in the Posh line but thought that this one would work. The red Posh is for the center of the plates,I think and the yellow Posh is for the sashing, I think. I'll have to see what looks best when the time comes. I can't really remember what is what. That's what I get for buying stuff and not working on it right away.
 Well I had better start cutting this out.  Tomorrow night we are going out for pedicures and dinner. Seems like a weird combination, eh? Our friend does pedis out of her home and Hubby bought me one for my birthday and she called  to set up an appointment and invited us for dinner too. I love the feel of my tootsies after. I never want to wear shoes or boots again.
Talk to you later.
Mary-Kay
Well, it snowed again!!!!!!  I really do not like this weather at all. Today, somebody on my route said "How can there still be talk of global warming when we have all this snow"  Who knows?
 Anyway I went to the doctors for the results of my knee xray and he said I have arthiritis. I need a cortisone shot and to shed a few pounds. He said that for every pound you carry, it adds 7 times that on your knees. I can believe that especially when I get up in the morning, no pain and by the end of the day- lots of pain. And I have to continue icing it.
 On the quilting front I hand sewed binding on the baby quilt and 2 table toppers from Patchalot Patterns. I just looked at all the Christmas Tree table toppers on her site  and they are really nice. I think that I am going t o do a little more quilting on mine.
 Other than that I am going to start on something new tonight. Right after dinner. I still can't decide.
Talk to you later.
Mary-Kay
What to do, what to do. I can't decide what project to start. I took some stuff from my little basket of goodies.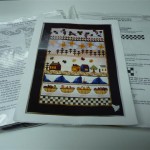 I saw this quilt at a shop in the Hamilton area. It's an Ontario quilt and I just had to have it. It has been aging in my basket of goodies for at least 6 years now. I hope all the pieces are there and I don't mess up while cutting it out.
Or I could start this little quilt, Snapshots from Atkinson Designs. I have made a few projects from this company and I really like how they turn out.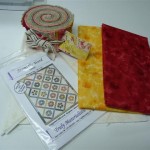 Or I could start/finish this one. Mum's The Word from Truly Materialistic. I started it but put it aside for other things like Christmas and bathroom renovations.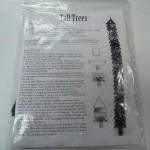 Or I could make these Tall Trees and just get something done, nice and simple. More of my Christmas stuff that will be hanging up for next year. I hope.
 Speaking of bathroom renovations, it's not done yet. Last night I found some water on the basement floor and we discovered we have sprung a leak. Hubby thinks that when he installed the vanity a nail or screw or something nicked a pipe. That's his story and he's sticking to it. And the mirrors are not completely in yet. One down and 2 to go. That should be on Thursday. Hopefully by this weekend or the next it should be completely done. Who knew that it would take sooooo long. At least the shower works and I don't have to go to my Mom's for that.
 Well, I'm off to do some quilting. On what, I don't know. Maybe I'll just iron some fabric. Or maybe I'll just go to bed.
Mary-Kay
This has been a good week for sewing and using up some of my stash. I didn't use a lot of fabric but at least I managed to sew.
Fabric Added This Week: 0 yards
Fabric Added Year To Date: 0 yards
Fabric   Used This Week: 6 yds
Fabric Used Year To Date: 16.1 yds
I don't know how much fabric I'll have to use before I start to see a dent in the stash.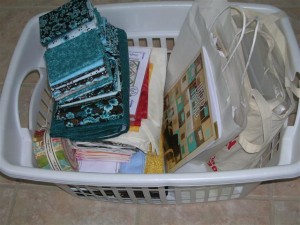 I have a laundry basket on the floor in my sewing room full of projects and I can't seem to start them. I even went and bought new baskets for the laundry room because I figure it will be a while before I get to these projects.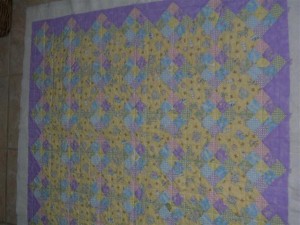 I guess I should learn how to take better pictures and get a new camera. The camera I use has been dropped and it came completely apart but it still works, somewhat. This is a baby quilt that I worked on this week, entirely from my stash.
     That's all for now. Happy quilting.
Mary-Kay
Or should I say whites, as in more snow to wade through. On Saturday we got 3 to 4 more inches of snow. It covered all the paths I made last week. So I had to walk a lot on the road on my route. Lucky it's only 4 blocks of this or I might have more than a sore knee.
 Today I went to the doctor's for my knee,which has been acting up since last Wednesday, and he sent me for xrays and is sending me to an orthopedic doctor. That takes at least 6 months here in Windsor and by that time I can either be cured or crippled. Ontario health care sucks! I get to ice my knee for as long as possible and continue delivering mail. Hopefully this goes away, along with all the snow.
 On a more cheery note I started a baby quilt all from my stash. It is so cute. I can't wait to see it done.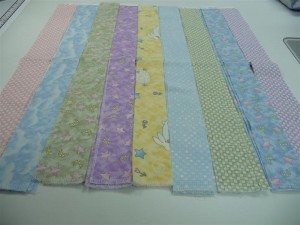 Here's the 2″ strips for the 9-patch blocks.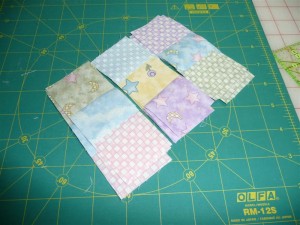 All set to be sewn into blocks.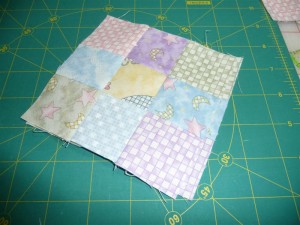 I need 42 little blocks. I'm sure they are not really little but after the last quilt I made they seem small.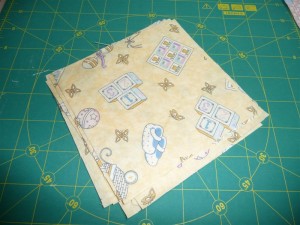 This is the other block fabric. I found the pattern in a Fons and Porter magazine.  You alternate 9-patches with the solid fabric blocks. On the ends of the rows there is a triangle. I have to find a fabric that goes with the rest  for the triangles and the binding. I have a lot of the baby print for the backing. I hope!
Happy quilting.
Mary-Kay
Well I didn't buy fabric and I didn't use any fabric either. But I did finish Scrappy Stars, which used quite a bit of stash fabric but I included that in last week's report.
Fabric Added this Week: o yds
Fabric Added Year to Date: 0 yds
Fabric Used this Week: 0 yds
Fabric Used Year to Date:10.1 yds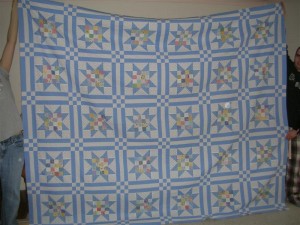 Here is my finished Scrappy Stars. The quilt holders are not professional so don't try this at home. They are my 2 boys and the one on the right is considerably shorter than the one on the left and they couldn't get it to hang straight.
Right after dinner I'm going to cut out a quilt so that will be in next week's report.
Happy quilting.
Mary-Kay
Okay I have some pictures of the new bathroom but it's not completely finished. The window trim needs painting, the door casing needs to be installed and the filler pieces at the side of the vanity need to be fitted in. Woodworking is not our forte. Our neighbour was helping to do this part but he became ill and can't do anything for 2 weeks. I hope he recovers and that there is nothing seriously wrong with him. Lucky  we are patient people and the bathroom is fully functional. We took a lot of pictures of the work in progress and my husband wanted to get one of those digital picture frames and put it in the bathroom. Needless to say he changed his mind when he realized that it needed an electrical outlet and he didn't want to put another one in. It would have been cool for about 2 days and then when everyone was in there so long looking at all the pictures, we would have been hollering to hurry up because we have only one bathroom.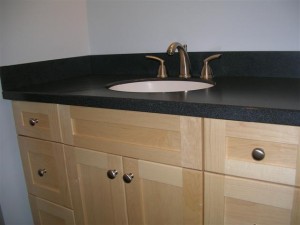 I had the vanity custom made. I didn't like any of the  premade ones. I thought that for all the money that it cost I might as well get a really good vanity to fit the spot. I am only going to remodel this bathroom once.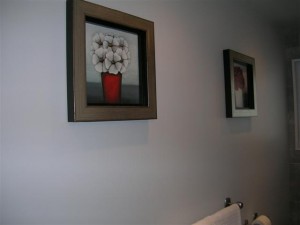 A couple of pictures I picked up at the local decorating center. The background colour is the exact shade of the walls. Once I saw these pictures I decided that the accent colour was going to be red. I thought maybe we could use a purple but once these pictures were up that all changed.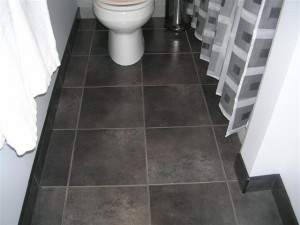 The floor tiles are not black but a  smokey grey black. The  baseboard tiles look blacker than the floor tiles but they are the same colour. I love the shower curtain. Doesn't it look like a quilt?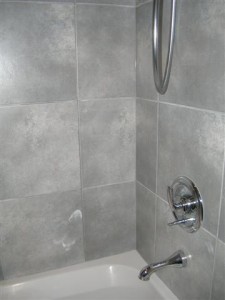 The wall tiles are a beautiful shade of silver grey. The grout is silver also. I really like the contrast between the floor and wall tiles. All the faucets are Grohe and boy are they heavy. The shower ones have a chrome finish and the sink ones are brushed nickel. The guy at the bathroom store said that the chrome finish is more durable than the brushed nickel and he thought that they were better choice for the shower. You can't see both faucets at the same time so it's not an issue and beside I like the different finishes.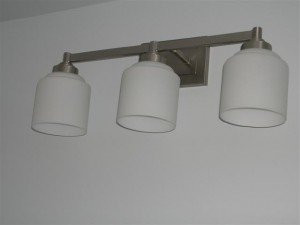 Light fixture over the vanity.  The mirrors are ordered and come up to the middle of the shade. They should be here in  2 weeks. By then all the other stuff should be done and then it will be complete. My husband thinks we should charge a viewing fee for all the neighbours and family. Yeah right!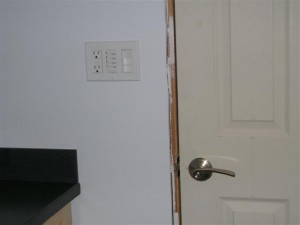 This electrical setup looks really neat. We have a GFI plug, a timer on the fan switch and three different light switches. It looks like a lot of lights but the way this bathroom is laid out you need a light over the vanity, in the shower and above the toilet area. You don't have to have them all on at the same time. As you can see the door casing is not in and the door itself is not painted. Soon I hope to have it done. We also replaced the door handle and I think that I am going to replace all the door handles in my house because I really like this one. It's really solid and I like the brushed nickel finish. The hinges on the door are also brushed nickel.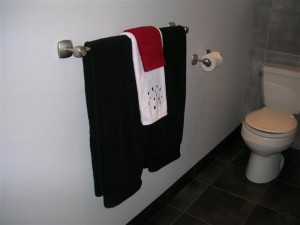 We decided to go with these black towels. I don't know if I like them but the price was right.  Originally we thought that the floor tiles were black and we'd go with black towels. But once the tiles were laid out  they didn't seem as black ,so now I think I'd like to get some dark grey towels. I saw some at Sears but I couldn't believe how much they were. I'll have to wait for some great sales. All the towel bars and tissue holder are from Umbra and they seem to be nice and solid. I looked at a lot of these  and many appeared to be too flimsy. I saw some really nice ones at Restoration Hardware but I thought that they were too expensive.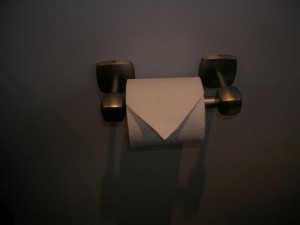 And for the final picture today, here we have the toilet tissue holder. I don't usually fold my tissue,  just for this picture. Iwas laughing when I did it. I taught a quilting class a few years back and one of the ladies used to work for a maid service. Her father-in-law was sick and before he came home from the hospital she cleaned the house and folded the tissue like this. She said that this was done after they cleaned a house. Isn't that nice? Almost like a chocolate on your pillow! I'd rather have the chocolate.
 Is this enough pictures for you, Lori? Haha, I'm just kidding – I've been meaning to do this but I was trying to wait until it was totally finished. My hubby was trying to show some guys at his work some pics and thought that I had posted more of the finished ones.
That's all for now. On to more stashbusting.
Mary-Kay
 Well, I actually sewed a little this week. Just in time to go back to work.
Fabric added this week: 0 yards
Fabric added year to date: 0 yards
Fabric used this week: 10.1 yards
Fabric used year to date: 10.1 yards
Now I am going to sew some more.
Mary-Kay
I'm been working from my stash. This quilt is pieced with 2″ squares from the  scraps and the sashing is all from the stash. I'm getting bored with all the sashing on these blocks. I have to make cornerstones which are going to be blue and white 9 patches. I think I am going to put this aside and work on something else. Now I know why it's taking so long to complete this top.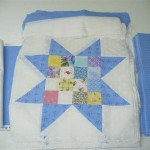 Hopefully the completed size will be 87×103″.
Lots of snow outside and from what I've heard, more to come. It's good to stay inside and sew.
That's all for now.
Talk to you later.
Mary-Kay
My quilty friends, Betty and Debbie came over today for some sewing time. We managed to get 3 quilt tops almost completed. These quilts will become comfort quilts for people with a major illness or a life threatening condition. Since April 2005 the three of us have donated 67 quilts.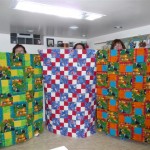 Here are the three quilts we partially finished today. Two are spoken for and the other one will be in our spare pile. Hopefully the recipients will enjoy the quilts as much as we enjoy making them.
Talk to you later.
Mary-Kay