Okay I have some pictures of the new bathroom but it's not completely finished. The window trim needs painting, the door casing needs to be installed and the filler pieces at the side of the vanity need to be fitted in. Woodworking is not our forte. Our neighbour was helping to do this part but he became ill and can't do anything for 2 weeks. I hope he recovers and that there is nothing seriously wrong with him. Lucky  we are patient people and the bathroom is fully functional. We took a lot of pictures of the work in progress and my husband wanted to get one of those digital picture frames and put it in the bathroom. Needless to say he changed his mind when he realized that it needed an electrical outlet and he didn't want to put another one in. It would have been cool for about 2 days and then when everyone was in there so long looking at all the pictures, we would have been hollering to hurry up because we have only one bathroom.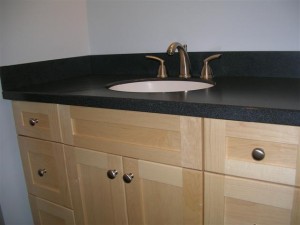 I had the vanity custom made. I didn't like any of the  premade ones. I thought that for all the money that it cost I might as well get a really good vanity to fit the spot. I am only going to remodel this bathroom once.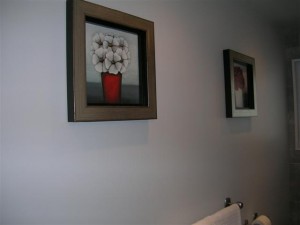 A couple of pictures I picked up at the local decorating center. The background colour is the exact shade of the walls. Once I saw these pictures I decided that the accent colour was going to be red. I thought maybe we could use a purple but once these pictures were up that all changed.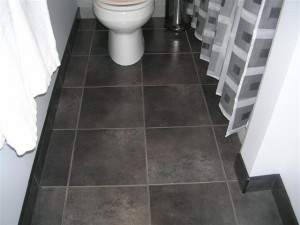 The floor tiles are not black but a  smokey grey black. The  baseboard tiles look blacker than the floor tiles but they are the same colour. I love the shower curtain. Doesn't it look like a quilt?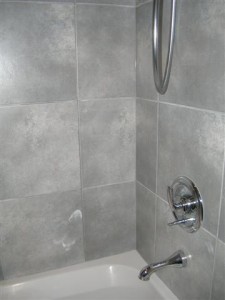 The wall tiles are a beautiful shade of silver grey. The grout is silver also. I really like the contrast between the floor and wall tiles. All the faucets are Grohe and boy are they heavy. The shower ones have a chrome finish and the sink ones are brushed nickel. The guy at the bathroom store said that the chrome finish is more durable than the brushed nickel and he thought that they were better choice for the shower. You can't see both faucets at the same time so it's not an issue and beside I like the different finishes.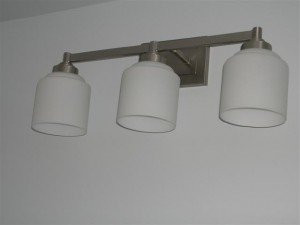 Light fixture over the vanity.  The mirrors are ordered and come up to the middle of the shade. They should be here in  2 weeks. By then all the other stuff should be done and then it will be complete. My husband thinks we should charge a viewing fee for all the neighbours and family. Yeah right!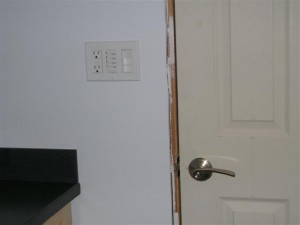 This electrical setup looks really neat. We have a GFI plug, a timer on the fan switch and three different light switches. It looks like a lot of lights but the way this bathroom is laid out you need a light over the vanity, in the shower and above the toilet area. You don't have to have them all on at the same time. As you can see the door casing is not in and the door itself is not painted. Soon I hope to have it done. We also replaced the door handle and I think that I am going to replace all the door handles in my house because I really like this one. It's really solid and I like the brushed nickel finish. The hinges on the door are also brushed nickel.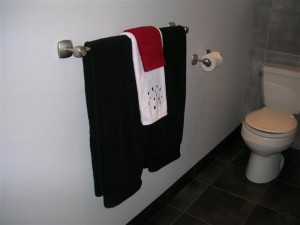 We decided to go with these black towels. I don't know if I like them but the price was right.  Originally we thought that the floor tiles were black and we'd go with black towels. But once the tiles were laid out  they didn't seem as black ,so now I think I'd like to get some dark grey towels. I saw some at Sears but I couldn't believe how much they were. I'll have to wait for some great sales. All the towel bars and tissue holder are from Umbra and they seem to be nice and solid. I looked at a lot of these  and many appeared to be too flimsy. I saw some really nice ones at Restoration Hardware but I thought that they were too expensive.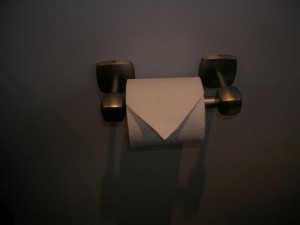 And for the final picture today, here we have the toilet tissue holder. I don't usually fold my tissue,  just for this picture. Iwas laughing when I did it. I taught a quilting class a few years back and one of the ladies used to work for a maid service. Her father-in-law was sick and before he came home from the hospital she cleaned the house and folded the tissue like this. She said that this was done after they cleaned a house. Isn't that nice? Almost like a chocolate on your pillow! I'd rather have the chocolate.
 Is this enough pictures for you, Lori? Haha, I'm just kidding – I've been meaning to do this but I was trying to wait until it was totally finished. My hubby was trying to show some guys at his work some pics and thought that I had posted more of the finished ones.
That's all for now. On to more stashbusting.
Mary-Kay
Leave a Reply