Archive for November, 2008
November 25th, 2008 - Day #4
I didn't post anything for Day #3 because it was a bust. We went to Home Depot and no one would wait on us so we left. Then we went to another Home Depot where we spent the rest of the day trying to figure out what to buy. The store had inventory done and it was a mess. Boxes were opened and parts were missing. There was also no one to wait on us and it was very frustrating.
 Today Brett started to tear out the ceiling and my brother and I went to the local Home Depot to buy more supplies. He is great at getting people to wait on us.  To the first person we see in the store, "Hey buddy, we need a tub down" and they do just that. He knows exactly where everything is in the store and just loaded up the cart. I think we were there and back in under an hour. No browsing around for him, which is what I needed.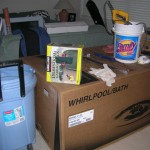 This is the new tub, parked in the living room. No, it is not a whirlpool, all of the boxes say that. There was this really nice tub, Minimalist by American Standard, but it wouldn't fit in the space so I got the Marina model. We aren't fussy on the tub because we prefer to take showers and the only reason we are putting a tub in is for resale value. In the background there is the new window. My house is a giant mess. There is stuff all over – dust included.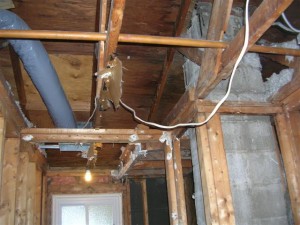 See the 2×4's that go across the ceiling. Well, those are gone. Now the bathroom will be one continuous ceiling. I think it will look a lot bigger and less chopped up. Originally, I think there was supposed to be a door separating the toilet and tub from the rest of the room.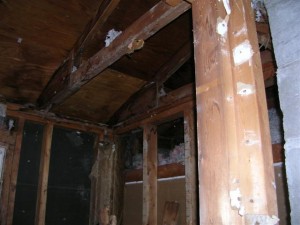 This is the area over the tub. It used to have a bulkhead but now it's gone.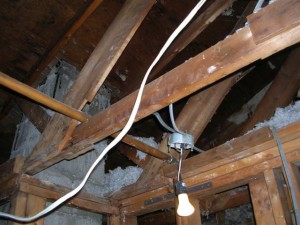 The area over the vanity. We were thinking about taking out the chimney, but we couldn't afford a new furnace, which is vented into the chimney. It's a lot of work to take it out for 2 square feet of space and I didn't think we needed the space that much.
In the quilting department I am working on the binding of quilt #3. I'll post pictures later.
That's all for now.
Talk to you later.
Mary-Kay
November 23rd, 2008 - Day 2
Day 2 is almost over. What a mess!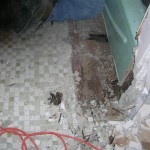 A hole appeared in the floor once some tiles were removed. This was a spongy spot on the floor were the tub had leaked.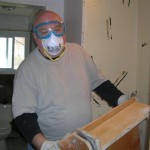 Here's the man of the hour all dressed for combat. I made him wear the mask and goggles. Who knows what he could be breathing in with all that dust, insulation and crud.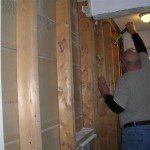 Here he is again pulling out some nails. We used to have a laundry chute but we have heard that they are unsafe. We have natural gas and one time it was leaking and you could smell in the bathroom.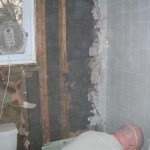 Here he is scooping out debris out of the soon to be gone bathtub. He managed to get the tub out by himself without taking out the toilet. I helped him carry it to the door.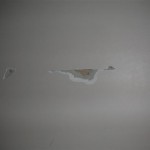 This is the only damage so far . Brett hit the tiled wall in the shower so hard that the plaster came off the wall on the other side. When my brothers did my Mom's bathroom they knocked a hole in 2 of the adjoining rooms.
That's all for now. I will post more tomorrow. Now I am off to do some hand sewing on binding. Hopefully I can get another quilt done tonight.
Mary-Kay
I  got to take the first swing at demolishing the bathroom. That was fun.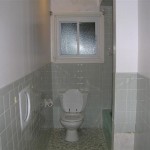 A long and narrow bathroom. Too bad the room wasn't a little wider. Think of the possibilities.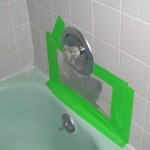 The bathtub faucet was leaking and when my hubby went to fix it the tap broke off. He had to bust a hole in the wall to cap the pipe. Lucky we are shower people.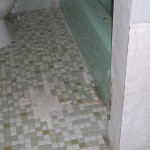 Missing floor tiles and wall tiles.We used to stick the floor tiles back down but I gave up and started throwing them away.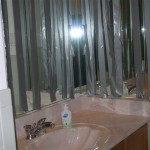 The mirrors all taped up, ready to be smashed.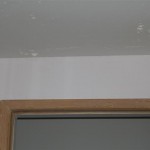 Mold and peeling paint. The whole room is like this. I can't get rid of the mold so we'll have to take out all the plaster walls to be rid of it. And we are installing a better fan with a 4″ exhaust pipe. I heard that works at removing the steam from a shower.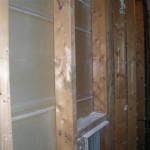 Wall #1 gone and in the dumpster. Today we will completely gut the room and begin putting up all the new wallboard and floor boards. Wish us luck!
That's all for now. I'll post more later>
Mary-Kay not a quilt junkie today more like a renovation one.
November 21st, 2008 - Finish #1
 Well I have finished 1 quilt of 10 . It took me forever to hand sew the binding down. Actually it still needs a label but I like to do that when or if I decide to give it away. The pattern is Triple Star Crazy from The Buggy Barn. The first Buggy Barn pattern that I made gave me grief (of my own making). I am really particular about matching points and seams and when you make a quilt from Buggy Barn none of those things apply. You really have to let it go and make the quilt.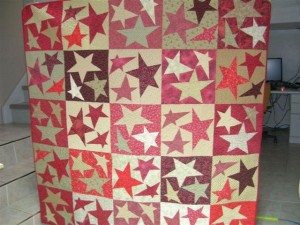 This is not a very good picture. I had a new quilt stand and he wasn't cooperative.
Well on to binding #2. And bathroom renovations. I'll post before and after pictures when it's all done.
Talk to you later.
Mary-Kay
 Well, I spent the evening photographing all my fabric in piles, not individual pieces or I'd still be doing it 2 days later. I will post the pictures 2009/01/01 and you will be amazed at how much stuff I've got. When I started this project tonight I didn't realize how much fabric I truly have. Once you see it all out the enormity of it sets you back. I had better get busy and make about 100 quilts next year. I have very good intentions of trying to use as much of it as I can without purchasing any new stuff.  The only fabric related stuff that I will need is batting and by the looks of it, lots!  I hope no fabric shops rely on me to stay afloat. I also found a few kits that I didn't know I had and some are still missing in action. I must have another pile of fabric somewhere else.
Oh well, I had better get sewing the binding down while I watch the telly.
Talk to you later.
Mary-Kay
 I've been very, very, busy this last week. I had company on the weekend, my sister and family and I've been trying to organize the bathroom reno. My sister and I went to Leamington ON to pick up 4 quilts that Kim quilted for me and they look fantastic. Two of the quilts were stippled and the other two were stippled with a little heart in it. They look so nice that I don't want to give them away. On Thursday I picked up 3 more quilts that Deb quilted and they look fantastic too. Different kind of quilting patterns on these and I like them too much to give away. I guess I'll just have to start making quilts that I don't like so I can give them away. I have the binding on all of them and you'll have to wait to see them completed once I get the binding handsewn down. But here is a sneak peak.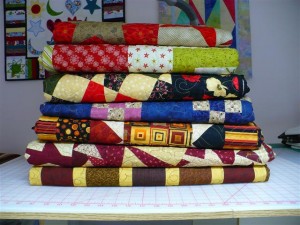 Now I'd better get busy. I don't want to start anything new until I get these done and then I want to use only my stash so I guess it will have to wait until 2009 so I can count it as stash buster fabric. Remember I joined Judy's Stash Busters 2009 Group. Am I sneaky or what?
That's all for now.
Talk to you later.
Mary-Kay
 The Quilters Three got together today to do some sewing and one didn't show up. So that left just Betty and I. We were working on a quilt that is going to be raffled off. We managed to get the 20 blocks together leaving only the sashing and border to be added. I even got the backing sewed. Betty is planning to getting the top completed before Saturday so when I go to the quilter to pick up 4 of my quilts I can take it with me. On Thursday I am going to pick up 3 more quilts. I can't wait to see them.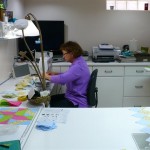 Betty hard at work sewing some blocks together.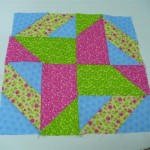 A completed block.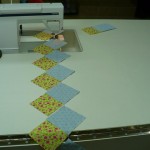 Chain pieced squares.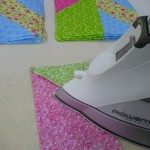 Slaving over the hot iron.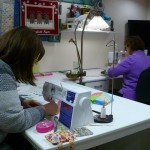 Betty and I sewed until it was dark.
After we decided to call it a day, my family and I went to dinner at East-Side Marios where my oldest son is a cook.
He's the one on the right working hard.
That's all for now.
Talk to you later.
Mary-Kay
I saw this basket on someones blog but I can't seem to remember who's and I decided to make it last night. Boy is it ever tiny. I printed out the instructions and there were 13 pages including pictures and it only made this tiny little basket. I guess I should read all the instructions before I start a project even a mini one like this. The pictures on the blog make it look way bigger than it actually is.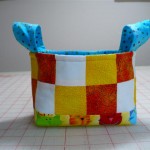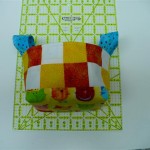 It really is a cute little basket, great for scraps beside the sewing machine or on the cutting table. Now I think I am going to make some bigger ones maybe using 5″ squares instead of 2″ ones.
That's all for now.
Talk to you later.
Mary-Kay
November 9th, 2008 - What's Up
 So I see that I haven't posted for 2 weeks. Last month was an awful month for me. First I had the flu or some kind of virus for a week and it ruined my Thanksgiving holiday. Then after I recovered from that I was good for a week and then I got this cold that I can't seem to shake. It hasn't really amounted to something that I should go to the doctors for but it's still here 2 weeks later. At least I am feeling better and have actually accomplished something. I put the binding on quilt #1 of 10 that is at the quilters.It's the only one that I have gotten back. I wanted to give it to my husband for our 25th anniversary and I did with 45 minutes to spare. Actually with one year and 45 minutes to spare because for some reason I thought this was our 25th, not our 24th. It could happen to anyone, right?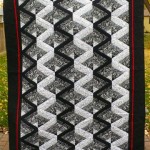 Here's a pic of the anniversary quilt. My husband saw this quilt in a store in Michigan, said it looked like a man's quilt and that HE wanted to make it. So we bought the fabric and the book, Strip-Pieced Quilts, and there the fabric sat on my cutting table for a couple of months. So I washed it, pressed it and my hubby said he didn't know there was that much worked involved and still there it sat. So I cut it out and sewed it together and gave it to him for Christmas 2 years ago. Still it wasn't completely done. So I finished it and had it quilted by Deb and gave it to him. End of story. Oh yeah, he loves it! His Man Quilt!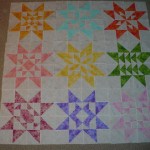 Here are most of the Buck-a-Block squares. I purchased the finishing kit to make them 16″. Now when I get the last 3 blocks I can make them biggie sized and have it ready for the sashing and borders. I think that I might have to buy (cringe) fabric for the sashing. I am going to use the extra coloured fabric that I have for the cornerstones and I might get away with using the light coloured for the sashing. I am going to wait until I have all the blocks done and then audition what I have and see if it works. I hope it does and then I won't have to buy any more fabric for this project except for the backing. I even have the binding already.
 I am supposed to be getting 2 more quilts from the quilter this week and will post some pics of them. I am not going to let the quilts tops build up like that again. I still have a few more that I would like to get quilted but Christmas is coming and I have a bathroom renovation about to start and that is going to eat up all my spare cash for some time. Lucky for me that I have enough fabric in my stash to keep me busy for at least 10 years or more and I'm not kidding. I will show some before and after pics of the bathroom so you can see how gross it really is. I can't wait to see it finished.
That's all for now.
Talk to you later.
Mary-Kay
I've decided to join Judy at Patchwork Times Stash Busting for 2009. I hope to not buy any fabric except for what is absolutely necessary.There is way too much material in my stash and it's overtaking me. I find that when I have too much stuff all around that I can't concentrate on making anything. So I'll have to be very strict with myself and stick to it. Good luck to me!