November 23rd, 2008 - Day 2
Day 2 is almost over. What a mess!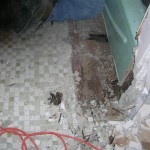 A hole appeared in the floor once some tiles were removed. This was a spongy spot on the floor were the tub had leaked.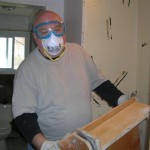 Here's the man of the hour all dressed for combat. I made him wear the mask and goggles. Who knows what he could be breathing in with all that dust, insulation and crud.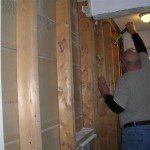 Here he is again pulling out some nails. We used to have a laundry chute but we have heard that they are unsafe. We have natural gas and one time it was leaking and you could smell in the bathroom.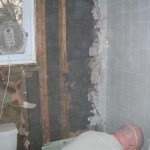 Here he is scooping out debris out of the soon to be gone bathtub. He managed to get the tub out by himself without taking out the toilet. I helped him carry it to the door.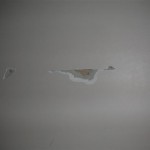 This is the only damage so far . Brett hit the tiled wall in the shower so hard that the plaster came off the wall on the other side. When my brothers did my Mom's bathroom they knocked a hole in 2 of the adjoining rooms.
That's all for now. I will post more tomorrow. Now I am off to do some hand sewing on binding. Hopefully I can get another quilt done tonight.
Mary-Kay
Leave a Reply