Archive for January, 2010
Already a month has gone by. Wow!  And I've actually used some stash up this week even though I didn't sew often enough for my liking.
Fabric added this week: .75 yd  it's 2 BOMs that I don't know if I included when I got them
Fabric added YTD: 4.5 yds
Fabric used this week: 7.91 yds
Fabric used YTD: 46.5 yds
 I was looking through some photos of my stash for a photo of my " Too Good To Cut" fabric and I noticed that I've used quite a bit of the stash.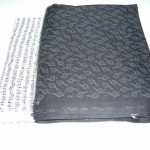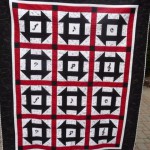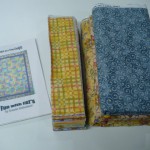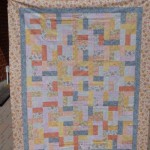 Just a few photos of fabric to quilts. Have a great stash busting week!
Mary-Kay
 Nothing like waiting for the last minute to post about this. I have had this fabric for a few years and never really wanted to cut in to it. Everything is there for the top and I really like it but you know how it goes.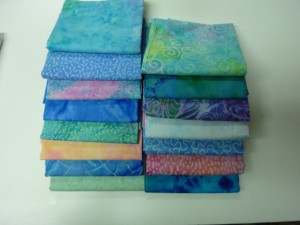 Fifteen half yard cuts and it's all batiks. They are beautiful and I really like them just as they are.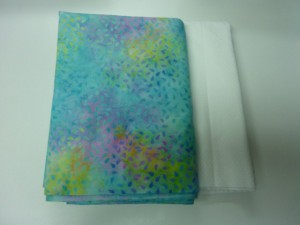 The only non-batik is the white background fabric. Even the backing is a batik. I don't think there is a white batik but I could get a very pale yellow or blue instead. But that would mean a trip to the fabric shop and we all know how that ends up.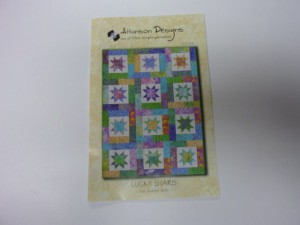 And this is what I'm going to make out of it all. I think I'm have enough to make a twin size quilt but I don't even have a twin bed in the house. And I'm not giving it away. Okay I just checked all the fabric and the pattern again. That's the size I bought the fabric for. I just love batiks especially in these colours.
 So I had better start cutting out so fabric. I need to make 30 blocks and that shouldn't take all that long.  Right?
Have a great day and let's get some sewing done!
Mary-Kay
 Not much going on in my sewing room this week. I think I'm burned out from all that sewing in the previous weeks. Yup, that's my story and I'm sticking to it. And I went to a quilt shop and didn't buy any fabric. I'll have to avoid that place for a while because there's some fabric calling my name, quite loudly too.  It's this fabric from Robert Kaufman- Deco Park  and I just love the colours in it. Maybe if I avoid it by the time I go back there, that fabric will be all gone.
Fabric added this week: 0 yds
Fabric added YTD: 3.75 yds
Fabric used this week: .25 yd
Fabric used YTD: 38.59 yds
Net fabric busted: 34.84 yds
 I hoping to quilt a lap-sized quilt today and get that off the table. And then I don't really have any plans but I might start that Too Good To Cut challenge that Dianne at  Rosewillow's Unfinished Business  has going on. Maybe I'll get that all set up today. Better late than never.
Have a great day.
Mary-Kay
 That's how I describe it. Actually it's a photo, printed on fabric and adhered to some more fabric with some thread play on it and then framed with a binding and mounted on a canvas frame. Picture thingie!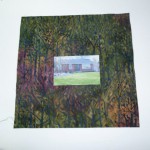 So this is how it looks before I added anything to it. To me it needs something. I really love the backgroung fabric. When I first bought some of this fabric, I only bought one yard and then went back and bought 2 more yards of it. There's some fusible batting behind to give it some body. I don't put anything else behind it and when it's being stitched, the batting doesn't get caught in the machine.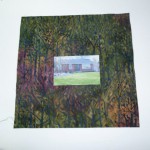 And this is the Picture Thingie. All stitched up and mounted on a frame, ready to be hung on a wall, I hope. The only thing I highlighted  is the trees. A little free motion thread stitching in 2 tones of gray. I also used a fabric marker and  traced the front door. If you enlarge the photo it really stands out but it doesn't look that prominent for real. I made it for my friend's aunt and she loved it. So I guess it will be hanging on a wall.
  Last night I went to see Jann Arden (Canadian singing artist and comedian) with 10 other ladies. We had box seats but were a little to the right of the stage. If I was going to a concert at the new WFCU arena, I wouldn't want to sit in box seats again. I'd rather be down center stage. Jann talks a lot during her show and we couldn't understand what she was saying. But you could hear the music great, if some of those women I went with would be quiet. The best parts about box seats are the waitress who brings you drinks and the food we had pre-ordered. There's a small fridge to keep your beer cold,which you had to order it in 3's and the bathrooms up there are not used a lot so they are nice and clean. Anyway it was a great evening out with my friends
 Now to clean up my sewing room and get some stash used up. Have a great day. And Lori, if you read this, it's supposed to be 38 today and 47 tomorrow. The worst part is it's supposed to rain tomorrow. Now that part sucks. Why would I want to move unless it was to somewhere where there was never any snow or cold weather. I'd visit but only in the warmer months. I don't think I'm even going to visit my own sister who lives in Northern Michigan until at least July. By then the snow should be melted.
Mary-Kay
Not much sewing this weekend or this week for that matter. It was back to work for me and it was rough. Snow which I don't like walking though and lots of mail. Thank God the snow is almost all melted, so this week should be a lot easier on the body. But I did get a quilt top completed and the backing all sized up and ready to go. All I have to do is quilt it. That would be 3 quilts already this year.
 Fabric used this week: 7.305 yds
Fabric used YTD: 38.34 yds
Fabric added this week: 0
Fabric added YTD: 3.75 yds
Net fabric busted: 34.59 yds
 I feel I've made a good start this year and  I hope I can keep up this pace. I forgot this was a quiltathon weekend but I don't feel that great so it was just as well I forgot. I stayed in bed for most of Saturday but felt well enough to go out for dinner with some friends. But as soon as I got home I went back to bed. So much for doing some sewing or exercise. At least I didn't overeat and brought home leftovers for dinner today. Now I'll get off this computer and do some sewing and laundry. Oh and some exercise too!
Have a great day.
Mary-Kay
I certainly hope I can keep this pace up all year or be close. I think this is the most fabric I've used since I started stash busting. It was all from my stash except 3.25 yards of flannel I needed for a quilt backing. And yes I needed it because I didn't have something even close to the top colours and I like it to match just a little. Oh, and I went to the LQS and got my Jan BOMs and didn't buy anything else besides thread. There was this new fabric line from Robert Kaufman and it was beautiful but I'll get it some other time. Like after I get to the 100 yard mark and even then I'll have to think about it.
Fabric added this week: 3.75 yds
Fabric added YTD: 3.75 yds
Fabric used this week: 29.785 yds-2 tops and 4 backings, chenille rug, borders for Trees For Sale plus a bunch of little things
Fabric used YTD: 31.035 yds
Net fabric busted: 27.285 yds
 I'm hand sewing the binding down on a comfort quilt. I need to make another comfort quilt this week and I'm going to try  to match it to the flannel I already have on hand. I'd better get busy and start sewing. And I have to go back to work tomorrow. Uggh!!!!
Mary-Kay
 I've been very busy this week so far. Yards of fabric used up and a few yards given away.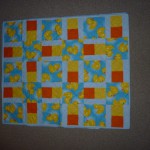 I made 2 of these quilts for my niece's friend. My niece and I cut it out last year, maybe in October and she was supposed to sew it together. Well that never happened. She asked me to do, so I did.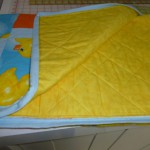 I made one with a yellow backing.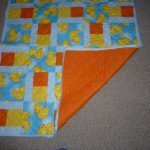 And one with orange backing. Her friend picked out the fabric and it was supposed to be one quilt. There was enough fabric to make 2  toddler sized quilts. All Becky has to do is sew done the binding. I think she can manage that.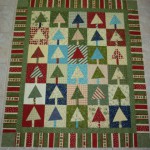 My next project was Trees For Sale. All that needs to be done is the quilting part. I have the backing sized and the binding joined and pressed, ready to be sewn on. That will be another day.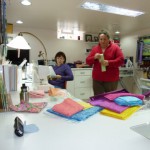 "The Quilters Three" met up this week to do some sewing. Here's Betty and Debbie getting set up to do some power sewing.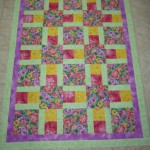 I made this quilt top up in one day. Debbie had all the big center squares cut out and all I had to do was pick out some cordinating fabric and go to town.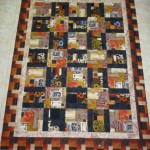 And while I was adding the borders to the floral quilt, I thought we should have  been making a quilt for my BIL who was having major surgery this week. I had some fabric in my stash for the top  but  I  couldn't find any for the backing that went with it. So I had to buy a few yards of fabric but I only got exactly what I needed. Yeah me!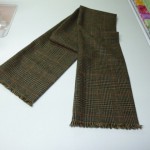 And while I was in the mood, I made 3 scarves out of some wool that was bought last year. My son thought this fabric would make a great scarf. To get the required length, I had to buy 2 yards and I figured I only needed 17″ for one. So I made 2 more out of the rest and told my son to give them to his friends.
 Now I'm off to iron the backing fabric for my BIL quilt and get that quilted for him. He had neuro-surgery yesterday and was home today but back in for pain tonight. I think they discharged him too soon.
Have a great evening.
Mary-Kay
Well, here we are in the first week of the new year. Am I going to set any goals this year? I don't think so. At least in the fabric department. I would like to use yards and yards of the stuff and I like the idea of not buying any. Again! But we all know how long that lasts. At least I haven't bought any yet. I was supposed to go to the LQS over the holidays but haven't managed to get there yet. I know that I'll be bringing home the latest BOM but have no plans on buying anything. But you never know. No wait! Forget I said that. What I should be saying is "I'm not buying anything except my block" and keep on repeating it over and over.  Maybe that should be my new mantra. Repeat after me "I'm not buying……..
Fabric used this week: 1.25 yds
Fabric added this week: 0 yds
Net fabric busted: 1.25 yds
I'm off for the whole week.  If only I can get rid of this sinus thing that cropped up today. And if only my youngest son recovers from this flu thung he has. It's not the H1N1 virus. But it's weird that the only people who seem to have his type of illness are teenagers. No fever just vomiting and the runs. He lost 13 pounds in one day and he was a bag of bones before. And his back hurts from laying down. Last night was the first time that he got up since New Year's day. My niece has the same thing and the last time they were together was last Sunday. I don't think either of them are going to school tomorrow. She's still sick too. My son was with some friends on Wed night and by Thursday night to Friday morning, they were all sick. It seems to be a fast spreading virus. Could you imagine if it was a school week?
 Anyway that's it for this report. Hopefully I'll get lots of sewing done this week. 
Mary-Kay