I've been very busy this week so far. Yards of fabric used up and a few yards given away.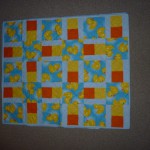 I made 2 of these quilts for my niece's friend. My niece and I cut it out last year, maybe in October and she was supposed to sew it together. Well that never happened. She asked me to do, so I did.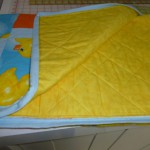 I made one with a yellow backing.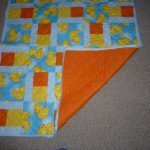 And one with orange backing. Her friend picked out the fabric and it was supposed to be one quilt. There was enough fabric to make 2  toddler sized quilts. All Becky has to do is sew done the binding. I think she can manage that.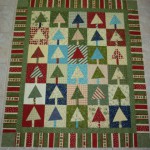 My next project was Trees For Sale. All that needs to be done is the quilting part. I have the backing sized and the binding joined and pressed, ready to be sewn on. That will be another day.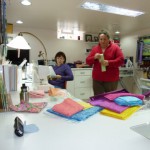 "The Quilters Three" met up this week to do some sewing. Here's Betty and Debbie getting set up to do some power sewing.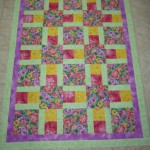 I made this quilt top up in one day. Debbie had all the big center squares cut out and all I had to do was pick out some cordinating fabric and go to town.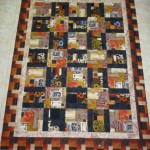 And while I was adding the borders to the floral quilt, I thought we should have  been making a quilt for my BIL who was having major surgery this week. I had some fabric in my stash for the top  but  I  couldn't find any for the backing that went with it. So I had to buy a few yards of fabric but I only got exactly what I needed. Yeah me!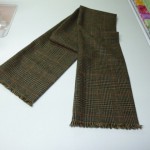 And while I was in the mood, I made 3 scarves out of some wool that was bought last year. My son thought this fabric would make a great scarf. To get the required length, I had to buy 2 yards and I figured I only needed 17″ for one. So I made 2 more out of the rest and told my son to give them to his friends.
 Now I'm off to iron the backing fabric for my BIL quilt and get that quilted for him. He had neuro-surgery yesterday and was home today but back in for pain tonight. I think they discharged him too soon.
Have a great evening.
Mary-Kay
One Response to "What I've Been Up To"
Allie Says:
January 8th, 2010 at 12:55 am

Good grief you're busy! Those quilts are great, and I love the Trees for Sale. So sorry about your BIL- they ALWAYS send folks home too soon anymore. He's going to love his quilt!
Leave a Reply