November 25th, 2008 - Day #4
I didn't post anything for Day #3 because it was a bust. We went to Home Depot and no one would wait on us so we left. Then we went to another Home Depot where we spent the rest of the day trying to figure out what to buy. The store had inventory done and it was a mess. Boxes were opened and parts were missing. There was also no one to wait on us and it was very frustrating.
 Today Brett started to tear out the ceiling and my brother and I went to the local Home Depot to buy more supplies. He is great at getting people to wait on us.  To the first person we see in the store, "Hey buddy, we need a tub down" and they do just that. He knows exactly where everything is in the store and just loaded up the cart. I think we were there and back in under an hour. No browsing around for him, which is what I needed.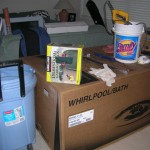 This is the new tub, parked in the living room. No, it is not a whirlpool, all of the boxes say that. There was this really nice tub, Minimalist by American Standard, but it wouldn't fit in the space so I got the Marina model. We aren't fussy on the tub because we prefer to take showers and the only reason we are putting a tub in is for resale value. In the background there is the new window. My house is a giant mess. There is stuff all over – dust included.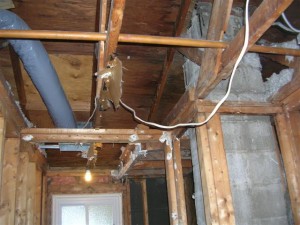 See the 2×4's that go across the ceiling. Well, those are gone. Now the bathroom will be one continuous ceiling. I think it will look a lot bigger and less chopped up. Originally, I think there was supposed to be a door separating the toilet and tub from the rest of the room.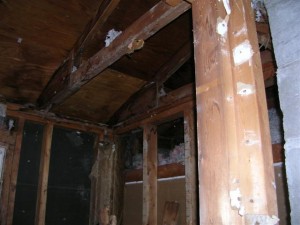 This is the area over the tub. It used to have a bulkhead but now it's gone.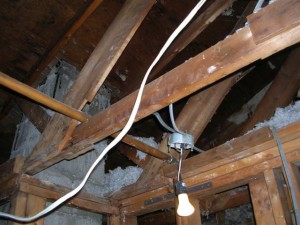 The area over the vanity. We were thinking about taking out the chimney, but we couldn't afford a new furnace, which is vented into the chimney. It's a lot of work to take it out for 2 square feet of space and I didn't think we needed the space that much.
In the quilting department I am working on the binding of quilt #3. I'll post pictures later.
That's all for now.
Talk to you later.
Mary-Kay
Leave a Reply