What to do, what to do. I can't decide what project to start. I took some stuff from my little basket of goodies.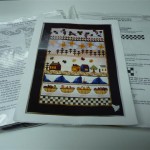 I saw this quilt at a shop in the Hamilton area. It's an Ontario quilt and I just had to have it. It has been aging in my basket of goodies for at least 6 years now. I hope all the pieces are there and I don't mess up while cutting it out.
Or I could start this little quilt, Snapshots from Atkinson Designs. I have made a few projects from this company and I really like how they turn out.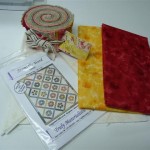 Or I could start/finish this one. Mum's The Word from Truly Materialistic. I started it but put it aside for other things like Christmas and bathroom renovations.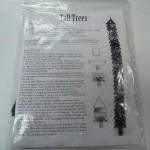 Or I could make these Tall Trees and just get something done, nice and simple. More of my Christmas stuff that will be hanging up for next year. I hope.
 Speaking of bathroom renovations, it's not done yet. Last night I found some water on the basement floor and we discovered we have sprung a leak. Hubby thinks that when he installed the vanity a nail or screw or something nicked a pipe. That's his story and he's sticking to it. And the mirrors are not completely in yet. One down and 2 to go. That should be on Thursday. Hopefully by this weekend or the next it should be completely done. Who knew that it would take sooooo long. At least the shower works and I don't have to go to my Mom's for that.
 Well, I'm off to do some quilting. On what, I don't know. Maybe I'll just iron some fabric. Or maybe I'll just go to bed.
Mary-Kay
Leave a Reply