Finally, I decided what project I'm going to work on. Mum's the Word from TrulyMaterialistic in East Jordan,MI. I picked up the fabric and the pattern at Hearts to Holly in Charlevoix, MI last summer. It's a Dresden Plater quilt that is jelly roll or fat quarter friendly.  I have the backgound cut out and am now working on cutting out 180 pieces that are to be the plates. It seems to be fairly easy so far. Right!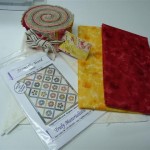 I showed you this the other day as a possible project to work on. It's also part of my stash, so that's a good thing.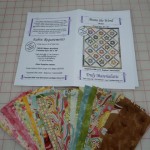 The jelly roll is Posh by Chez Moi for Moda. I saw this at the store and I held on to it until I could decide what to make with it.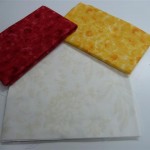 The background fabric is Simplicity from Moda. I couldn't find a fabric in the Posh line but thought that this one would work. The red Posh is for the center of the plates,I think and the yellow Posh is for the sashing, I think. I'll have to see what looks best when the time comes. I can't really remember what is what. That's what I get for buying stuff and not working on it right away.
 Well I had better start cutting this out.  Tomorrow night we are going out for pedicures and dinner. Seems like a weird combination, eh? Our friend does pedis out of her home and Hubby bought me one for my birthday and she called  to set up an appointment and invited us for dinner too. I love the feel of my tootsies after. I never want to wear shoes or boots again.
Talk to you later.
Mary-Kay
One Response to "I've Decided"
Wendy Congdon Says:
July 6th, 2009 at 12:48 pm

I've Been anxiously watching for a finished Quilt Top! Any progress? I now have this in a table runner pattern too. Just need to get it online lol!

Truly Materialistic
Leave a Reply