This has been a good week for sewing and using up some of my stash. I didn't use a lot of fabric but at least I managed to sew.
Fabric Added This Week: 0 yards
Fabric Added Year To Date: 0 yards
Fabric   Used This Week: 6 yds
Fabric Used Year To Date: 16.1 yds
I don't know how much fabric I'll have to use before I start to see a dent in the stash.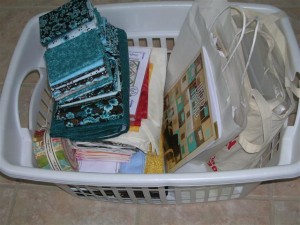 I have a laundry basket on the floor in my sewing room full of projects and I can't seem to start them. I even went and bought new baskets for the laundry room because I figure it will be a while before I get to these projects.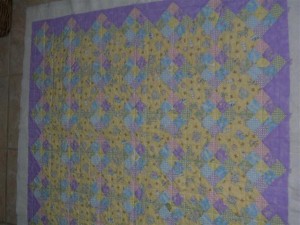 I guess I should learn how to take better pictures and get a new camera. The camera I use has been dropped and it came completely apart but it still works, somewhat. This is a baby quilt that I worked on this week, entirely from my stash.
     That's all for now. Happy quilting.
Mary-Kay
3 Responses to "Stashbusting Week #4"
katie z. Says:
January 25th, 2009 at 4:31 pm

The green fabrics in your basket are lovely. I'll look forward to seeing what you make.

Lori in SD Says:
January 25th, 2009 at 8:21 pm

I see a book I have in that basket!

Betty Says:
January 26th, 2009 at 10:05 am

Hi M.K.
Your baby quilt looks great!
Leave a Reply