I'm been working from my stash. This quilt is pieced with 2″ squares from the  scraps and the sashing is all from the stash. I'm getting bored with all the sashing on these blocks. I have to make cornerstones which are going to be blue and white 9 patches. I think I am going to put this aside and work on something else. Now I know why it's taking so long to complete this top.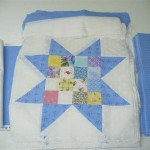 Hopefully the completed size will be 87×103″.
Lots of snow outside and from what I've heard, more to come. It's good to stay inside and sew.
That's all for now.
Talk to you later.
Mary-Kay
Leave a Reply