Well I didn't buy fabric and I didn't use any fabric either. But I did finish Scrappy Stars, which used quite a bit of stash fabric but I included that in last week's report.
Fabric Added this Week: o yds
Fabric Added Year to Date: 0 yds
Fabric Used this Week: 0 yds
Fabric Used Year to Date:10.1 yds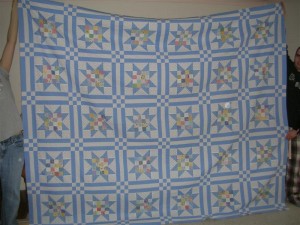 Here is my finished Scrappy Stars. The quilt holders are not professional so don't try this at home. They are my 2 boys and the one on the right is considerably shorter than the one on the left and they couldn't get it to hang straight.
Right after dinner I'm going to cut out a quilt so that will be in next week's report.
Happy quilting.
Mary-Kay
2 Responses to "Stashbusting Report Week #3"
Evelyn Says:
January 18th, 2009 at 9:27 pm

Your scrappy stars is beautiful!!! 2 of my favorite themes for a quilt – scrappy and stars! Enjoy it!!!

Lori in SD Says:
January 19th, 2009 at 2:19 am

My quilts holder sags too, it's the neighbor's clothesline. You did a good job of tilting the camera!
Leave a Reply