Or should I say whites, as in more snow to wade through. On Saturday we got 3 to 4 more inches of snow. It covered all the paths I made last week. So I had to walk a lot on the road on my route. Lucky it's only 4 blocks of this or I might have more than a sore knee.
 Today I went to the doctor's for my knee,which has been acting up since last Wednesday, and he sent me for xrays and is sending me to an orthopedic doctor. That takes at least 6 months here in Windsor and by that time I can either be cured or crippled. Ontario health care sucks! I get to ice my knee for as long as possible and continue delivering mail. Hopefully this goes away, along with all the snow.
 On a more cheery note I started a baby quilt all from my stash. It is so cute. I can't wait to see it done.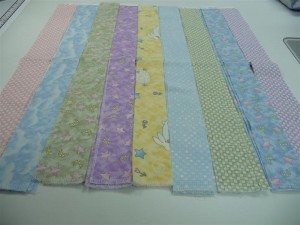 Here's the 2″ strips for the 9-patch blocks.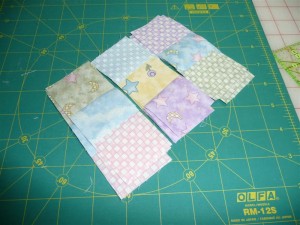 All set to be sewn into blocks.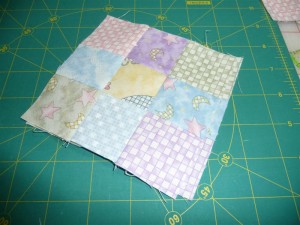 I need 42 little blocks. I'm sure they are not really little but after the last quilt I made they seem small.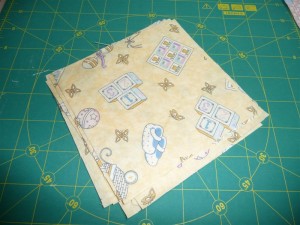 This is the other block fabric. I found the pattern in a Fons and Porter magazine.  You alternate 9-patches with the solid fabric blocks. On the ends of the rows there is a triangle. I have to find a fabric that goes with the rest  for the triangles and the binding. I have a lot of the baby print for the backing. I hope!
Happy quilting.
Mary-Kay
Leave a Reply