I'm home and I have something to share. I hardly ever get to post but today was a very slow day.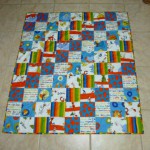 I finished this little baby quilt on Saturday night. Now all I need is a Dr Suess book and I have a baby gift. If only I could remember to get the book before I have to use this. Actually, the next quilt recipient has asked for books instead of cards at the baby shower so while I'm at the bookstore, I'll have to pick up a couple extra.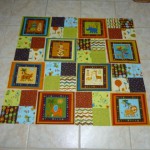 I'm working on this today. I had to cut out a panel in to some real wonky squares.  Somebody made a quilt out of this panel and told me what I needed to do. They were unsure of the size of the 'squares' so I'm just playing around with it and I think it will work. Now I need to sew it together and add some borders. Voila! Another finish.
 Too bad all quilts weren't this easy. Have a great day!
3 Responses to "Design Floor Monday"
liz Says:
May 30th, 2011 at 1:59 pm

Cute quilts. I like the wavy line fabric on the second quilt. Fast quilts like these are fun – good on stashbusting too!
liz

Amy C Says:
May 30th, 2011 at 2:21 pm

The Dr. Seuss quilt and book will make for a great baby gift. Your second quilt is just as sweet.

myra Says:
June 16th, 2011 at 9:09 pm

A darling baby quilt gift it is, and I love the second one you've got going there! It is looking great so far!! 😎
Leave a Reply