….or should I say couch. I don't have a wall or the space for one. Maybe the dining room wall one day but I don't think that would go over well.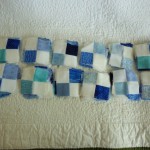 I made a few (180) 4 patches from my scraps. What I'm going to do with them has yet to be decide. Originally this started as Judy's Scraps Ahoy and stopped as 4-patches. I have many options but every time I think I have a plan I find something else that would work or is much eaisier. I don't really like doing scrappy things because it takes so much time sewing all those little pieces together.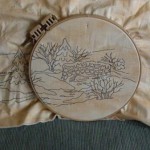 I'm also working on this little stitchery, Over The River and Through The Woods. There are 3 panels and this is the one with the most stitching. I have all the fabric to complete it, so once the stitching is done I'll be ready to sew. I even know how I would like it quilted. I really like Crabapple Hill's patterns especially the winter ones. I think I have them all.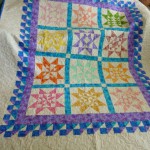 And I need to get this quilt's binding sewn down by Saturday. It's a wedding gift for my niece. I hope they like it. It looks great in this photo. I'm not crazy about the colours with the background and border fabric. Actually I like all the fabrics just not together. Another BOM with a fabric combination I'm not crazy about. I have 3 more BOM's and when they are done, no more. Famous last words.
Have a great sewing day. More later!
Mary-Kay
3 Responses to "Design Wall Monday"
Mary P Says:
August 23rd, 2010 at 5:07 pm

180 4-patches? Wow! One of these days you are going to have a really great scrappy quilt!
Mary

Allie Says:
August 23rd, 2010 at 5:36 pm

Well your 4patches look great, you could always make some baby quilts from them…I don't really like scrappy projects either, I usually pitch my scraps.
You're doing one of my favorite patterns ever – I love Crabapple Hill stuff! Your stitching is gorgeous. And I love the wedding quilt – love brights – hope you get the binding done in time!

shannon Says:
August 24th, 2010 at 3:52 pm

BOMs are tough! When I used to do them at quilt shops, it was more to participate in something than because I loved the quilts.

Scrap quilts are hard for me, too.
Leave a Reply