I've actually been doing a litlle quilting.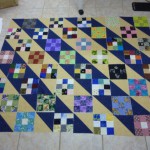 My quilting friends and I had a 9-patch swap.  We made 35 blocks each and I had a few from a previous swap. Combined there were enough to make 4 comfort quilts along this line.  I think it looks pretty with all the different 9-patches. Some of the fabric is very unusual. Now to find a fabric from the stash for the borders. That might be a challenge. Maybe I should just make a few more 9-patches and no borders. Hmm….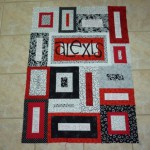 And I've been working on this Nancy Halvorsen design for  one of my niece's friends. It needs borders, backing and binding.  Not what I would pick for a baby quilt but I still think it looks really neat.  All this fabric was from my stash and you can't even tell I used some of it. The black and white drawer is still just as full as it was before. I think I could make 15 or 20 quilts before you'd notice some fabric was gone.
  Well, I'm off to vote. We need a new mayor and hopefully today's the day we get one.
Mary-Kay
2 Responses to "Design Wall Monday"
Allie Says:
October 25th, 2010 at 2:59 pm

Those are both gorgeous! I love the 9-patches. Hope you get your new mayor!

Charlene S Says:
October 25th, 2010 at 4:36 pm

Young mothers are picking colors that are not traditional for babies. It allows the baby to grow with the quilt. Black, red, and white stimulate the baby so it is a great quilt.
Leave a Reply