Happy Easter everyone. I hope you all enjoy the day, hopefully with your families. We are going to dinner at my in-laws so I don't have to cook. More time to sew.
 Things are looking good here at the Quilting Junkie. I did purchase more fabric but I also cut it up too!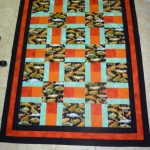 I went looking for some fabric to make a summer table topper and came home with a stack of fish fabric. My husband was with me and he spotted the fish stuff and thought it would make a great guy comfort quilt. He has a few friends that he'd like me to make a quilt for, so I bought some. And…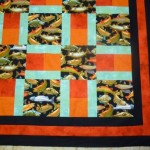 …he liked it so much that he wanted me to make another quilt. So back to the quilt shop I went and bought some more fish fabric and the green fabric too (because I like it). The lady at the shop was very helpful in fabric selection so when we went the second time, I brought the quilt top and she was happy to see how it turned out.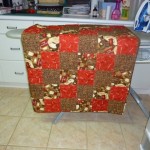 And this quilt needs the binding sewn down and it will be off to a good home. I love the coffee fabric with the beans on it. Must get more someday….. Now on to the fabric enhancing report.
Fabric used this week: 8.36 yds
Fabric used YTD: 65.33 yds
Fabric added this week: 5.38 yds
Fabric added YTD: 53.26 yds
Net fabric busted: 12.07 yds
At least I'm still in the good. I have lots of quilt tops cut out that have already been counted. Now to get them finished and the backings cut out, my numbers will look good once again. Have a great day.
2 Responses to "Stash Report"
liz Says:
April 8th, 2012 at 2:48 pm

That's great that your guy is thinking of quilts for his buddies. Creates some work for you, but it's nice to hear about it.

I did one for my brother-in-law. It's flannel plaid on one side and denim on the other. He takes his afternoon snoozes sleeping under it.

Lori in South Dakota Says:
April 10th, 2012 at 5:49 pm

guy quilts are hard. glad to see you're sewing–how's the knee??
Leave a Reply