Yep, that's right, I finally finished the Music Quilt.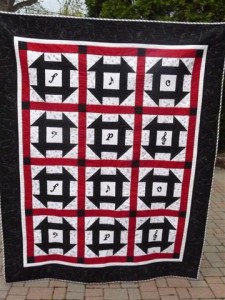 Here's a nice crooked picture of the finished product. That quilt hanger is doing a crappy job and this quilt is for his school. The border is biased cut and it's the first time that I used this method. I followed Darlene Zimmerman's instructions in her book "The Quilter's Edge". It's a great book for setting triangles, Bias and continuous binding plus a whole lot of other things. It's worth the price.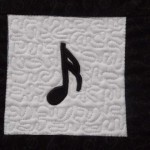 Here's my take on stipple quilting. I have never done it before with any success but I think I did a pretty good job.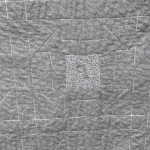 I really like the way the back of the quilt looks. The center part of the block almost looks like a tile.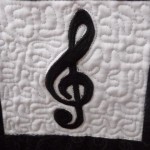 Another block center. These blocks are not the best of the quilt. I just tried to show the ones with a musical symbol that you would recognize if you are not musically inclined.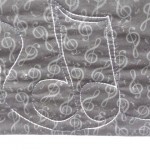 This is one of the symbols in the border. At first I thought that I took a picture of the back of the quilt and then I realized that the back and the border are the same fabric. I used a Mary Covey quilting pattern for the border design. I had to reduce the size to fit with my handy "Quilters Assistant". That thing is a great little tool.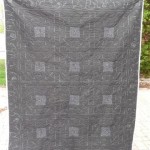 This is the back of the quilt. The quilting really shows up. I used a Sulky 30 weight thread called Piano Keys in the top and the bobbin. I thought it was the most apprpriate choice. In the center blocks with the stippling I used Superior Threads invisible on top and Superior Threads Bottom Line in the bobbin. You don't want to reverse sew that stuff. It's very fine.
I hope you enjoy the pictures.
Happy quilting and have a great week.
Mary-Kay
3 Responses to "Finally It's Done"
Allie Says:
April 27th, 2009 at 11:42 pm

That is a beautiful quilt, I love the quilting on it too – really, really wonderful!!!

Vicki Says:
May 3rd, 2009 at 5:22 pm

I love music and this is a great quilt. Your quilting is fantasic. I love the drama with this color scheme.

Julie Says:
June 15th, 2009 at 11:12 pm

How gorgeous is this quilt!! Very!!
Leave a Reply