I made 4 more journal covers and I must confess I don't like them. T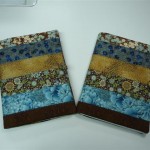 hey are too boring.
 I find these 2 don't do anything for me. And that's because brown is the main colour and I don't really like brown.  I even did some fancy stitching on the seams. Oh well.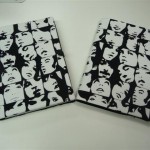 Now these 2 appeal to me mostly because I love black and white. And I really love the fabric. I just grid quilted them with a 12 weight thread and I like the way it turned out.
I have 2 more journals and I want to try some stencilled fabric using paint sticks or fabric dye sprayed on or acrylic paints. I'll see what moves me.Have a great evening.
Mary-kay
One Response to "Plain Old Journal Covers"
Allie Says:
October 6th, 2009 at 10:57 pm

Can you spice them up with applique? I like them. I really, really like the b&w ones though!
Leave a Reply